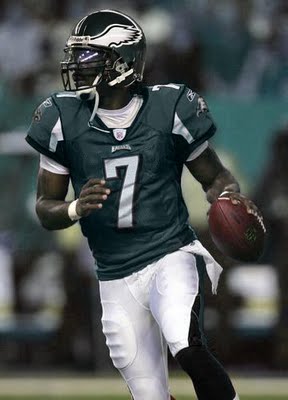 Sports Saturday
Last Saturday's  post on Michael Vick as escape artist generated one of the most interesting discussions this website has seen. If you haven't read the comments, I recommend that you go back and do so (although I will repeat some of them here). One particular line of inquiry brought up the issue of contrition and penance.
Carl Rosin, a Philadelphia-area high school English teacher, expresses caution. Much as he enjoys watching Vick, he says he wonders if the quarterback has done "due penance." Carl notes that there is a tendency in America to allow success to operate as penance: if someone makes a successful comeback, then all is forgiven. In answer to the argument that Vick has paid for his crime by going to jail, Carl writes:
I feel that we are too quick to grant absolution, too desperate for the resurrection of fallen heroes (so much so that we don't delay our gratification, and in so rushing the return, adulterate the noble process of restoration into We'll Be Back After This Commercial Interruption).
By way of explanation, Carl links this practice  to America's focus on the future:
We as a nation don't have connections to a shared past as deep (or as shared) as other nations do in their own national consciousness. What we do have, at least in our mythology, is a belief in the future that is more powerful than most. It's easy to forget the errors of the past (Robert Byrd? Newt Gingrich? Bill Clinton? Christine O'Donnell?), and amusingly rebellious — childlike, even — to root for the underdog. We hope we will be granted absolution as well. I wonder, though, how much that is a good thing: are we redeeming ourselves for past sins when we create new victories, or simply whitewashing them?
Reader Amanda Graham, identifying herself as a dog rescuer, expresses similar reservations. She writes,
I think that he would still be torturing dogs if he hadn't been caught. His regrets seemed to be 1) Sorry I let down the fans and 2) Sorry I got caught. Not so much about "Sorry I fought dogs, tortured them, and killed them."
Farida Bag of Uganda, on the other hand, asks a question that must be asked:
How do we know when a man/woman is contrite enough? What does it look like? Is it a case of "you can't define it, but you know it when you see it?"
For what it's worth, Washington Post columnist Tracee Hamilton is halfway convinced that Vick has genuinely repented. She notes that he's making twice-a-month appearances for the Humane Society of the U.S and writes,
Since joining the Eagles as a third-string quarterback, Vick seems to have cleaned up his act considerably. When he replaced Kolb in Week 1 and clearly outplayed him, nearly leading the Eagles back to a victory over Green Bay, the rumblings began that he should be starting. He said all the right things, including being supportive of Kolb. When Reid named Kolb to start Sunday's game, then changed his mind and named Vick the next day, Vick again had all the right sound bites. Maybe Tony Dungy coached him up; maybe we're seeing a new Michael Vick. Too soon to tell.
The comments led me to recall Coleridge's Rime of the Ancient Mariner, which of course is about a man who is haunted all of his life for a crime against an innocent animal. Indeed, his crime is less egregious than Vick's because he doesn't appear to shoot the albatross for the delight of seeing an animal torn apart. Then again, it's also true that he kills an animal that loves him, making it a Judas betrayal.
The mariner is not granted the easy absolution that Carl mentions. (As the spirit that loves the bird decrees, "The man hath penance done,
 and penance more will do.') Rather, he is so haunted by his act that, whenever he sees someone who needs to hear his tale, he must fix him with his glittering eye and recount it:
Since then, at an uncertain hour,
That agony returns:
And till my ghastly tale is told,
This heart within me burns.
I pass, like night, from land to land;
I have strange power of speech;
That moment that his face I see,
I know the man that must hear me:
To him my tale I teach.
So does Vick feel compelled, by an inner agony, to give these talks for the Humane Society?  Or is he just doing it to improve his image?  (You can read here a post I wrote on repentance without penance.  It involves Nazis who turned to Christianity not to face up to their crimes but to bury  them.)  Our fervent hope should be that Vick comes to conclusion that the Ancient Mariner arrives at.
This conclusion calls upon us to love the social and natural worlds around us. The loving mirrors God's love and encompasses "all things both great and small," "both man and bird and beast."
A sign that maybe Vick has turned a corner comes in a frank interview conducted by his former coach Jim Mora, a man that Vick all but got fired by refusing to prepare more diligently for games.  In it Vick admits to his tremendous egotism:
I was, you know, selfish in some aspects. I didn't dedicate myself. I didn't listen. I was thinking, 'Hey, man, look, I'm Mike Vick. What's the worst thing that's going to happen to me?'"
And also,
My whole life was a lie, Jim, you know, everything from A to Z.
This is the truth that the mariner also learns. The shooting of the albatross is an act of egotism, a setting oneself apart from the natural world, an assertion of power. The end result is an immense loneliness. In the following passage, think of the wedding feast as simply an excuse for partying, whereas true communion involves fellowship and submission to a higher set of principles:
O Wedding-Guest! this soul hath been
Alone on a wide wide sea:
So lonely 'twas, that God himself
Scarce seemed there to be.
O sweeter than the marriage-feast,
Tis sweeter far to me,
To walk together to the kirk [church]
With a goodly company! –
To walk together to the kirk,
And all together pray,
While each to his great Father bends,
Old men, and babes, and loving friends,
And youths and maidens gay!
Farewell, farewell! but this I tell
To thee, thou Wedding-Guest!
He prayeth well, who loveth well
Both man and bird and beast.
He prayeth best, who loveth best
All things both great and small;
For the dear God who loveth us,
He made and loveth all."
In his comments, Carl uses, an example of genuine penitence, Raskalnikov in Dostoevsky's Crime and Punishment. Of course, Raskalnikov has killed an old woman with an axe, which isn't the kind of sin that winning sports contests would erase. Then again, Kobe Bryant of the Lakers and, just recently, Ben Roethlisberger of the Steelers were guilty of serious harassment of women. Multiple championships seem to have wiped Bryant's slate clean, and if the Steelers this year go to the Super Bowl and win it (as many are predicting), then perhaps Roethlisberger will find "absolution" as well. Are Bryant, Roethlisberger or Vick willing to take on the kind of interior exploration that Dostoevsky's protagonist does?
Let's look at the cost to them if they don't.  That celebrity success enacts a heavy price we learn from Shakespeare's King Lear. Lear, as king, lives in the kind of bubble that celebrities do, and when his youngest daughter refuses to go along (in sports terms, she refuses to be a loyal member of the posse who tells the celebrity athlete only what he wants to hear), she is banished. Only when he has been brought low and humiliated does Lear become truly penitent. His reward for his new vision is that, for the first time in his life, he discovers real love.
True, he experiences this love for less than 24 hours. Then Cordelia is hanged and he himself dies of a broken heart. Yet I would argue that he experiences a deeper joy in those few hours than he ever encountered in his whole previous life combined.  It's a trade-off that may well be worth it.
Like Lear, Vick may be learning to "see better." But he'd better watch out. Celebrity is pernicious and could threaten to pull him back into his old state.  He had a chance to see how quickly that can happen when a co-defendant in the dog fighting trial was shot and wounded at Vick's 30th birthday.  (Vick had left several minutes before the incident and was not charged.)  But if Vick he can maintain his center in spite of the adulation (which is heating up rapidly: Vick jerseys are repeatedly flying off the shelves), then he can stay in touch with his soul. Otherwise, he risks becoming once again "alone, alone, all all alone, alone on a wide, wide sea."
One other note: my colleague Ben Click mentions that another story about penance is Joseph Conrad's Lord Jim. Jim makes one fatal mistake: in an act of momentary cowardice during a storm, he abandons the ship that he is captaining. He is court marshaled and spends the rest of his life trying to make up for his action.
Ben notes another parallel with Vick's case. Almost in spite of himself, the penitent Jim ends up creating a paradise for himself in the East Indies. It fact, his happy life with the Malay islanders comes about in part because he is trying to atone for his crime. With Vick, it is not only his skill but also his new maturity that seems to have helped him land the starting quarterback role in Philadelphia. It is as though he has a new base to work from.
Jim's paradise, it should be noted, gets interrupted. The mercenary Gentleman Brown, a figure who knows his past, invades his world and must be fought off. Although the parallel is not exact, we can expect that Vick, if his success continues, will continue to be tested by his own mercenaries, who will once again try to leech off of his fame and money.
At stake is his soul. Will he hold firm? Stay tuned.