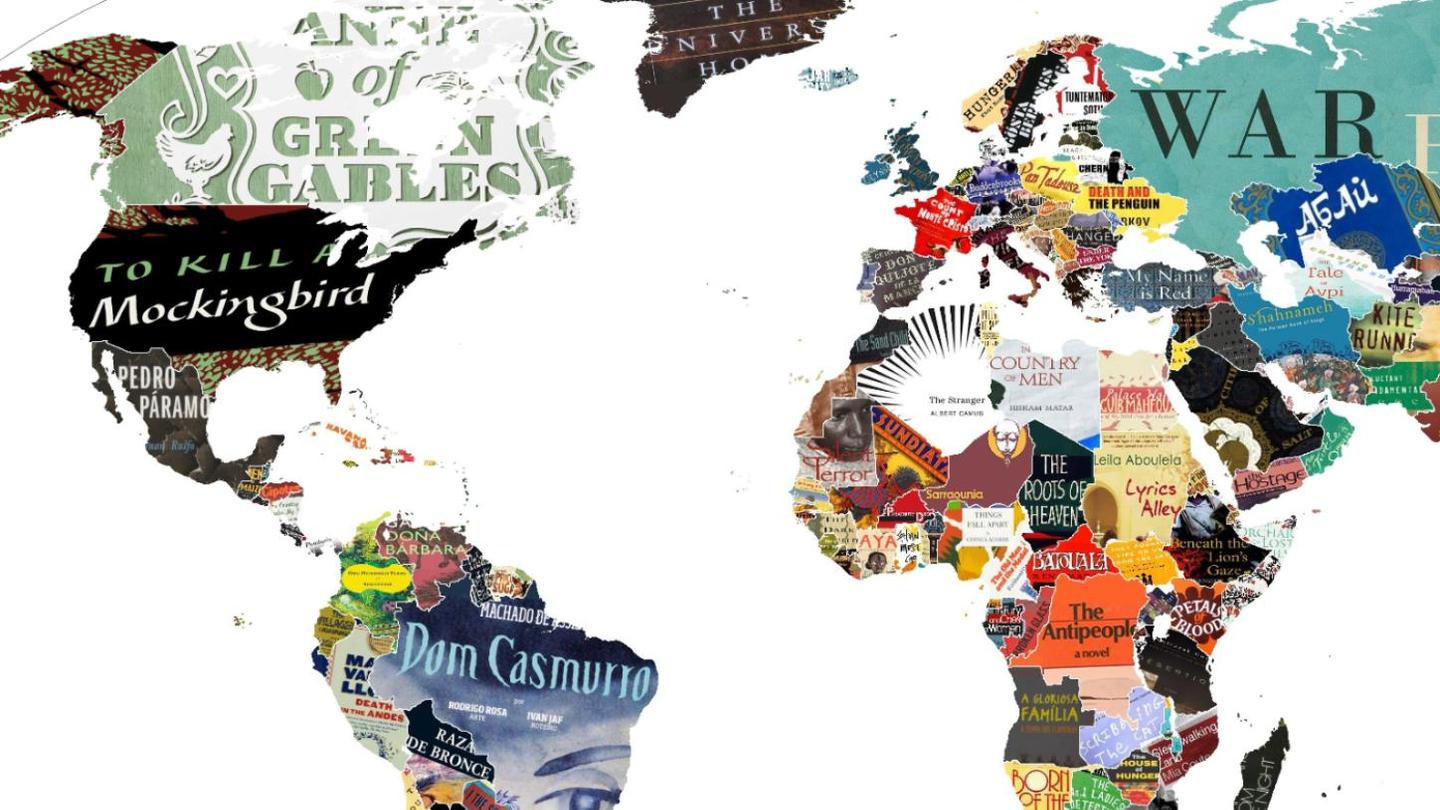 Friday
For a change of pace, here's a link to a fascinating map that supposedly shows "every country's favorite book" (thanks to Rachel Kranz for the alert). I say "supposedly" because there are some dubious selections, as I'll discuss in a moment. Still, any exercise that gets people talking about literature—and that introduces readers to good literature they haven't heard about—has some value.
First, however, the map slides almost immediately from "favorite books" to "books that impacted a country's population the most." Needless to say, "impact," the central concern of this blog, is not the same as "favorite."Maybe Harper Lee's To Kill a Mockingbird is America's favorite book—I can't tell for sure—but there are a number of other books that have been far more influential.
I personally would vote for Huckleberry Finn, with The Great Gatsby and Leaves of Grass as runners-up . By naming To Kill a Mockingbird as most impactful, the map's creator reveals a certain colonialist predilection (or in this case, preference for a novel with a white savior). This becomes increasingly evident when we look at other works on the list:
Algeria – Albert Camus (a Frenchman writing in Algeria), The Stranger
Cuba – Martin Cruz Smith (an American writing about Cuba), Havana Bay. One respondent wrote, "By far the most read author in Cuba is José Martí, though he was more a poet than a novelist. "Versos Sencillos" gave the world classics like "Guantanamera" and can be recited cover to cover by virtually any Cuban." [Note: The map's creator didn't specify novels and the list includes poets Homer and Dante.]
Botswana – Alexander McCall Smith (a Scotsman writing about Botswana), The #1 Ladies Detective Agency
French Guiana – Henry Charriere (a Frenchman imprisoned in French Guiana), Papillon
Some of the selections are indisputable. Among these are:
Russia – Leo Tolstoy, War and Peace
Spain – Cervantes, Don Quixote
Italy – Dante, The Divine Comedy
Argentina – Jorge Luis Borges, Ficciones
Columbia – Gabriel Garcia Marquez, One Hundred Years of Solitude
Greece – Homer, Iliad
China – Cao Xueqin, The Dream of the Red Chamber
Nigeria – Chinua Achebe, Things Fall Apart
Some switches I would make:
England – Works of Shakespeare for Great Expectations (and what about Pride and Prejudice and Jane Eyre?)
India – Mahabharata/Ramayana for Arundhati Roy's God of Small Things
Japan – Murasaki Shikibu's The Tale of Genji for Natsume Sōseki's Kokoro
Germany – Goethe's Sorrows of Young Werther for Thomas Mann's Buddenbrooks
Ireland – Joyce's Dubliners for Joyce's Ulysses (a personal preference)
Canada – Margaret Atwood's Handmaid's Tale for Lucy Maud Montgomery's Anne of Green Gables
It's particularly enjoyable to watch readers weigh in from all over the world in the comments section. Crowd sourcing may be the only way to aid someone in creating a truly credible map. Still, I'm not going to quarrel overly with something done for fun.