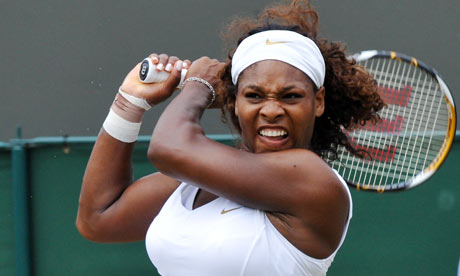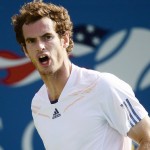 Rather than wait until Sports Saturday, I must acknowledge right away the two remarkable U.S. Open finals matches. They were each delayed a day (to Sunday and Monday) because of bad weather, but both were well worth the wait. Serena Williams teetered on the edge of defeat before coming back to win the tournament she first won 13 years ago (!), and Andy Murray, in a match tying the longest final in U. S. Open history, held off a hard-charging Novak Djokovic to become the first Brit to win a grand slam since Fred Perry in 1936.
Notice I said Brit rather than Englishman. The joke is that Andy is Scottish when he loses and British when he wins, so today he was British. Apparently much of England watched the match, which went late into the night. Fellow Scotsmen Sean Connery and Manchester United coach Sir Alex Ferguson were in attendance.
The match pitted the two best service returners in the game and two of its  heaviest hitters. They traded blows for almost five hours and, after five sets, Murray was the last man standing. The occasion calls for a martial Robert Burns poem, even though I have to admit that Djokovic—although he was the world's number 1 until Roger Federer displaced him in July—is not a "proud usurper" or a tyrant threatening "chains and slaverie." I chose the poem more because of its in-your-face militancy, which is exactly the kind of courage that the underdog Murray displayed on the court:
March To Bannockburn
By Robert Burns
Scots, wha hae wi' Wallace bled,
Scots, wham Bruce has aften led,
Welcome tae your gory bed,
Or tae Victorie! 
Now's the day, and now's the hour:
See the front o' battle lour,
See approach proud Edward's power —
Chains and Slaverie! 
Wha will be a traitor knave?
Wha will fill a coward's grave?
Wha sae base as be a slave?
Let him turn and flee! 
Wha, for Scotland's king and law,
Freedom's sword will strongly draw,
Freeman stand, or Freeman fa',
Let him on wi' me! 
By Oppression's woes and pains!
By your sons in servile chains!
We will drain our dearest veins,
But they shall be free! 
Lay the proud usurpers low!
Tyrants fall in every foe!
Liberty's in every blow! —
Let us do or dee!
Serena Williams was no less heroic, also trading body blows. Early in the match commentator John McEnroe called her possibly the greatest woman's player in the history of the game, but he was beginning to qualify his assessment as she appeared on the verge of losing to Belarus's Victoria Azarenka. Azarenka is the only woman player capable of going toe to toe with Serena, and she was on the verge of pulling off a remarkable upset, serving for the match at 5-4 in the third set.
No woman responds as well in the clutch as Serena, however. She broke to level the match at 5-5 and then finished it off by winning the next two games.
Serena won her first U.S. Open in 1999 (this was her fourth), and no woman has seen a longer interval between her first and most recent championship. This had commentators looking back to those early days and remembering her and Venus's remarkable entrance onto the tennis scene.
Women's tennis had never seen such raw power, and it was unapologetic power. Because of racism, the successful black players who had preceded them—Althea Gibson and Arthur Ashe—had to play down their blackness to become accepted in what was at the time an ultra-white sport. Venus and Serena were not raised to play down their race and they never have.
This, I think, is what the Tony Hoagland poem below is getting at when it talks of a man seeing a televised Venus match (the occasion is probably her 2001 Wimbledon finals win against Belgian Justine Henin) and feeling that the world has changed. What has changed for the speaker, I think, is the way that Venus isn't asking anyone's permission to play the way she plays.
The Williams sisters, and especially Serena, are like that—they claim center court (Arthur Ashe Stadium in this case) as if it is their due and then back it up with remarkable tennis. In Serena's case, perhaps the greatest tennis the woman's game has ever seen.
Thanks to Andrew Sullivan, by the way for alerting me to the poem. You may want to check out the reader comments that follow the poem in the blog he links to. These include contributions by a former student of mine (poet Anne Caston). Then wrestle with whether the poem is racially insensitive or not. I like the poem because of the way it signals the impact the Williams sisters had, not only on people who follow tennis but on the rest of the sports world. With the enthusiastic support that both Serena and Venus got at this year's U.S. Open, I think we can say that the tennis world, after years of resisting them, has finally embraced them. In this year's tournament, for instance, Venus said she felt American for the first time.
The Change
By Tony Hoagland
The season turned like the page of a glossy fashion magazine.

In the park the daffodils came up

and in the parking lot, the new car models were on parade.


Sometimes I think that nothing really changes -



The young girls show the latest crop of tummies,

and the new president proves that he's a dummy.


but remember the tennis match we watched that year?

Right before our eyes


some tough little European blonde

pitted against that big black girl from Alabama,

cornrowed hair and Zulu bangles on her arms,

some outrageous name like Vondella Aphrodite -


We were just walking past the lounge

and got sucked in by the screen above the bar,

and pretty soon

we started to care about who won,



putting ourselves into each whacked return

as the volleys went back and forth and back

like some contest between

the old world and the new,


and you loved her complicated hair

and her to-hell-with-everybody stare,

and I,

I couldn't help wanting

the white girl to come out on top,

because she was one of my kind, my tribe,

with her pale eyes and thin lips



and because the black girl was so big

and so black,

so unintimidated,


hitting the ball like she was driving the Emancipation Proclamation

down Abraham Lincoln's throat,

like she wasn't asking anyone's permission.


There are moments when history

passes you so close

you can smell its breath,

you can reach your hand out

and touch it on its flank,


and I don't watch all that much Masterpiece Theatre,

but I could feel the end of an era there


in front of those bleachers full of people

in their Sunday tennis-watching clothes


as that black girl wore down her opponent

then kicked her ass good

then thumped her once more for good measure


and stood up on the red clay court

holding her racket over her head like a guitar.


And the little pink judge

had to climb up on a box

to put the ribbon on her neck,

still managing to smile into the camera flash,

even though everything was changing


and in fact, everything had already changed -


Poof, remember? It was the twentieth century almost gone,

we were there,


and when we went to put it back where it belonged,

it was past us

and we were changed.