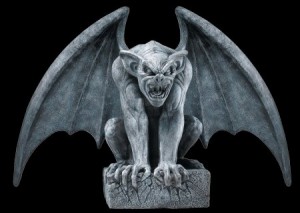 First Muammar Gaddafi, Guernica-like, bombed his people.  Now the United States and several western countries are bombing Gaddafi. As this Carl Sandburg poem makes clear, the nightmare has no end: Gaddafi jeering and Allied responding go on and on (if not in Libya, then elsewhere) as America enters its third war in ten years.
Gargoyle
I saw a mouth jeering.  A smile of melted red iron ran over it. Its laugh was full of nails rattling.  It was a child's dream of a mouth.
A fist hit the mouth: knuckles of gun-metal driven by an electric wrist and shoulder.  It was a child's dream of an arm.
The fist hit the mouth over and over, again and again.  The mouth bled melted iron, and laughed its laughter of nails rattling.
And I saw the more the fist pounded the more the mouth laughed. The fist is pounding and pounding, and the mouth answering.
Many of those supporting U.S. intervention are those who also supported the overthrow of Saddam Hussein.  Hussein was an evil man but wars, almost by definition, overflow their bounds, and the subsequent death and destruction in Iraq was far worse than anything that Hussein could have visited on his people, not to mention the impact of the war on the United States and and its allies.  Only nightmarish mouths and fists flourish when the dogs of war are unleashed.
The only hope I see in Libya is a quick withdrawal by the Allied forces.  The world will always have jeering gargoyles, but a fist that restrains itself has a better chance of ending the cycle of violence.