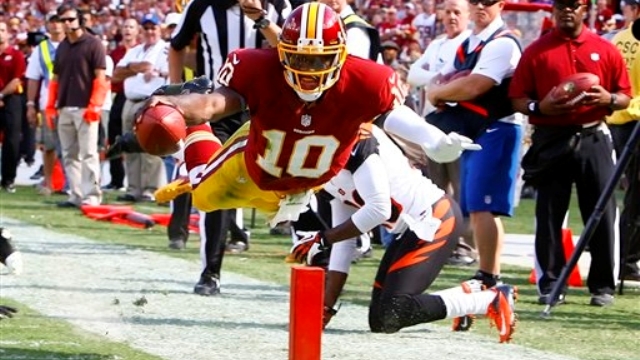 Sports Saturday 
A couple of years ago I wrote a post on Philadelphia quarterback Michael Vick, who at that point had returned from prison and was enthralling us all with his amazing escapes from charging defenses. I am running a version of that post today, only I am applying it to three remarkable rookie quarterbacks. Robert Griffin III of the Redskins (RGIII) and Russell Wilson of the Seahawks especially appear to have the ability to twist and sprint their way out of  jams, and Andrew Luck of the Colts is not far behind. As I said about Vick, one better understands why we can't tear our eyes away when one compares the three with the great escape artists in literature.
Any list has to start with Odysseus, who is so good at getting out of tight spaces that he is seen as the favorite of Athena, goddess of wisdom. Then there is Br'er Rabbit, the invention of African American slaves.  Their stories about the trickster's ingenious escapes from Br'er Bear and Br'er Fox were coded protests against their masters, as well as secret wish fulfillments.
The literary escape artist I particularly want to focus on, however, is John Gay's Mac the Knife. Gay, plugging into London's seamy but colorful underworld, created the theatrical sensation Beggar's Opera in 1728. Macheath is the romantic highwayman who can't stay away from women, who is caught twice in the course of the play, and who always gets away.
His last escape is particularly unexpected. All hope appears to be lost, and Mac even appears to accept his hanging as an escape from his six wives, all of whom have shown up.  At this point, however, one of the spectators (within the play) turns to the beggar playwright, and the two have the following interchange:
Player: But, honest friend, I hope you don't intend that Macheath shall be really executed.
Beggar: Most certainly, sir.  To make the piece perfect, I was for doing strict poetical justice.  Macheath is to be hanged; and for the other personages of the drama, the audience must have supposed that they were all either hanged or transported.
Player: Why then, friend, this is a downright deep tragedy.  The catastrophe is manifestly wrong, for an opera must end happily.
Beggar: Your objection, sir, is very just, and is easily removed; for you must allow that in this kind of drama, 'tis no matter how absurdly things are brought about.  (He spots one of the prisoners off-stage to the left; he claps his hands to get his attention.)  So—you rabble there! Run and cry a reprieve!—let the prisoner be brought to his wives in triumph!
We the audience are not put off by this contrivance. Indeed, we are that much more delighted, just as we are delighted when RGIII and Wilson escape 250-pound linebackers and throw for first downs and touchdowns.
But of course, Vick is a dark reminder that the highwayman is not always granted a reprieve and that that there's a downside to their style of play. Vick has now missed a number of games because of a concussion (one of many) and may be headed out of Philadelphia at the end of the year. A number of commentators, meanwhile, are worried about all the hits that RGIII is taking. In the N(ot) F(or) L(ong), too often the brightly shining play of running quarterbacks also brings to mind the famous Edna St. Vincent Millay lyric:
My candle burns at both ends
It will not last the night;
But ah, my foes, and oh, my friends –
It gives a lovely light.
Tom Brady and Peyton Manning, classic drop back quarterbacks, may be less scintillating, but they are built for the long haul.