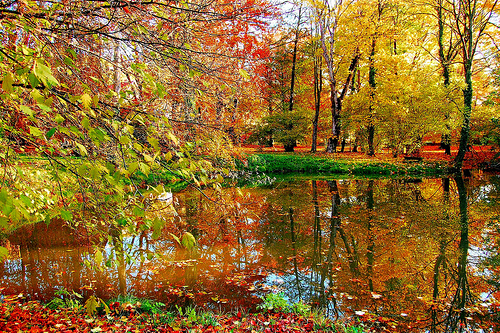 Spiritual Sunday
Today I am attending the memorial service of my Aunt Betsy Conant, who died after a long bout with Alzheimer's, and I will be reading a Mary Oliver poem. As I have noted in previous posts on Oliver, she is an intensely spiritual poet and her poems are often shaped by the narrative of despair saved by grace. Even though she is never overtly religious, she frequently resorts to religious language.
"In Blackwater Woods," the poem I have selected, has a striking image of autumn trees as "pillars of light," reminiscent of the pillar of fire that led Moses and the Israelites into unknown territory. In this case, the unknown territory is death, and Oliver imagines crossing a "black river of loss whose other side is salvation." What this salvation consists of, Oliver acknowledges,  "none of us will ever know."
It is because we don't know that we must live fully in this world, with its "rich fragrance of cinnamon and fulfillment." Sounding strangely definitive after just having admitted her ignorance, Oliver gives us three rules for life. The last of these rules is what our memorial service is for: we loved Betsy dearly, loved her as though our own life depended on it, but now the time has come for us to let her go.
In Blackwater Woods
by Mary Oliver
Look, the trees

are turning

their own bodies

into pillars



of light,

are giving off the rich

fragrance of cinnamon

and fulfillment,

 
the long tapers

of cattails

are bursting and floating away over

the blue shoulders


of the ponds,

and every pond,

no matter what its

name is, is


nameless now.

Every year

everything

I have ever learned


in my lifetime

leads back to this: the fires

and the black river of loss

whose other side

is salvation,

whose meaning

none of us will ever know.

To live in this world


you must be able

to do three things:

to love what is mortal;

to hold it


against your bones knowing

your own life depends on it;

and, when the time comes to let it go,

to let it go.