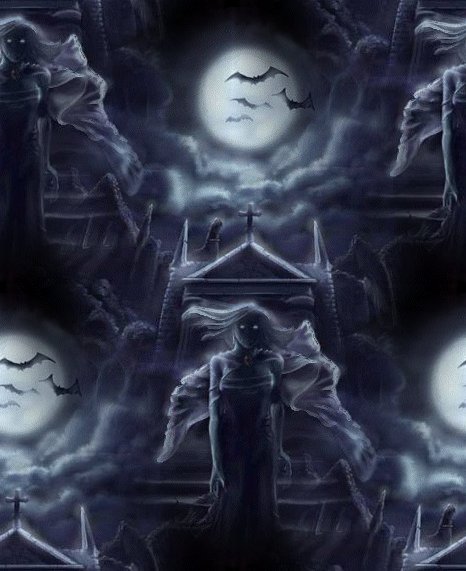 It's been a while since I've written a whimsical post so here is one connecting a John Donne poem with a recent Kinsey study on cuddling.  According to the report, the old stereotypes are wrong: kissing and hugging are more important to the happiness of men than of women.  Women, on the other hand, apparently are more interested in sex than in relationships.
The study's conclusions made me think of Donne's strange "you'll be sorry" poem "The Apparition." In it the poet imagines a woman asking for sex—or seeming to ask for sex—from a man who shrinks from it.
"The Apparition" is the kind of revenge fantasy that one might expect from a 10-year-old (only without the sex). What will happen to this lady if she rejects Donne's offers? He will die of heartbreak and then he'll come back and haunt her.
And that's not all he'll do, he threatens.  He will come back when she is lying with the man she chose over him and she'll wake him up out of fear and he, all tired out from lovemaking, will think she's coming back for more and will shrink away, pretending sleep.  So she'll feel doubly bad: as if the poet's ghost is not bad enough, she rejected him for an inferior lover.
And what will the ghost do? Well, he'll say something that will upset her but he's not going to tell her what it is because then she could prepare for it.  But trust him, it is going to be really, really bad and she'll be really, really sorry.  Just you wait.
Here's the poem:
The Apparition
by John Donne
WHEN by thy scorn, O murd'ress, I am dead,
And that thou thinkst thee free
From all solicitation from me,
Then shall my ghost come to thy bed,
And thee, feign'd vestal, in worse arms shall see:
Then thy sick taper will begin to wink,
And he, whose thou art then, being tired before,
Will, if thou stir, or pinch to wake him, think
Thou call'st for more,
And, in false sleep, will from thee shrink :
And then, poor aspen wretch, neglected thou
Bathed in a cold quicksilver sweat wilt lie,
A verier ghost than I.
What I will say, I will not tell thee now,
Lest that preserve thee; and since my love is spent,
I'd rather thou shouldst painfully repent,
Than by my threatenings rest still innocent.
When I taught this poem to my class, we discussed whether, rather than a revenge poem, it was a pick-up poem. I asked the women in my class whether it would work in a bar, and some acknowledged that it just might.  Wit, they said, can be seductive, and in a roundabout way the poem both acknowledges the poet's sexual prowess and the woman's sexual desires. In an earlier discussion of the equally odd "The Flea," we noted that the deliberate outrageousness of the argument was part of its allure. (See a past post on that here.) It's certainly more interesting than "Is this seat taken?" or "What are you doing tonight?"
Then again, maybe she turned him down because all he wanted to do was cuddle.