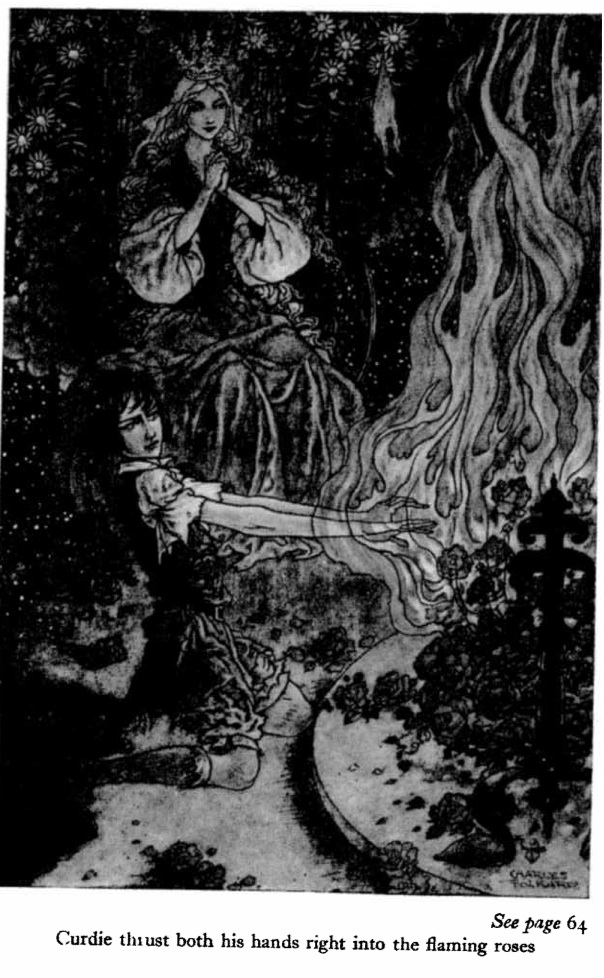 I am writing today about an image that gripped me as a child and that has proved a comfort to me since losing my oldest son ten years ago. I encountered it in The Princess and Curdie, a Victorian children's fantasy novel by George MacDonald.   I use it differently than the author does but it is effective for all that.
MacDonald was a strange fantasist who had an immense influence on C.S. Lewis.  In fact, when I read MacDonald's fiction, I regularly recognize images that Lewis borrows for his Narnia Chronicles.  The Princess and Curdie, the sequel to The Princess and the Goblin, is about one Princess Irene.  In the first book she is threatened by goblins.  These live underground, which means that Curdie, who is a young miner, has knowledge of them.  In the sequel, Curdie is sent on a quest by Irene's fairy grandmother to rescue the king and Irene from evil counselors.  Before he leaves, she equips him with a special gift.
To receive this gift, however, he must thrust his hands into a fire of roses.  Here's the passage that fascinated me:
'Curdie,' she said in answer to his eyes, 'you have stood more than one trial already, and have stood them well: now I am going to put you to a harder. Do you think you are prepared for it?'
'How can I tell, ma'am,' he returned, 'seeing I do not know what it is, or what preparation it needs? Judge me yourself, ma'am.'
'It needs only trust and obedience,' answered the lady.
'I dare not say anything, ma'am. If you think me fit, command me.'
'It will hurt you terribly, Curdie, but that will be all; no real hurt but much good will come to you from it.'
Curdie made no answer but stood gazing with parted lips in the lady's face.
'Go and thrust both your hands into that fire,' she said quickly, almost hurriedly.
Curdie dared not stop to think. It was much too terrible to think about. He rushed to the fire, and thrust both of his hands right into the middle of the heap of flaming roses, and his arms halfway up to the elbows. And it did hurt! But he did not draw them back. He held the pain as if it were a thing that would kill him if he let it go — as indeed it would have done. He was in terrible fear lest it should conquer him.
But when it had risen to the pitch that he thought he could bear it no longer, it began to fall again, and went on growing less and less until by contrast with its former severity it had become rather pleasant. At last it ceased altogether, and Curdie thought his hands must be burned to cinders if not ashes, for he did not feel them at all. The princess told him to take them out and look at them. He did so, and found that all that was gone of them was the rough, hard skin; they were white and smooth like the princess's.
By going through the ordeal, Curdie is able to tell, just by touching someone, who he or she really is.  When he uses this touch on those around the king, he encounters hooves, slimy scales, claws, and the like.  On the other hand, when he takes the paw of Lina, a monstrous creature who is assigned to him, he feels "the soft, neat little hand of a child."
In MacDonald's vision, the gift allows one to penetrate hypocrisy and outer appearance.  As a child, I was drawn to the idea that one might have to suffer hardship to gain special knowledge.
I have come to think of experiencing Justin's death as being subjected to the fire of roses.  The pain was unbearable, but it left me with a new sensitivity.  Not to detect hypocrisy, however.  Rather, I am now able to sense suffering in my students.
Despite their relative affluence and privileged upbringings, more of our students are suffering than one might think. Some have mental or physical illnesses, some have experienced tragedies in their families.  And some are sensitive souls themselves who, to quote Wordsworth's Tintern Abbey, have been bruised by evil tongues, rash judgments,the sneers of selfish men, and "greetings where no kindness is."
I don't detect their suffering through touch. Rather, I pick it up in their responses to literature.  I can see it through how they respond to the self-laceration of Sir Gawain or the aggressive defensiveness of the Wife of Bath.  I may not possess Curdie's absolute certainty—at first I'm not sure what to make of the disturbance that I'm sensing—but when I push further, a narrative starts emerging.
As a result, I am a far better teacher than I once was.  My sensitivity has come at a horribly high price.  But I like to think of it as a gift left to me by Justin, a very sensitive man himself.  It makes his death seem not quite so meaningless.