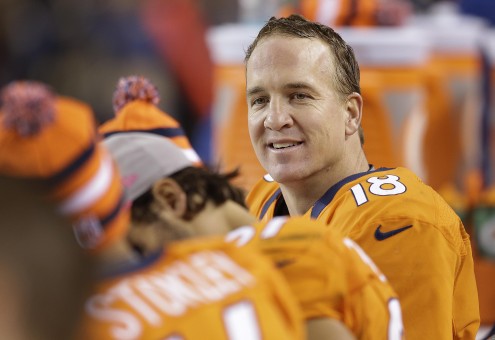 Sports Saturday
Peyton Manning and The Maltese Falcon don't, at first blush, belong in the same sentence, Peyton being a straight arrow and Sam Spade being a seedy private operative. Nevertheless, Dashiell Hammett's classic hard-boiled detective novel has a passage that gives us insight into Manning as well as articulating how strange a season this has been for Manning fans.
I speak of those who were fans of Manning when he played for the Indianapolis Colts but who now find themselves cheering for the Denver Broncos, his current team. Every time I see the blue horseshoe that is the Colts' logo, I have to remind myself that this is no longer my team.
The connection with The Maltese Falcon comes through the story of Flitcraft, one of Sam Spade's cases. A successful businessman with a good family, Flitcraft one day goes missing and Spade is eventually called in to track him down. As Spade describes it, "He went like that, like a fist when you open your hand."
Five years later, Spade tracks down Flitcraft in Spokane, where, after wandering for a while through the Pacific northwest, he has changed his name to Charles Pearce, set up a successful automobile business, married, bought a suburban home, and had a baby. What triggered his decision to leave, he tells Spade, is nearly being hit by a falling construction beam when he was out walking. At that moment he "felt like somebody had taken the lid off life and let him look at the works."
Spade says he had not been unhappy in his old life. He was
a good citizen and a good husband and father, not by any outer compulsion, but simply because he was a man who was most comfortable in step with his surroundings. . . . The life he knew was a clean orderly sane responsible affair. Now a falling beam had shown him that life was fundamentally none of these things. . . . What disturbed him was the discovery that, in sensibly ordering his affairs, he had got out of step, and not into step, with life." He therefore decided to change his life.
Of Flicraft's second wife, Spade says that she "didn't look like the first, but they were more alike than they were different." The same was true of his life. After interviewing Flitcraft, Spade observes
He wasn't sorry for what he had done. It seemed reasonable enough to him. I don't think he even knew he had settled back into the same groove that he had jumped out of in Tacoma. But that's the part of it I always liked. He adjusted himself to beams falling, and then no more of them fell, and he adjusted himself to their not falling.
This seems to have been the story of Peyton Manning as well, with the sole exception that he didn't leave his first family of his own volition. Two seasons ago Manning hurt his neck and the Colts, who finished dead last because of his absence, decided to release him and hire instead the super rookie quarterback Andrew Luck. Being released, for Manning, was like the beam falling and he spent several weeks in a state of shock and, like Flitcraft, wandered around (visiting teams who were courting him). Then, however, he moved to Denver, set up life again, and now things look pretty much the same as they did in Indianapolis. Once again he has exciting wide receivers and dependable tight ends. Once again he is winning most of his games.
Sam Spade sums it up perfectly: Manning playing for the Broncos is not the same, but it's more the same than it is different.
Except that, in one very strange way, it's exactly the same. For years Manning's favorite receiver was Brandon Stokley, who then was released by the Colts and went to play for the Broncos. Then, last year, he retired. But he has been signed again by the Broncos and once again Manning is completing passes to him. In this respect, it's as though we are replaying Manning's early years.
As Spade would say, Manning "adjusted himself to beams falling, and then no more of them fell, and he adjusted himself to their not falling."
Literary scholar Steven Marcus, in a collection of essays on detective fiction wonderfully entitled The Poetics of Murder, says that the Flitcraft story goes to the heart of Hammett's vision of the world. It's also arguably the vision that is at the heart of the National Football League.
Beams are always falling in the NFL, which some have dubbed Not For Long. At any moment an injury or other twist of fate can end a player's season or even career. In that way, football in an intensified metaphor for life. We act, in Marcus's words, "as if existence itself were ordered, ethical and rational," and then, when it is not, for a while we may act "irrationally and at random, in accordance with the nature of existence." But this latter behavior doesn't last long. Eventually we settle down and, like Flicraft and Manning, once again start acting as if life were  ordered, ethical and rational.
Marcus emphasizes the wonder of our adaptability, which he calls "the unfathomable and most mysterious irrational part of it all":
Despite everything we have learned and everything we know, men will persist in behaving and trying to behave sanely, rationally, sensibly, and responsibly. And we will continue to persist even when we know that there is no logical or metaphysical, no discoverable or demonstrable reason for doing so.
Manning is currently playing for the Broncos as though he has always been there. We watch him and have to remind ourselves that he is now Pearce, not Flitcraft. According to Marcus, what fascinates Marcus and what could fascinate us as well is our awareness of how seemingly timeless normality has arisen out of disruption. As Marcus puts it,
For Hammett and Spade and the Op, the sustainment in consciousness of such contradictions is an indispensable part of their existence and of their pleasure in that existence.
In short, I should savor the existential dissonance I feel when I see Peyton in a Broncos' uniform.
Previous posts on Manning:
Federer, Peyton: Made Weak by Time and Fate?
Peyton Manning as Moby Dick?!
Bill Belichick as Professor Moriarty
What to Make of a Diminished Peyton
Manning vs. Brady, Hector vs. Achilles
Win or Lose, Turn to Beowulf
Quarterback Poems for Inspiration
Football Doggerel in Praise of the Colts
Manning as Beowulf, No Joy in Mudville
Schadenfreude and the NFL
Romanticism, Classicism and Football