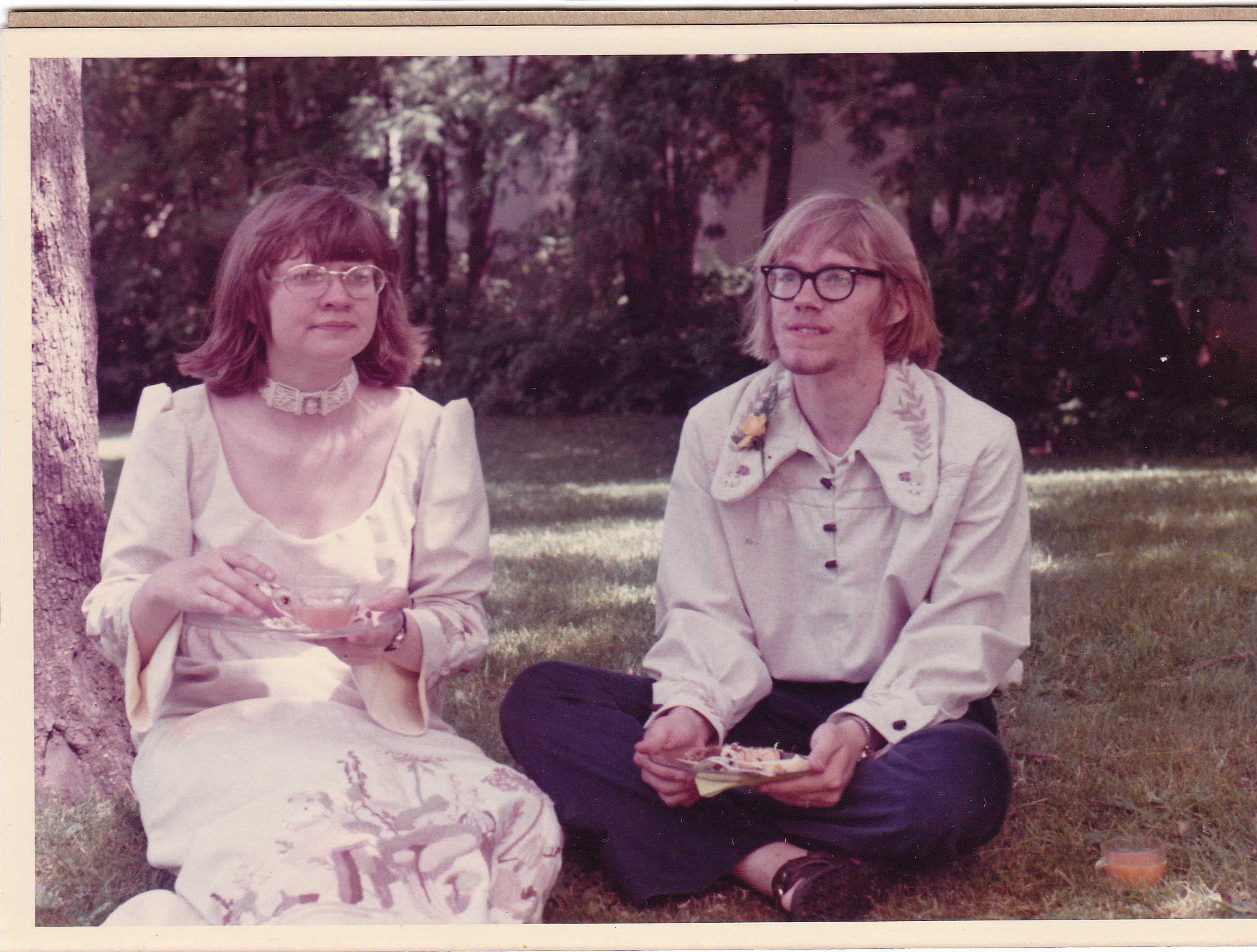 Today is my wedding anniversary so you get to hear how I wove poetry into my ceremony almost four decades ago.  W. B. Yeats, Archibald MacLeish, D.H. Lawrence, and the Song of Solomon all made appearances.  Get ready for time travel back to a very different era.
First I'll set the occasion.  The year was 1973 and for "convenience reasons" Julia and I decided to get married on the day we graduated from Carleton College.  So did two of our best friends.  So we went to John and Ann (Smith) Colman's 7:30 wedding, Julia poured punch at the reception while I went off to be inducted into Phi Beta Kappa, then we graduated, then we gave a luncheon, then we got married, then there was a reception, and then we loaded our belongings into Julia's blue pickup with red wheels (so much depends) and drove off.
The days leading up to the wedding hadn't been much quieter.  I turned in my last essay (a late paper for a required physics course) early in the week and then stayed up much of the following night writing the wedding ceremony.  Then there was the rehearsal, the rehearsal dinner, and the opening of the presents.   I think I walked through the wedding like a zombie.
While in college I distanced myself from the hippy movement–I was an intellectual, avoided drugs, and didn't care much for post-Beatles hard rock—but when my sons look at the wedding picture above, they tell me I was a hippy.  After all, they see me wearing blue jeans, sandals, and an open necked muslin peasant shirt while Julia has a muslin wedding dress that her mother and sister made, embroidered with mushrooms.  There were also mushrooms on the wedding cake–sugar, not psychedelic.
In many ways the ceremony I wrote was a defense of marriage.  In those days many of us casually talked about marriage as a "bourgeois institution," and inside my head I was working to convince both myself and my Marxist history advisor Karl Wiener that there's a place for ritual in the world.
To begin that defense, I chose the final stanza of Yeats's  "Prayer for My Daughter," which we put in our wedding invitation:
And may her bridegroom bring her to a house
Where all's accustomed, ceremonious;
For arrogance and hatred are the wares
Peddled in the thoroughfares.
How but in custom and in ceremony
Are innocence and beauty born?
Ceremony's a name for the rich horn,
And custom for the spreading laurel tree.
To begin the ceremony, which of course was held outside with recorder music, I chose two poems to be read aloud.  The first was from that most sensual of all Biblical books, "Song of Solomon" (2:1-16) .  Then (what was I thinking?!) we had Carleton poet Keith Harrison read an explicitly sexual poem by D. H. Lawrence called "Tortoise Shout."
I'd venture to say that Lawrence's account of copulating turtles hasn't been read at too many weddings.  You can see how my hormones were operating at the time.  Here are the final three stanzas:
The cross,
The wheel on which our silence first is broken,
Sex, which breaks up our integrity, our single inviolability, our deep silence
Tearing a cry from us.
Sex, which breaks us into voice, sets us calling across the deeps, calling, calling for the complement,
Singing, and calling, and singing again, being answered, having found.
Torn, to become whole again, after long seeking for what is lost,
The same cry from the tortoise as from Christ, the Osiris-cry of abandonment,
That which is whole, torn asunder,
That which is in part, finding its whole again throughout the universe.
Torn asunder.  Finding its whole again.  As I look through my ceremony now, I see that it is permeated with Lawrencian themes, especially the tension he sees (like his great influence Walt Whitman) between being separate and being joined.  I think I was also plugging into Marxist themes of a new synthesis emerging out of thesis and antithesis.  In short, I was scared about giving up my independence and was trying to figure out what it would all lead to.  Here's what I wrote, which those in attendance received on mimeographed sheets:
Minister:
The marriage bond is a bond between two individuals. It does not entail a merging of one into the other, for in merging the individuality is lost.
Congregation:
There must be a tension of difference.  Without the tension, there can be no growth.
Minister:
From the tension, this man and this woman will grow to new awarenesses and reach new syntheses.  Marriage can be beautiful because it provides a unified form in which to search.
Congregation:
Marriage is like a sonnet.  As a fixed form it endows a heightened beauty on the infinite number of variations within.
Minister:
The bond is the attraction between two stars revolving around each other, caught in each other's orbit but resisting an incorporation which would burn brightly but die quickly.
Congregation:
"Love is the leaning grasses and two lights above the sea." [from MacLeish's "Ars Poetica"]
Minister:
If we are gathered together today it is because through ritual we ascertain the symbolic nature of the bond.  And only through symbolism can we touch upon the beauty and the innocence.
Congregation:
"How but in custom and in ceremony
Are innocence and beauty born?
Ceremony's a name for the rich horn,
And custom for the spreading laurel tree."
Then we sang "Tomorrow shall be my dancing day" and Moravian minister Erwin Boettcher (Julia grew up Moravian) gave a homily as we knelt before him.  And then, to quote from the program:
Minister (to congregation):
You are gathered here because the bond to be made is not only between Julia and Robin.  It is also between them and you, who are representative of the larger community.  Are you willing to accept in that community a new member?
Congregation:
We are.  (or We Aren't.)
Apparently I was willing to give people an option.  My advisor told me afterwards that he took the second option.  As a born contrarian, he may not have been kidding.
Looking back, I feel like I had set myself up for parody by a Woody Allen movie.  But to be sympathetic with this 21-year-old who didn't know much about the woman he was marrying and who was about to fling himself headfirst into an unknown and frightening world, he was grabbing from what frameworks he had.  The traditional Episcopalian service is beautiful, but I wasn't an Episcopalian then and I didn't have a church community. So I turned to poetry and my senior thesis.
And I wasn't entirely wrong to do so.  I'm struck by how much of our subsequent marriage has unfolded as the service anticipated.  Our relationship has been a dance between each of us finding our own way and the two of us working things out together.  The poetry made me wiser than someone that age has any right to be.
Where (I hear you ask) was Julia in all of this? After all, her ancestors were Moravian missionaries and she had grown up in a Moravian community in Grace Hill, Iowa.  During college she attended Northfield's Moravian Church every week.  We could have been married there with a traditional ceremony. If I were getting married today, I would honor that tradition.
But she was wrestling with faith and the meaning of ritual herself.  Furthermore, as she puts it, "I wanted to marry you, I knew you could always back out, and so I figured you had to work it out for yourself."  She must have known me well because, in writing the ceremony, I reassured myself that I was doing the right thing.
And it was the right thing.  After 38 years together, she's still the love of my life.
Go here to subscribe to the weekly newsletter summarizing the week's posts. Your e-mail address will be kept confidential.