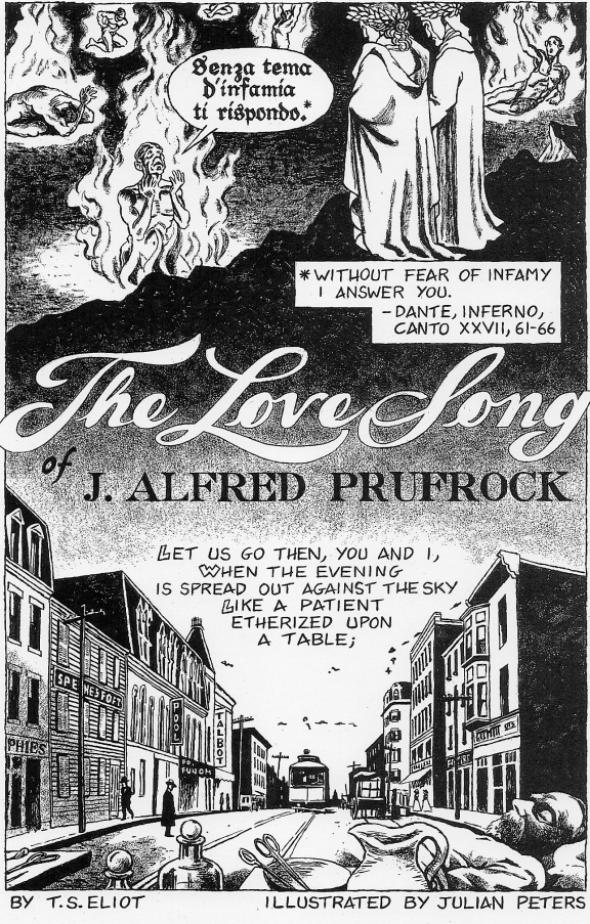 Let us go then, you and I, when commercials are spread out against the sky like… Well, you get the point. Today is Black Friday, when we go through shopping malls that are the opposite of half deserted, driven by inchoate longings for some deeper meaning that always seems beyond our grasp.
But enough with modernist angst at the beginning of the holiday season. I share with you today something that you can have fun with: an illustrated edition of T. S. Eliot's Love Song of J Alfred Prufrock, by Julian Peters. Slate includes the first half of the poem here and it's a hoot. Unfortunately, Slate's exceprt doesn't include the second half so we don't get to see the mermaids who refuse to sing to Prufrock. I guess we'll have to buy the book.
I grew up  with Classic Comics, which first introduced me to Moby Dick and Last of the Mohicans. Peters' work, however, is closer to those graphic novels like Watchmen. His Prufrock resembles Eliot, and while we should be careful not to confuse speaker with author (the speaker has a bald spot, Eliot was in his early twenties), Eliot has always felt to me prematurely old. An old man in a dry month, as it were.
Anyway, check out the Slate excerpt. A great poem generates many responses.