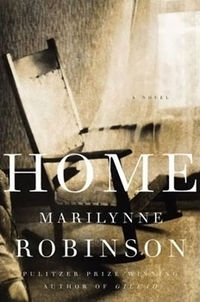 Have you ever thought that the books we obtain from libraries or bookstores sometimes choose us rather than the other way around? That would explain why a books-on-disk version of Marilynne Robinson's Home (2008) ended up in my possession as I drove down to Tennessee to be with my father as he was released from the hospital. I didn't know that the book is about two people who return to the family home to be with their own ailing father.
Home is a companion book to Robinson's Gilead (2005), one of my favorite contemporary novels. Whereas Gilead is told from the point of view of a Congregationalist minister in 1950s Iowa, Home features his fellow minister and best friend, Robert Boughton. The story is told from the point of view of Boughton's youngest daughter Glory, who has returned home after a traumatic relationship. She begins to forge a bond with the black sheep of the family, Jack, who also has returned in an attempt to sort his life out.
As in Gilead, there are rich interactions between the characters, with psychology and religion playing prominent roles. The primary focus is the family's attempts to understand and communicate with Jack. But what hits me hardest is how Glory and Jack interact with their father, who is sometimes remarkably thoughtful and sometimes trapped in the past. The children have to be careful not to be patronizing, even though, in another way, they have become the parents. Robinson captures the complicated dance in a way that preserves the dignity of all characters.
My own situation is different in that my indomitable mother continues to run the household and care for my father, even though she lives in constant back pain. Still, Robinson's novel captures many of my concerns.
Those of you who have enjoyed my father's poems will be glad to hear that his bladder infections have cleared up and that he is once again suggesting poems for me to use on this blog. Also, for those of you who enjoyed the account of how he carried an anthology of poetry with him through the European theater in World War II, you may be interested in knowing that he has now experienced what he describes as "total recall" of his World War II experiences. He feels driven to share these experiences with anyone interested.
His total recall occurred after he had spent a couple of weeks in incoherence, which may have been the result of his infections. He has started having recurring dreams of being bombed by the Germans while on Omaha Beach (he landed there two weeks after D Day). But he says it's not a PTSD dream because it doesn't have that level of trauma and terror. Nevertheless, he says that it is incredibly vivid.
Many of the tales he has to tell about the war, the stories of soldiers' sexual lives during the occupation, he complains have been suppressed. He reminds me somewhat of "Word" Smith, the narrator in Philip Roth's baseball work The Great American Novel, who claims that baseball commissioner Bowie Kuhn has covered up the truth about a scandalous episode in baseball's history. Sometimes my father invokes Aeschylus's Cassandra, the prophetess that no one will listen to.
Tim O'Brien's fine Vietnam novel has given me one insight into my father's need to tell his war stories. O'Brien talks about the deep necessity of recounting these stories–there is one character, Bowker, who does not and who commits suicide maybe as a result–and my father mentions how he wasn't able to tell many of his stories when he returned to Carleton College after the war. In fact, one story he wrote for the literary magazine in 1946, about a soldier getting venereal disease, appalled the president of the college at the time, and faculty had to come to my father's defense. This experience of having the "truth" suppressed (my father keeps talking about the need to "tell the truth") seems to be part of my father's need to communicate now. As a result, I am hearing a lot about soldiers and sex.
I now understand how my father's college story is indirectly autobiographical. The protagonist is a repressed young GI who has a sexual experience in France and then can't stop himself and begins getting the clap. My father describes himself as so shy that he resisted most of the women who made offers–although he talks of losing his virginity during the liberation of Paris–so the story would have gotten at both his wishes and his anxieties. And then it was suppressed.
As an aside, I'm wondering how much of the repressed 1950s can be attributed to veterans who felt that they had to hide their war stories. Such suppression is the subject of one of John Cheever's finest short stories, "The Country Husband."
Anyway, in returning home I find myself immersed in stories of the past.