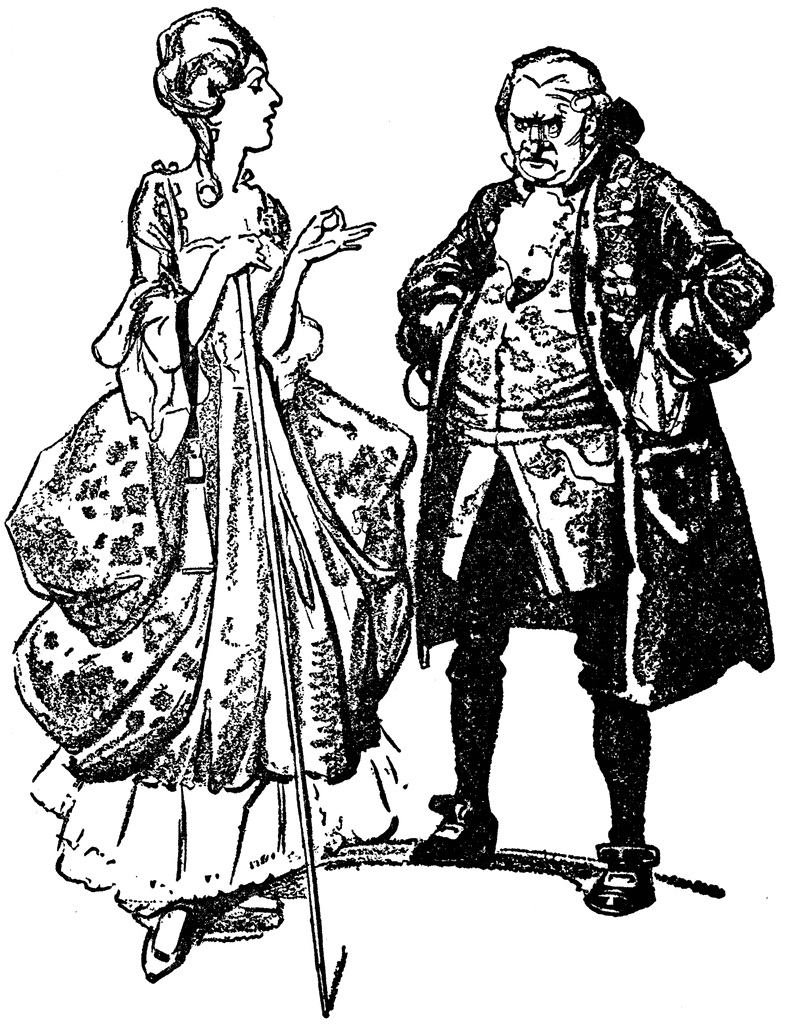 Chuck Hagel, nominee for Secretary of Defense, once received funding from an organization called Friends of Hamas. Or so a number of rightwing media organizations (including the National Review) were claiming until it came to light that there is no such organization and that the story was originated by a reporter floating a fictional hypothetical.
The whole affair could have been a scene in Richard Sheridan's School for Scandal.
The first organizations to report the story are refusing to acknowledge they made a mistake. Instead, they claim that they truthfully reported what someone else said (although that someone has clarified that he was using a deliberately outlandish hypothetical). As editor Ben Shapiro of Breitbart.com now says in weasel language, "The story as reported is correct. Whether the information I was given by the source is correct I am not sure."
Sheridan's Mrs. Candour, if she were real and alive today, would be working for Breitbart.com. Here she is reporting on the latest scandals:
MRS. CANDOUR: Mr. Surface–the World says scandalous things of you–but indeed it is no matter what the world says, for I think one hears nothing else but scandal.
SURFACE. Just so, indeed, Ma'am. 
MRS. CANDOUR. Ah Maria Child—what! is the whole affair off between you and Charles? His extravagance; I presume–The Town talks of nothing else—- 
MARIA. I am very sorry, Ma'am, the Town has so little to do. 
MRS. CANDOUR. True, true, Child; but there's no stopping people's tongues. I own I was hurt to hear it–as I indeed was to learn from the same quarter that your guardian, Sir Peter, and Lady Teazle have not agreed lately so well as could be wish'd. 
MARIA. 'Tis strangely impertinent for people to busy themselves so. 
MRS. CANDOUR. Very true, Child; but what's to be done? People will talk–there's no preventing it.–why it was but yesterday I was told that Miss Gadabout had eloped with Sir Filagree Flirt. But, Lord! there is no minding what one hears; tho' to be sure I had this from very good authority. 
MARIA. Such reports are highly scandalous. 
MRS. CANDOUR. So they are Child–shameful! shameful! but the world is so censorious no character escapes. Lord, now! who would have suspected your friend, Miss Prim, of an indiscretion. Yet such is the ill nature of people, that they say her uncle stopped her last week just as she was stepping into a post chaise with her dancing master. 
MARIA. I'll answer for't there are no grounds for the report. 
MRS. CANDOUR. Oh, no foundation in the world I dare swear; no more probably than for the story circulated last month, of Mrs. Festino's affair with Colonel Cassino–tho' to be sure that matter was never rightly clear'd up. 
SURFACE. The license of invention some people take is monstrous indeed. 
MARIA. 'Tis so but in my opinion, those who report such things are equally culpable. 
MRS. CANDOUR. To be sure they are; tale bearers are as bad as the tale makers–'tis an old observation and a very true one—but what's to be done as I said before–how will you prevent people from talking–today, Mrs. Clackitt assured me, Mr. and Mrs. Honeymoon were at last become mere man and wife—like the rest of their acquaintance–she likewise hinted that a certain widow in the next street had got rid of her dropsy and recovered her shape in a most surprising manner–at the same time Miss Tattle, who was by, affirm'd that Lord Boffalo had discover'd his Lady at a house of no extraordinary fame–and that Sir Harry Bouquet and Tom Saunter were to measure swords on a similar provocation. But–Lord! do you think I would report these things–No, no! tale bearers as I said before are just as bad as the talemakers. 
SURFACE. Ah! Mrs. Candour, if everybody had your forbearance and good nature—
School for Scandal was reportedly George Washington's favorite play. I wonder if he was responding to its depiction of the politics as well as to the social scandal of the day.