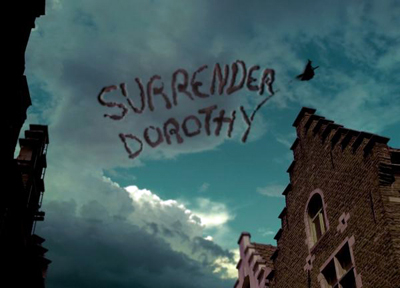 Film Friday
Film allusions are flying free in political commentary as Rick Santorum has managed to prolong the Republican nomination process with double wins this past week in Alabama and Mississippi. Here are some of the better ones.
Rick Santorum as Dorothy
Paul Begala of The Daily Beast is impressed by Rick Santorum's doggedness:
When will politicians learn that "electability" is not a compelling reason to vote for a presidential candidate? Hillary Clinton's campaign ran aground on the shallow shoals of "electability," and now Romney's yacht has done the same. Turns out that when you write "Surrender, Dorothy" across the sky, Dorothy actually doesn't surrender. In fact, it makes her even more determined to resist.
Mitt Romney as Terminator 3
Charles Blow of The New York Times notes how Mitt Romney keeps accruing delegates even while losing primaries:
The Republican Party has a big problem. Huge!
Their likely nominee isn't much liked by the base of the party. Yet even as he loses primaries in the most conservative parts of the country, he continues to stack up delegates. He is Mitt of the Indomitable Math. He's like the Terminator cyborg in Terminator 3: Rise of the Machines, who informs the hero John Connor that "Judgment Day is inevitable." Romney, the Republican establishment and even Team Obama believe his nomination is inevitable.
Newt Gingrich as Bruce Willis in The Sixth Sense
Blogger Steve Benen sees Gingrich as the ghost who doesn't know he's ghost in the Shyamalan film:
There's also the very real possibility that Gingrich sticks around, but the political world simply ceases to care. He might remain a candidate on paper, in case the other candidates implode, but without support or resources, he would fade into the background.
Either way, at this point, Gingrich is a lot like Bruce Willis in The Sixth Sense — he's gone, but he just doesn't seem to know it yet.