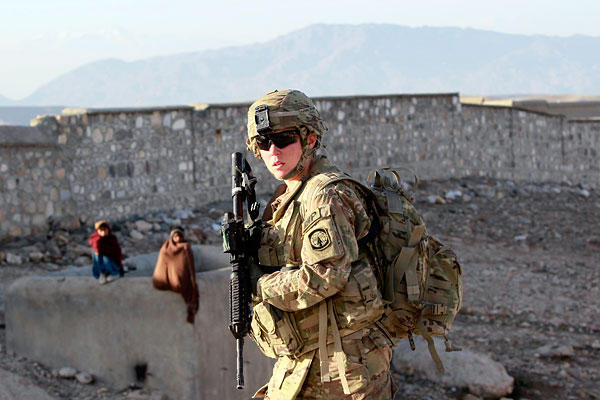 Before you lambaste me for the sexism in my title, know that I'm referring to a Tim O'Brien short story as I write about the Secretary of Defense's decision to lift the Pentagon's ban on women in combat. "The Sweetheart of the Song Tra Bong," which appears in his collection of semi-fictional essays The Things They Carried, leads to some interesting reflections upon how we respond to warfare.
"Sweetheart" is about a soldier who smuggles his girlfriend into his Vietnam platoon. As storyteller Rat Kiley describes it, she is the archetypal high school sweetheart:
Listen, the guy sends her the money. Flies her over. This cute blonde—just a kid, just barely out of high school—she shows up with a suitcase and one of those plastic cosmetic bags. Comes right out to the boonies. I swear to God, man, she's got on culottes. White culottes and this sexy pink sweater. There she is.
There are more unexpected twists to the story. Rather than being repulsed by the war, Mary Jane is fascinated by it. She learns about the weaponry and goes out on missions. Then she leaves her boyfriend and joins the phantom-like Green Berets. Her final words to her former fiancé explain her internal change:
"You just don't know," she said. "You hide in this little fortress, behind wire and sandbags, and you don't know what it's all about. Sometimes I want to eat this place. Vietnam. I want to swallopw the whole country—the dirt, the death—I just want to eat it and have it there inside me. That's how I feel. It's like…this appetite. I get scared sometimes—lots of times—but it's not bad. You know? I feel close to myself. When I'm out there at night, I feel close to my own body, I can feel my blood moving, my skin and my fingernails, everything, it's lke I'm full of electricity and I'm glowing in the dark—I'm on fire almost—I'm burning away into nothing—but it doesn't matter because I know exactly who I am. You can't feel like that anywhere else."
Eventually she takes risks that even the Green Berets balk at and leaves them as well. Although no one hears from her again, at times they sense her presence:
Late at night, when the Greenies were out on ambush, the whole rain forest seemed to stare in at them—a watched feeling—and a couple of times they almost saw her sliding through the shadows. Not quite, but almost. She had crossed to the other side. She was part of the land. She was wearing her culottes, her pink sweater, and a necklace of human tongues. She was dangerous. She was ready for the kill.
The story, fanciful though it is, challenges certain stereotypes about women. Deep down, many people hang on to an idealized image, some version of women as a repository of higher virtues that are supposed to save men from their own inner darkness. According to this view, it goes against their nature to engage in humanity's savagery. But the facts on the ground are that women in the military are already experiencing combat directly. Most haven't gone rogue like Mary Jane—although Lindsey England did to a degree at Abu Gharib Prison—but they are also not angels on the hearth.
O'Brien's story is a conversation with a novella that presents us with the angel stereotype. "Sweetheart" is in many ways a rewriting of Conrad's Heart of Darkness. Mary Jane is a modern version of Kurtz, and there are a couple of allusions linking them. ("The wilderness seemed to draw her in." "'Lost,' [her boyfriend] kept whispering.") When Marlow discovers that the values of Christian Europe cannot prevent one of its most exemplary citizens from succumbing to his inner darkness, he turns to women for salvation. In the end, Marlow depends on the idealism of Kurtz's Intended and cannot bring himself to tell her about her fiancé's corruption because he fears it would break her and that it would be "too dark altogether."
It's not clear that Marlow is doing this for the Intended. I think he's really doing it for himself, just as Rat Kiley is using the Mary Jane story to articulate his own loss of innocence. Marlow doesn't want his final illusions about humanity to be shattered, and although he makes several demeaning comments about women's fantasy worlds in the course of his story, in the end he is dependent on those fantasies. By seeming to protect her, he turns away from the truth while at the same time infantilizing her.
Imagine a more powerful ending. If Marlow had revealed what happened to Kurtz, the two of them could have figured it out  together. Men and women working in equal partnership can accomplish a lot.
My point is that war is an ugly, ugly business and we may face up to that fact better if there are women as well as men who know this truth about it. The United States entered a heart of darkness in Vietnam and it entered another one after 9-11. The reason why it was such a big deal for the Bush/Cheney administration to suspend the Geneva Conventions and practice torture–and why the Obama administration must be accountable for its drone attacks–is because, without checks, we all plunge into barbarism.
So here's an alternative ending to Conrad's and O'Brien's stories. Instead of trying to shield women from the horrors, the men express their own distress and ask for assistance. Who knows what happy endings might emerge?