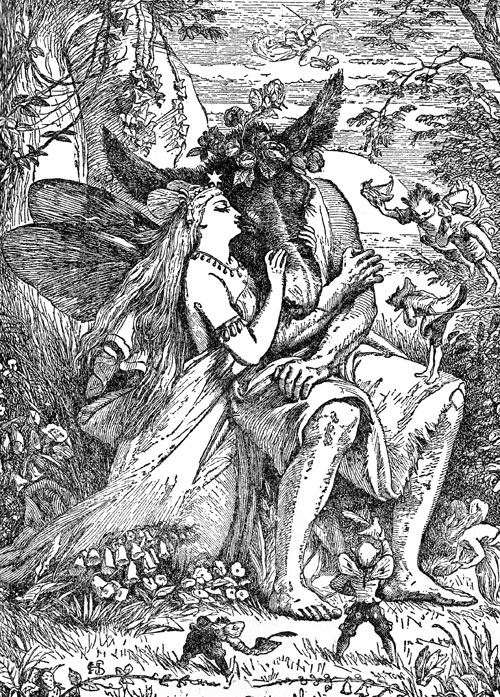 Teaching a course in British Fantasy has given me a new perspective on Midsummer Night's Dream, our first work. The course could be called (borrowing from Bruno Bettelheim) "the uses of enchantment" because our focus is on how and why people turn to fantasy. In our class discussion, we decided that Shakespeare uses his green fairy world to protest repressive social restrictions. But that having been said, the play is also a pretty strong argument for marriage.
The idea that the play's fantasy is a protest against a repressive society is not new. Scholars such as Northrup Frye were making such arguments years ago. In my most recent reading, I came to realize that the alternative fantasy world is less benign that I once thought. Perhaps I was overly influenced by play productions where children (once my six-year-old son) play Titania's fairies. Maybe I had been seduced by Mendelssohn's music. Now, however, I see tht Shakespeare depicts nature as anarchistic and dangerous.  Marriage, meanwhile, appears like a desperate attempt to rein in wild horses.
At first, the fantasy green world seems a healthy corrective. If fathers are unreasonable and prepared to have their disobedient daughters executed, then why not opt for a world without rules?
Unfortunately, almost from the get-go, characters seem prepared to abandon all social restrictions, not just tyrannical ones.No sooner do Hermia and Lysander find themselves lost in the woods than Lysander starts making moves on her.As one of my students pointed out, Hermia may want to escape from repressive marriage laws, but once she enters into the world of anarchistic nature, lovers' promises stop holding up as well.Sure enough, a little while later Lysander is running after Helena and telling Hermia that he hates her.
To be sure, Puck's magic fairy juice causes Lysander to change his mind. But that fairy juice can be seen as a metaphor for the unpredictability of human desire. My students tell me that they remember peers in high school behaving exactly like Lysander does. Puck is on the rampage in places other than in Shakespeare's green world.
Shakespeare gives us other instances of hell breaking loose once rules are suspended. Demetrius warns Helena that, if she continues to chase him, she could end up getting raped. Or as he puts it,
You do impeach your modesty too much,
To leave the city and commit yourself
Into the hands of one that loves you not;
To trust the opportunity of night
And the ill counsel of a desert place
With the rich worth of your virginity.
To be sure, Demetrius is just trying to scare Helena, whose desire overwhelms him. Her longing for him doesn't need to be enhanced by any fairy juice, and she is so relentless in her pursuit of him that he finally just runs away.  One has a sense that his dangerous male nature doesn't stand a chance against her unbridled female nature.
This isn't the only place where nature creates chaos.  Puck's suspension of the rules leaves the two men trying to kill each other and the two women squaring off in a royal girlfight.(Again, just like in high school, my students tell me.)And then there is Titania running after an ass, prompting Polish scholar Jan Kott to find a bestiality theme in the play.Nature is not nice.These fairy folk can unleash destruction, as we see by the torrential rain storms that Oberon and Titania unleash through their quarreling.
For that matter, think how much chaos unbridled sexuality plays in our own society: every few months, it seems, another political career comes crashing down due do some sexual scandal. The fact that many of these politicians are ardent "family values" proponents shows us that Puck is prepared to turn anyone who doubts his power into a fool.
So how is the play an argument for marriage? Because human desire needs some regulating. Shakespeare is not in favor of liberalism run wild. For instance, Theseus conquers Hippolyta with raw male violence–"I wooed thee with my sword, and won thy love, doing thee injuries"–and marriage is needed to get back to something civilized.  To be sure, civilization can become repressive, as occurs with Egeus. Ultimately, Shakespeare wants a balance between society and nature. He wants Theseus and Oberon to collaborate.  This exercise in fantasy shows us the way.
ONE OTHER NOTE – Art helps out in the civilizing enterprise as well.  Why does the court choose to watch a silly play following the marriage?  Because the couples need some way to fill up the time until they can get on to what they really want to be doing.  As Freud would point out, when we push under our sexual impulses, they can sublimate into art.  Pretty silly art, in this case, but then "even the best of this kind are but shadows."