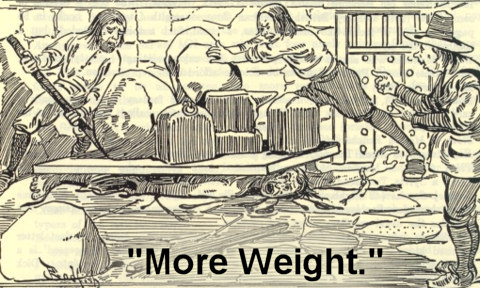 Wednesday
I write a short blog post today as I am in MedStar Washington Hospital Center after suffering what first appeared to be a heart attack. The urgency was such that they transported me by helicopter to the cardiac ward, but now they're thinking it's something else. Pericardial disease mimics heart attacks.
In retrospect, I should have called 9-1-1 when what felt like iron bands started squeezing my chest.  Instead I gutted it out, surviving the long dark night with visions of Giles Corey from Arthur Miller's The Crucible. 
Elizabeth tells the story:
Great stones they lay upon his chest until he plead aye or nay. (With a tender smile for the old man): They say he give them but two words. "More weight," he says. And died.
I myself called for less weight, not more. Nevertheless, I could feel noble when I thought of Giles's suffering. When we are looking for consolation, we will take what we can get.