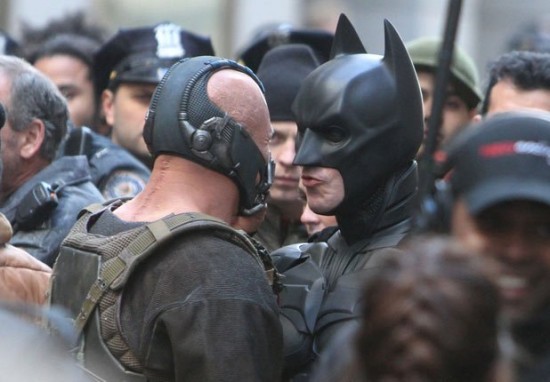 Film Friday
After watching The Dark Knight a couple of years ago—that's the Batman film with the Joker—I left the theater so depressed that I resolved to watch no more films in the series. But I was also glad to have seen the movie once I learned that my college-age nephew loved it and watched it repeatedly. When a film grips the next generation, I need to know about it.
Therefore, I was not surprised to hear about sold-out midnight showings of The Dark Knight Rises attended by young people in costume. And then, of course, there was the Aurora movie theatre massacre. I now had to go see the film.
Despite Rush Limbaugh's assertions that TDKR is anti-Romney  (the villain is named Bane and Romney's private equity firm is Bain so of course there must be a connection), masked avenger films are variants of the vigilante genre and therefore tend to lean right rather than left. That's because rightwing dissatisfaction with our social welfare state gives rise to fantasies about übermensch individuals that can succeed where local officials—weighed down by weak-kneed humanism, Miranda regulations, and other Constitutional restraints—will fail.  Remember that Superman, the original superhero, is a translation of Nietzsche's übermensch, which inspired both Hitler and Ayn Rand. Therefore we shouldn't be surprised that the film criticizes Occupy Wall Street, rendering a populist takeover in images that may have been borrowed from Eisenstein's October or Ten Days That Shook the World. (City Hall becomes the film's version of the Czar's Winter Palace.)
If you are interested in reading different political interpretations of the film, Jonathan Chait of New York Magazine has a nice summary:
Aaron Bady has a monster essay in the New Inquiry arguing that TDKR is fascistic. John Podhoretz and Ross Douthat call the politics "quiet Toryism." Jamelle Bouie calls the message of the film liberal, and Matt Yglesias sees it as an attack on mainstream liberalism. Somehow I find all these analyses persuasive, which is to say, the movie has certain political ideas, mostly right-wing, but not enough coherence to make any of them stick.
Actually, if the film had political coherence, then Hollywood would be guilty of business malpractice. That's because the movie industry doesn't want to alienate anyone and so deliberately cultivates such deliberate political ambiguity. If it gives us unsympathetic pictures of leftwing mobs, it will also present us with manipulative business guys and insensitive zillionaires. There will be good Muslims to balance the bad Muslims.  And then, so that we can all feel good together, the film reenacts 9-11, with formerly incompetent police bureaucrats becoming heroes. To throw us a further optimistic bone, the movie allows us to imagine a positive future as a busload of school children are saved. Orphans, of course.
But rather than parse the film's ideology, I want to figure out what attracts teenagers to it. If my nephew loved The Dark Knight and may well have attended a midnight showing of The Dark Knight Rises, it is in part because the world in the films seems a version of the world he grew up in.
In TDKR, as in his life, faceless villains with mysterious agendas attack New York. The system is so stacked against individuals that well-meaning women like Cat Woman can't get a decent break and so are driven to steal. Because of financial Bernie Madoff-type shenigans, virtuous rich people like Bruce Wayne end up broke. (Actually, not too many rich people ended up broke after 2008.) Politics is so dirty that even iconic politicians (Harvey Dent in the movie, Barack Obama in real life) turn out to be so not so great after all. Maybe all our problems can be fixed by technology although, given the way things are going these days, that technology seems just as likely to get turned into a nuclear bomb that will kill us all.
So what to do when you feel your society is teetering on the edge of the apocalypse? Dress up as Batman and fantasize about ending the madness. (Batman in the film almost literally pulls himself up by his own bootstraps.) The faceless villains of your nightmares won't wield quite so much power if they are given faces (albeit masked faces) on screen. Furthermore, you can see them actually being defeated, at which point you and your dream partner (who you wished looked like Christian Bale or Anne Hathaway) can get away from it all on a quaint European vacation and begin living a normal life.
But if you are the Aurora, Colorado killer, your vision of living in an apocalyptic world causes you to fantasize about being part of the destruction. Let me emphasize that the movie did not lead to the killings. Rather, the movie's dark vision attracted one who found, in the destruction of Gotham, a metaphor for his own inner darkness. As a result, its prediction of apocalyptic violence became self-fulfilling.