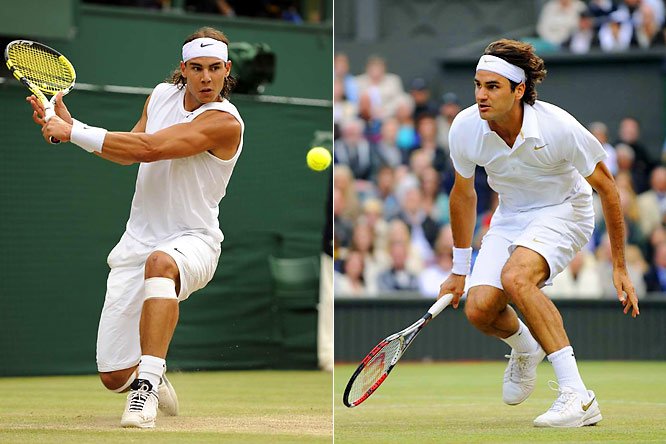 Sports Saturday
For today's post I had originally planned my Roger Federer-Rafael Nadal post to mark what I anticipated would be their meeting in the Wimbledon quarterfinals. This has been one of the great rivalries, not only in tennis, but in all of sports history. But we were robbed of the spectacle when Nadal went out in the first round and Federer, even more shockingly, in the second. Now the contrast feels more like a funeral elegy. I'm not alone in thinking that the "Fedal Era" looks to be over.
To be sure, Nadal may win again at the French Open, whose clay surface favors his game, but I don't foresee him winning a major on any other surface. I don't think Federer will ever win another major. With Federer, the problem is with his age (he's almost 32). With Nadal, it's his bad knees.
Sports Illustrated tennis columnist Jon Wertheim recently turned to literature to contrast the two as he waded into the GOAT debate (Greatest of All Time) that obsesses fans. Both players are worthy contenders and for the moment Wertheim gives the nod to Federer. Nadal, he thinks, can surpass him only if he does well in the future.
Here is Wertheim making the case for each side. The literary allusions begin when he gets to Federer. First, however, Nadal's lawyer makes his case:
Hey, he just turned 27 and won his 12th major. That is, he's closing in on Pete Sampras, within sniffing distance of Roger Federer (17) and still has years to go. He has won a major nine straight years now — something Federer never did. He has won more Masters Series titles than anyone in history. He's doing it all in this — forgive the cliché, Your Honor — golden era.
And, yes, there's that most damning bit of evidence: (jury box gasps) the head-to-head record against Federer. 20-10…I'm not sure this was on the record, but a well-regarded former champion recently put it like this: "How can Federer be the greatest of all time when he's not even the greatest of HIS era?"
And now Federer's advocate:
Federer still has 30 percent more majors. His titles are less concentrated, his majors far more diverse. He has played more consistently, been healthier and that quarterfinal streak (36 straight at majors) is the real mark. Also, note how many times Nadal has won the year-end shebang? (Hint: zero, because his body can't last the entire season, and durability is part of "greatness.")
Nadal is the best on clay. We'll give you that. But that's only one surface. Take away clay, and Nadal has won "only" four Slams and fewer Masters Series titles. He doesn't even have a winning head-to-head record against Federer off clay. Artistry and style have to count for something, and Federer is Flaubert; Nadal is James Patterson. Federer moves on little cat feet like the fog; Nadal grinds. Federer's racket is a paintbrush in his hand; in Nadal's it is a truncheon.
To give the Federer argument extra punch, let's look at the literature that Wertheim invokes. Here are a couple of passages from Madame Bovary. Federer's game at times has matched Emma's dreaming:
Human speech is like a cracked kettle on which we tap crude rhythms for bears to dance to, while we long to make music that will melt the stars.
And:
Everything, even herself, was now unbearable to her. She wished that, taking wing like a bird, she could fly somewhere, far away to regions of purity, and there grow young again.
James Patterson, by contrast, is far less lyrical:
"I feel like, like pudding," Iggy groaned. "Pudding with nerve endings. Pudding in great pain." – The Angel Experiment
And:
"You…are…a…fridge…with wings,' Fang ground out, punching an Eraser hard with every word. "We're…freaking…ballet…dancers." – School's Out—Forever
And now for the "little cat feet" allusion, which I find entirely apt given the way that Federer almost appears to float over the court as he moves and how his strokes appear effortless with no wasted motion:
THE fog comes
on little cat feet.
It sits looking
over harbor and city
on silent haunches
and then moves on.
Maybe I myself am drawn more to Federer because I love the beauty of his game, which is so "little cat feet" graceful that it puts minimum stress on his body. That's why he was able to win Wimbledon last year at 31. It's very different from, and on clay surfaces is overwhelmed by, Nadal's Pattersonian grinding.
But because not everyone is enamored by a cat-like style of play, let's give Nadal his own poem. He's often known as "el toro" for ferocious attacking and dogged defending, so here's a passage from Ralph Hodgson's "The Bull":
And the gristles of his youth
Hardened in his comely pow,
And he came to fighting growth,
Beat his bull and won his cow,
And flew his tail and trampled off
Past the tallest, vain enough,
And curved about in spendor full
And curved again and snuffed the airs
As who should say Come out who dares!
And all beheld a bull, a Bull,
And knew that here was surely one
That backed for no bull, fearing none.
And in all the tramping herd
Not a bull that barred his way,
Not a cow that said him nay,
Not a bull or cow that erred
In the furnace of his look
Dared a second, worse rebuke.
Maybe the player we like best is most determined by whether we prefer cat-like grace or bullish power. At any rate, Fed and Rafa have been perfect foils for each other for a long time, and we who love tennis have been very, very fortunate to have witnessed their battle all these years. Yes, it takes literature to do them justice.
Past posts about Federer and/or Nadal
Tennis Playing—and Writing—at Its Finest 
Portal Fantasies: Nadal Loses, Italy Wins
Fed, Rafa, Djoker: A Sibling Rivalry 
Spain's Tiger Burning Less Bright 
The Prize Fighter vs. the Yokel
Applying Kipling's "If" to Wimbledon