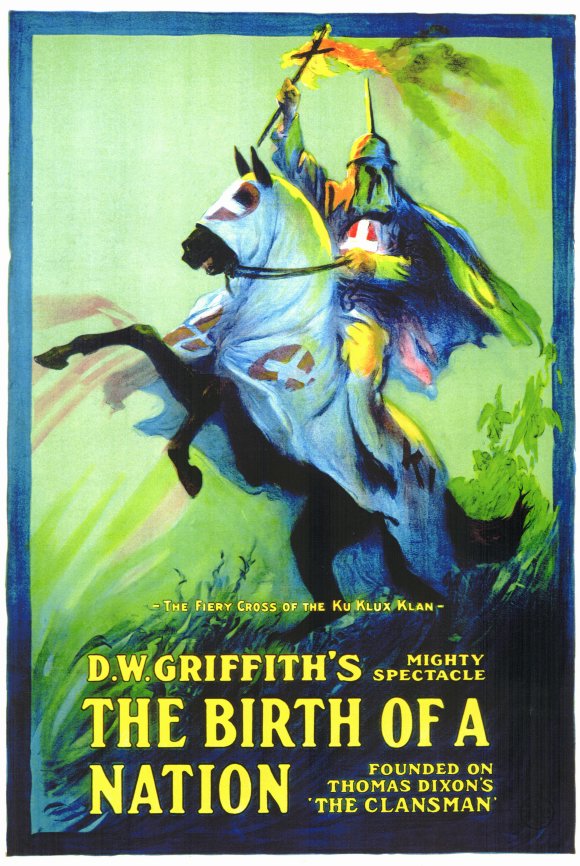 Film Friday
Here's a nice piece of irony about the Ku Klux Klan, pointed out by Slate article about the organization's difficulties recruiting members.  Apparently the group is contracting as it loses potential members to other racist hate groups. One reason is its backwardness in using social media:
Young racists tend to think of the Klan as their grandfathers' hate group, and of its members as rural, uneducated, and technologically unsophisticated. The Klan doesn't seem to have used the web and social media as well as its competitors. The group's failure to effectively deploy technology is a bit of an irony, since one of those newfangled motion pictures, The Birth of a Nation, launched the KKK's second era in 1915.
Griffith's film always presents film lovers with a conundrum since it simultaneously gave the new medium its first genuine masterpiece and also served as a powerful recruiting tool for a vicious hate group.  Now, apparently, the group it celebrated seems as dated at the film itself.
And though he is famous in cinema studies for all but inventing (or at least recognizing the potential of) close-ups, extreme long shots, cross-cutting, and other basic film techniques, Griffith has paid a price for the film that made him rich and famous.  We may be celebrating the silent cinema these days with films like Hugo and the Oscar-winning Artist, but no one is going to wax sentimental about a blatant racist, groundbreaking through he was.
Incidentally, the decline of the Klan doesn't signal the decline of hate groups in general, the Slate article reports.  People are just able to be more selective and find the organization that best fits their identity:
Today, there are countless options, enabling an extremist to find a group that matches his personal brand of intolerance. The more extreme groups in the burgeoning patriot movement cater to anti-Muslim, homophobic, and xenophobic sentiment, with less animosity toward African-Americans and Jews. Aryan Nations offers a heavy focus on Christian identity. Some groups preach more violence, while others offer a veneer of intellectualism.
Ugh.