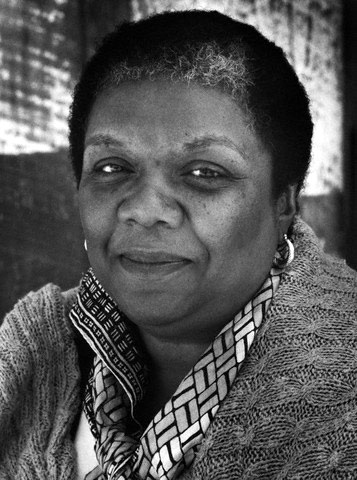 I have just heard about the death of poet Lucille Clifton and I still can't wrap by head around the news. Even as I write this sentence, the opening paragraph of a story by James Baldwin (whom Lucille knew well) comes to me:
I read about it in the paper, in the subway, on my way to work. I read it, and I couldn't believe it, and I read it again. Then perhaps I just stared at it, at the newsprint spelling out his name, spelling out the story. I stared at it in the swinging lights of the subway car, and in the faces and bodies of the people, and in my own face, trapped in the darkness which roared outside. ("Sonny's Blues")
You see, in addition to being one of our preeminent African American poets, a winner of the National Book Award, former poet laureate of Maryland, and one of those crossover writers whose poems appeared in New York subways and on San Francisco billboards, Lucille was a friend and colleague.
Lucille taught at St. Mary's College of Maryland from 1991 to 2007.  (I have written about her previously here and here.)  I can't say that I was intimate with her.  Not many people were.  But I talked with her regularly and we went through some hard times together.  
Both of us, for instance, lost children in the summer of 2000 and reached out to each other.  When an Ethiopian student who was living with us was accused of date rape (the charges were eventually dropped), she helped us out.  When an angry African-American faculty member accused the college of racism and plunged the community into crisis, it was Lucille's perspective and steady hand that brought us all back to sanity.  I remember crying on her shoulder at one time during the affair as memories of my own experiences in the segregated south came flooding back to me.
What I most appreciated about Lucille at St. Mary's, however, is how she supported our minority students.  "i am on the dark side always," she writes in her poem "which side are you on?" and she was definitely on the side of our African American students, whom she reached out "to touch,/ to sooth on more than one/ occasion."   She knew that it wasn't easy coming to a mostly white environment from inner city Baltimore and Washington.  Here's her poem:
which side are you on?
the side of the busstop woman

trying to drag her bag 

up the front steps before the doors

clang shut i am on her side

i give her exact change
and him the old man hanging by

one strap his work hand folded shut

as the bus doors i am on his side

when he needs to leave
i ring the bell i am on their side

riding the late bus into the same
someplace i am on the dark side always

the side of my daughters
the side of my tired sons
It is hard to think of Lucille dead because, as clichéd as it sounds, she was a force of nature.  With some people, the clichés are true.
This a woman who helped women think differently about their bodies.  In 1980 she wrote in praise of large hips and wild hair.   In 1991 she wrote "poem in praise of menstruation," which would have women standing up and cheering when she read it at poetry readings.  Poetry for Lucille was a survival tool.  For instance, "what the mirror said" is a great poem to read if you are suffering low self-esteem because you have a large body:
listen,
you a wonder.
you a city
of a woman.
you got a geography
of your own.
listen,
somebody need a map
to understand you.
somebody need directions
to move around you.
listen,
woman,
you not a noplace
anonymous
girl;
mister with his hands on you
he got his hands on
some
damn
body!
Lucille wasn't always so confident, at least if we are to see some of her early poetry as autobiographical.  For instance, in "the way it was," she talks about herself as a quiet nice girl "trying to be white":
mornings
i got up early
greased my legs
straightened my hair and
walked quietly out
not touching
in the same place
the tree   the lot
the poolroom   deacon moore
everything was stayed
nothing changed
(nothing remained the same)
i walked out quietly
mornings
in the '40's
a nice girl
not touching
trying to be white 
The 1960's, black militancy, and feminism may have helped liberate her, and she in return provided those movements with poetic support.  It is as though somewhere along the line she figured out that the best defense was to come out swinging.
This approach helped her with her hard life as well.  It is remarkable how positive her poetry is given how much suffering she experienced.  In her poem "won't you celebrate with me" she describes herself as a bridge "between starshine and clay," holding things together despite all the things trying to kill her:
won't you celebrate with me
what i have shaped into
a kind of life? i had no model.
born in babylon
both nonwhite and woman
what did i see to be except myself?
i made it up
here on this bridge between
starshine and clay,
my one hand holding tight
my other hand; come celebrate
with me that everyday
something has tried to kill me
and has failed.
What tried to kill her?  Well, for a start, she had cancer at least twice and lost a breast.  She had a gigantic tumor removed.  She suffered from kidney failure and had to get a replacement from one of her daughters. Her husband Fred Clifton, a professor at Johns Hopkins, died of lung cancer (he didn't smoke) while fairly young,  she had a son who was severely schizophrenic, and both he and one of her daughters died when they were in their 30's.  And on top of all this, her father sexually abused her when she was a child.
Yet in spite of all this, she seemed a rock, unafraid to write about suffering and refusing to be bitter.  It wasn't easy, however, as we learn from a poem like "questions and answers."  There she acknowledges that, while others might see her standing tall and firm like a large saguro cactus, she feels as though she is actually hanging on for dear life.  What must it be like, she wonders, for Jesus to have tried walking on water:
what must it be like
to stand so firm, so sure?
in the desert even the saguro
hold on as long as they can
twisting their arms in
protest or celebration.
you are like me,
understanding the surprise
of jesus, his rough feet
planted on the water

the water lapping
his toes and holding them.

you are like me, like him
perhaps, certain only that

the surest failure
is the unattempted walk.
The last stanza may be a key to understanding Lucille.   Since failure is for certain if you don't walk, then you might as well step out with authority, no matter how unsure the footing. 
And so she stepped out, time after time. 
Lucille was very aware that her name derived from "lux" or light.  She entitled one of her books "the book of light," and there are references to light throughout her work, including the poem "the light that came to lucille clifton."  Somehow she managed to find light in even the most unpromising of times, such as when an inner city  family has found temporary respite from the demands of landlord, insurance man and utility company ("oh children think about the/good times"). 
She even found light in memories of her father's abuse.  In the following poem, the "man who killed the bear," the coalminer's son, is her father, and for years she associated him with the full moon part of the month when, like wolf man, he would stalk the house and sometimes invade her bedroom.  And yet, after her father died, she discovered that the moon, like the sun, "also rises" and that it catches light:
only after the death
of the man who killed the bear,
after the death of the coalminer's son,
did i remember that the moon
also rises, coming heavy or thin
over the living fields, over
the cities of the dead;
only then did i remember how she
catches the sun and keeps most of him
for the evening that surely will come;
and it comes.
only then did i know that to live
in the world all that i needed was
some small light and know that indeed
i would rise again and rise again to dance.
Although she might feel like a barren city of the dead inside—it took everything she had to write about the abuse—nevertheless she found a way to dance.  Her poems do not contain facile optimism; her suffering gives them tensile strength.  They have spoken to downtrodden people of all races, classes, genders, and conditions.
Lucille's death brings to my mind what one of Samuel Johnson's friends said following his death:
"He has made a chasm, which not only nothing can fill up, but which nothing has a tendency to fill up.—Johnson is dead.—Let us go to the next best: There is nobody;—no man can be said to put you in mind of Johnson."
You've left a hole behind you, Lucille.  Thank you for being in our lives.  Now go rest where the hard world can bruise you no more.  We will miss you.
Note: The title for this post is a reference to the following poem, which is about the forces that Lucille felt were pushing her:
the light that came to lucille clifton

came in a shift of knowing
when even her fondest sureties
faded away. it was the summer
she understood that she had not understood
and was not mistress even
of her own off eye, then
the man escaped throwing away his tie and
the children grew legs and started walking and
she could see the peril of an
unexamined life.
she closed her eyes, afraid to look for her
authenticity
but the light insists on itself in the world;
a voice from the nondead past started talking,
she closed her ears and it spelled out in her hand
"you might as well answer the door, my child,
the truth is furiously knocking."
I'm not sure what year this is set in–probably some time in the 1960's.  The off eye is a reference to her wandering eye.  The man who escaped was probably her newly radicalized husband.  The children were growing and she was hearing voices from her ancestors so she must have felt it was time to turn inward and answer a call to poetry that was furiously knocking.