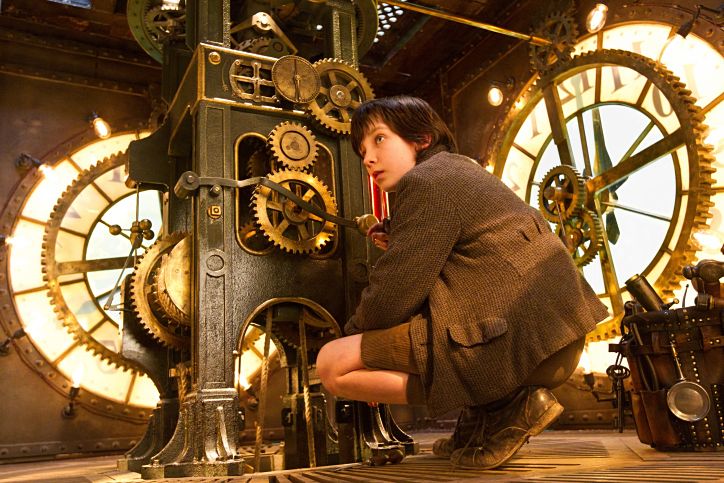 Asa Butterfield in "Hugo"
Film Friday
Our family attended Martin Scorcese's magical new film Hugo last week and found ourselves deep in nostalgia-ville.  My parents recalled a sabbatical year when they lived just a couple of blocks from Paris's Gare Montparnasse, the train station where most of the action in the film takes place. I, meanwhile, was taken back to another sabbatical year, 1965-66, when my brothers and I made regular trips to Paris's fabled Cinémathèque.
Hugo is set in the 1920's, and many of the films we saw were silent films from that era.  I remember watching Harold Loyd movies (a scene where Lloyd hangs from a clock in the breathtaking Safety Last appears in the film), as well as films starring Ben Turpin, Laurel and Hardy, Fatty Arbuckle, Buster Keaton (with titles in Czech—curator Henri Langlois scavenged films from wherever he could find them), and Douglas Fairbanks (in the obscure Don Q, Son of Zorro).  The theater was small and carpeted and we would sit in the front row so that we could stretch out on the carpeting. It was one of the greatest years of my life.
We didn't see (and would probably have found boring if we had) any films by George Méliès, who is the subject of Hugo. When the Lumière Brothers invented the movies in 1895, they regarded it as just a recording eye.  It took a former magician like Méliès, coming immediately after them, to realize that he could play visual tricks with the medium. In film history courses we talk about the Lumière Brothers representing cinema's documentary impulse and Méliès representing its fantasy impulse.
Roger Ebert makes the point that few directors have used the new 3-D technology as well as Scorcese does in the film, and I think the reason is because Scorcese has caught the Méliès spirit. Méliès delighted in using special effects to show voyagers journeying to the moon, exploring the ocean sea depths, or encountering demons inside caves.  In the same vein, Scorcese delights in seeing what the new technology can do.
This is somewhat startling because one doesn't normally associate Scorcese with with either fantasy or dazzling special effects–not with films like Mean Streets, Taxi Driver, Raging Bull, and Cape Fear to his credit. But any feature film director is aware that something magical happens between the mechanical recording of the camera and the final product. Scorcese focuses a lot on mechanics, showing us the internal workings of the clocks in the train station (which sometimes resemble film projectors) and of a mechanical robot that Hugo is trying to fix. Seen through 3-D glasses, these machines become wondrous.
Hugo is filled with testimonials to the history of film. At one point I found myself thinking of Fritz Lang's Metropolis since he too strove to create vast interior worlds and he too had a robot, although one less benign. I thought of Fernand Leger's surrealist dance of objects in Ballet mécanique and Rene Clair's factory in À nous la liberté. There were a couple of Bergmanesque dream sequences (a la Wild Strawberries). And I thought of how the French poetic realism of the 1930's—about which the French wax nostalgic—was itself nostalgic for this period in the 1920's.
There is also a touch of the Wizard of Oz, especially the Tin Man.  First there Hugo's robot, which lacks a heart-shaped key.  There is also a policeman with a mechanical leg and an emotionally bruised heart who is trying to catch Hugo. (As Hugo's friend Isabelle points out, he is like inspector Javert tracking Jean Valjean in Victor Hugo's Les Misérables –in case we miss the origin of Hugo's name.)
By paying tribute to Méliès, Scorcese is expressing his heartfelt gratitude for the motion picture art that allowed him his own expression.  Scorcese may see himself in the movie's film professor who is excited to discover that Méliès is still alive.  This is the most sentimental Scorcese film I've seen.
One other personal note: The magical year I spent as a 13-year-old in Paris involved books as well as films.  Every day during our school's two-hour lunch break, my brothers and I would stop off at the American Library in Paris and check out books. In the film there is an old bookseller who gives Hugo a copy of the Howard Pyle-illustrated Robin Hood.  These were the kinds of books that we were reading so it seems entirely fitting to me that books and movies would come together in a film that evokes my own mythical past.