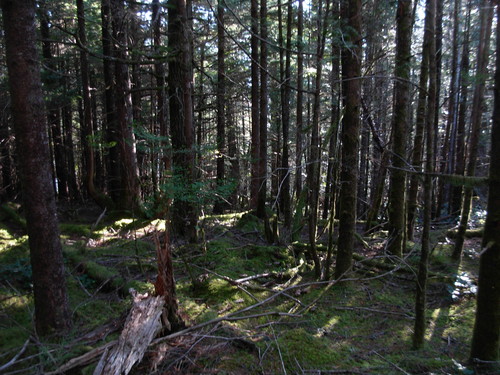 One of the joys of spending a few sabbatical months with my mother in Appalachian Tennessee is walking around the 17 acres of forest that she owns. We were out strolling yesterday and, in the contrast between our lot and that of our neighbor, I saw the difference between European and American Romanticism.
Our neighbor is from Belgium and she has the smaller trees and brush cleared out (for the most part) so that only tall stately trees remain. Any that fall are cut up and stacked for firewood. It is wilderness but carefully cultivated wilderness.
My mother's forest is more unkempt. Whatever grows grows and when trees go down, they remain where they are. There are many such trees since the mountaintop soil is not deep, and the occasional strong wind will bring down heavy branches and sometimes even uproot trees that are 30 or 40 feet high.
For a description of our neighbor's forest, I turn to Alexander Pope "Windsor Forest." It was written in 1704 but it anticipated the cult of nature that was to sweep through Europe Like Pople's heroic couplets, natural wilderness coexists with human cultivation in a harmonious balance:
Here hills and vales, the woodland and the plain,
Here earth and water, seem to strive again;
Not Chaos like together crushed and bruised,
But as the world, harmoniously confused:
Where order in variety we see,
And where, tho' all things differ, all agree.
Chaos became more acceptable to the British romantics and, even more, to the American romantics. First, here's Byron in Childe Harold:
There is a pleasure in the pathless woods,
There is a rapture on the lonely shore,
There is society, where none intrudes,
By the deep sea, and music in its roar:
I love not man the less, but Nature more…
And now Longfellow in Evangeline:
This is the forest primeval. The murmuring pines and the hemlocks,
Bearded with moss, and in garments green, indistinct in the twilight,
Stand like Druids of eld, with voices sad and prophetic,
Stand like harpers hoar, with beards that rest on their bosoms.
Loud from its rocky caverns, the deep-voiced neighboring ocean
Speaks, and in accents disconsolate answers the wail of the forest.
One has more encounters with chiggers and ticks when the underbrush is thicker, and years ago my mother was even bitten by a copperhead that our Scottish terrier stirred up. Still, I prefer American wilderness.