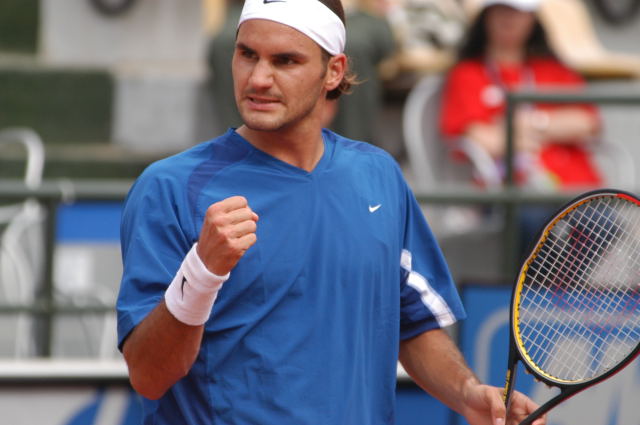 Sports Saturday
So my tennis idol, Roger Federer, is out of the French Open.  Before the semi-finals. 
Federer's astounding streak of 23 straight appearances in Grand Slam semi-final matches is one of the great streaks in sports and will never be approached.  (To get a sense of its magnitude, consider that Rod Laver and Ivan Lendl are second with 10 straight appearances each.)  Also unapproachable is the number of his appearances in Grand Slam finals (18 out of the last 20).  And his number of titles (16, to Pete Sampras's 14).
They won't be approached, I think, because Federer plays such a beautiful game–maybe the most beautiful game ever– that he doesn't get injured.  He seems to glide effortlessly around the court, making impossible shots from impossible angles.  His footwork is a thing of beauty.
But because he is a finesse player rather than a power player, in recent years he has been challenged by those giants who pulverize the ball.  Argentine Juan Del Potro, who beat him in the last U.S. Open Final, is one of these.  Another is Robin Soderling, the tall Swede who swung all out against Federer in Tuesday's match and almost literally pushed him off the court.  It was power against beauty, and power won.  There are other such players coming up through the ranks.
I should mention Rafael Nadal, Federer's chief competitor, who presents a different kind of challenge.  Nadal is fast and has the amazing ability to track down virtually every ball (and then hit them for winners).  Nadal makes you play a perfect game to beat him.  But the pounding that Nadal's body takes from his style of play means that he will not last as long, nor win as much, as Federer.  Same for the big men.
The debate over whether Federer or Nadal is greater is one of those endless arguments that reveal as much about the debaters as about the players.  Nadal may have a 14-7 record against Federer, but take away the clay court victories (clay is a slower surface, which favors Nadal's chasing abilities) and they are close to even.  I agree with those who say that Federer is the greatest all-around tennis player ever while Nadal is the greatest clay-court player ever (although cases can be made for Laver against Federer and Bjorn Borg against Nadal).  Without Nadal, Federer would have won many more Grand Slam tournaments.  Without the Federer-Nadal rivalry, tennis would be a lot less interesting.
Watching Federer go down against Soderling, I thought of a passage from Ralph Ellison's Invisible Man:
Once I saw a prizefighter boxing a yokel. The fighter was swift and amazingly scientific.  His body was one violent flow of rapid rhythmic action.  He hit the yokel a hundred times while the yokel held up his arms in stunned surprise.  But suddenly the yokel, rolling about in the gale of boxing gloves, struck one blow and knocked science, speed and footwork as cold as a well-digger's posterior.  The smart money hit the canvas.  The long shot got the nod.  The yokel had simply stepped inside of his opponent's sense of time.
This isn't an exact description of what happened.  Soderling was not a picture of stunned surprise.  But he did step inside Federer's sense of time.
I've been feeling for a while that Federer is getting slower—after all, he's almost 29!—and his impeccable footwork and the great timing that it makes possible aren't there as they have been.  He has more problems than in the past handling balls hit at 140 miles an hour.  Now Federer is still scrambling for position on strokes that he once commanded.  This means that he sometimes hits balls long or wide that once, almost automatically, brushed the line. 
Federer may steal a grand slam tournament here or there, as Pete Sampras did in his final years.  Wimbledon may still be in reach because it favors his lightning-like reflexes.  But I think his dominant years are over.  In the past he was not vulnerable to yokel hitters who bashed the ball.  He is now.