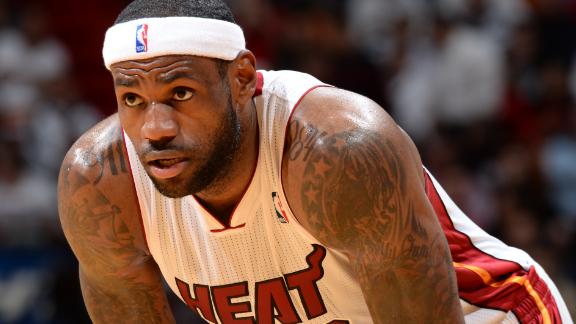 Sports Saturday
I'm struck by how moved many people are—and how moved I myself am—by Lebron James' decision to return to Cleveland. We are impressed in part because of James' heartfelt explanation in Sports Illustrated, but I think there is also something archetypal about the decision. It's a "return of the king" story.
The returning king I have in mind is not Arthur but Odysseus, the protagonist of what in my mind is literature's greatest story. "King James" left the Cleveland Cavaliers four years ago to fight in foreign lands but now, citing a calling higher than basketball, he is returning to his home team. Here's an excerpt from his explanation:
I feel my calling here goes above basketball. I have a responsibility to lead, in more ways than one, and I take that very seriously. My presence can make a difference in Miami, but I think it can mean more where I'm from. I want kids in Northeast Ohio, like the hundreds of Akron third-graders I sponsor through my foundation, to realize that there's no better place to grow up. Maybe some of them will come home after college and start a family or open a business. That would make me smile. Our community, which has struggled so much, needs all the talent it can get.
In Northeast Ohio, nothing is given. Everything is earned. You work for what you have.
I'm ready to accept the challenge. I'm coming home.
Perhaps one can think compare Lebron's four years in Miami to Odysseus' sojourn on Circe's and Calypso's islands (eight years in all). Calypso promises Odysseus immortality if he were to reside with her always, and while Miami General Manager Pat Riley couldn't promise the same, Lebron achieved one kind of immortality through his two championships with the Heat. In the end, however, Odysseus feels compelled to return home and sets out on an uncertain path to get there. Likewise, it's not clear that Lebron will ever win an NBA championship in Cleveland, surrounded as he will be by young (albeit talented) players. Nevertheless, he has launched himself into the sea.
It's worth noting that Odysseus' homecoming doesn't look like he must have imagined it, and I'm not just talking about the suitors. (By the way, I see Cleveland's owner as no less boorish and conceited than some of the suitors, say Antinous.) When Odysseus first returns to Ithaka, he doesn't recognize it because it is covered by a mist, and I suspect that Lebron too will encounter some adjustment issues.
But in Odysseus' case, all the toil and danger are repaid when Athena lifts the fog and he sees his homeland. Here's Athena:
"Now I shall make you see the shape of Ithaka.
Here is the cove the sea lord Phorkys owns,
there is the olive spreading out her leaves
over the inner bay, and there the cavern
dusky and lovely, hallowed by the feet
of those immortal girls, the Naiadês—
the same wide cave under whose vault you came
to honor them with hekatombs—and there
Mount Neion, with his forest on his back!"
She had dispelled the mist, so all the island
stood out clearly. Then indeed Odysseus'
heart stirred with joy. He kissed the earth,
and lifting up his hands prayed to the nymphs:
"O slim shy Naiadês, young maids of Zeus,
I had not thought to see you ever again!
O listen smiling
to my gentle prayers, and we'll make offering
plentiful as in the old time, granted I
live, granted my son grows tall, by favor
of great Athena, Zeus's daughter,
who gives the winning fighter his reward!"
James may not kiss the Cleveland court, but we can think of the Cavaliers as his tall son. If Athena proves kind, the king and his court will receive a winning fighter's reward. Or as James puts it in his article, "what's most important for me is bringing one trophy back to Northeast Ohio."