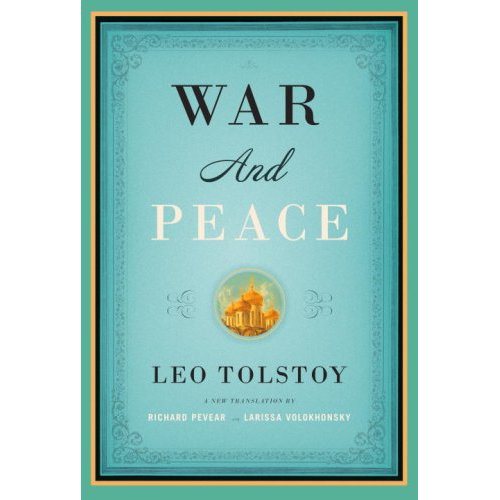 A few months ago I came across a fascinating blog by a 20-year-old English student of literature and Spanish entitled Therapy through Tolstoy. Lucy, who is very well-read, uses her blog to explore how literature can aid in the psychological healing process, and she is also currently writing a book on the subject. I invited Lucy to contribute a guest post explaining the importance of Tolstoy to her and was fascinated to learn how War and Peace helped her cope with the longterm effects of a childhood trauma. PTSD, of course, is most commonly associated with war, but just as the illness extends to far more than battle trauma, so war itself can function as a metaphor for many forms of psychosis. Tolstoy's novel moves from war to peace, and that is the goal of Therapy through Tolstoy.  You can check it out here.
By Lucy, blogger, Therapy through Tolstoy
In 2011, at the age of eighteen, I was diagnosed with Post Traumatic Stress Disorder. I had suffered from disturbed sleep, flashbacks and high anxiety for over ten years, ever since I saw my sister close to drowning as a child. My parents divorced in the weeks shortly afterwards, and my comfortable childhood was quickly taken away. As a nine-year-old child, I was left without a support system and with a lot of troubling memories in my mind.
I went through several courses of therapy when I began university in 2011, which allowed me to deal rationally with the past for the first time. However, loose ends still remained unresolved. Instead of continuing long-term therapy, I came to realise the healing power of something a lot closer to home: literature. Books provided me with something that was much more tangible, accessible and personal than any therapy could be.
When I was fifteen-years-old, I received War and Peace by Leo Tolstoy as a Christmas present from my grandmother. While other family members sneered at the sheer size of the text (alongside its lack of pictures), my reading of the Russian tome marked my decision to use literature as a healing tool.
War and Peace became the antidote to the severe anxiety I had been suffering from, as the characters' reflections on the beauty and meaning of life allowed me to forget my previously ceaseless worries and freely enter the mindset of Russian princes. After more than a thousand pages of getting to know Pierre Bezukhov and friends, I realised that the characters created by a long-dead Russian author were really not that dissimilar from the modern people around me. I understood that it was not only possible to relate to the text, but to learn something from it.
There is one particular moment that I've highlighted and marked extensively in my well-worn copy of War and Peace. It's a passage that I go back to again and again, and one that I feel best encapsulates the anti-anxiety effects of literature. It's spoken by Prince Andrey while in battle, and is translated as follows in my Anthony Briggs edition:
How can it be that I've never seen that lofty sky before? Oh, how happy I am to have found it at last. Yes! It's all vanity, it's all an illusion, everything except that infinite sky. There is nothing, nothing – that's all there is. But there isn't even that. There's nothing but stillness and peace. Thank God for that!' (p. 299)
There is a lot of good that can come from carefully reading this passage. Here, Tolstoy not only draws our attention towards our level of mindfulness, but also allows us to realise the pointlessness of anxiety in an intricate, "infinite" world. While Andrey is struck by the beauty of the sky above him, we are drawn to the beauty of Tolstoy's prose and the carefully constructed description of human awe he creates. We recognise ourselves in Andrey as we are rushing for the Tube, as we hurriedly work through day-to-day chores, and as we wish away hours at a time.
My first experience of reading War and Peace demonstrated the benefits that being able to relate to a character has on mental health, but it also emphasised the positive impact of beautiful writing and a positive plot. Once we are caught by a good plot and well-thought-out characters, we are at a prime position to analyse our own life and reconsider our feelings, actions and decisions. Spending time daily with a well-chosen book encouraged me to persevere through internal and external hardship, and the habit has resulted in my PTSD symptoms stabilising. I eventually found out that this technique has a name: bibliotherapy.
Bibliotherapy literally means "healing through books" and derives from the Greek etymology of biblion (books) and therapeia (healing). The central process of bibliotherapy can be described as the formation of a relationship with a book, with the reader changing in some way as a result. Bibliotherapy can moreover work to enhance the reader's problem-solving skills, and as a result their resourcefulness, but it can also show people that they are not alone in their feelings.
Now that I am twenty, I feel more in control of my past and my present than ever, owing to a combination of healthy living and thinking, a completed course of therapy, a support system, and a regular supply of good books. I have recently completed the second year of my BA English & Spanish degree, and from September I'm due to start working in Barcelona for eight months. My situation has changed considerably.
I started my website, Therapy Through Tolstoy, in 2012, and have since shared my experience of bibliotherapy with many bloggers and book-lovers. I regularly write about the books that have helped me most, but I also compile literary recommendations for others. Bibliotherapy has helped me considerably, and the process of helping others find the right books for their own feelings is so rewarding.