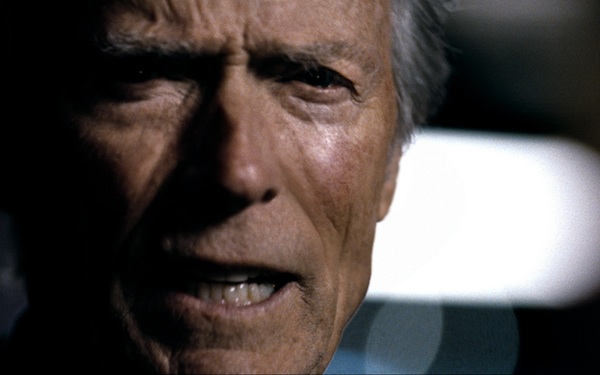 Film Friday
Clint Eastwood never ceases to surprise me. In the 1970s, I associated him with the rightwing reaction against minority rights, and in the 1980's it seemed consistent that Ronald Reagan would quote one of Dirty Harry's most memorable lines. ("And I have only one thing to say to the tax increasers. Go ahead–make my day.") But in 2008 Eastwood made, in Gran Torino, a film that argues for tolerance and that may be Eastwood apologizing for the glorification of vigilante violence in those 1970's films. (Read my post on it here.) And now GOP political operative Karl Rove is accusing him of shilling for President Obama.
The offending film is his Super Bowl ad on behalf of Chrysler in which Eastwood talks about how Detroit is making an economic comeback. While people like Rove are seeing optimism about the economy as Democratic propaganda, however, I saw the film and thought of Tennyson's poem "Ulysses."
First, here's the script. (You can go here to see the ad.):
It's halftime in America, too. People are out of work and they're hurting. And they're all wondering what they're going to do to make a comeback. And we're all scared, because this isn't a game.

The people of Detroit know a little something about this. They almost lost everything. But we all pulled together, now Motor City is fighting again.
I've seen a lot of tough eras, a lot of downturns in my life. And, times when we didn't understand each other. It seems like we've lost our heart at times. When the fog of division, discord, and blame made it hard to see what lies ahead.
But after those trials, we all rallied around what was right, and acted as one. Because that's what we do. We find a way through tough times, and if we can't find a way, then we'll make one.
All that matters now is what's ahead. How do we come from behind? How do we come together? And, how do we win?
Detroit's showing us it can be done. And, what's true about them is true about all of us.
This country can't be knocked out with one punch. We get right back up again and when we do the world is going to hear the roar of our engines.
Yeah, it's halftime America. And, our second half is about to begin.
Amy Davidson of the New Yorker is impressed:
We've often been asked to think of the time of our country's life as a perpetual dawn—"morning in America," as in Ronald Reagan's ad. . . . American exceptionalism has somehow come to assume an ability to stop all the clocks.
That's what makes Eastwood's ad so powerful. It doesn't pretend that we're dallying in an endless pre-game show, or that you can always tell the timekeeper to put a few seconds back on. "We're all scared, because this isn't a game"; "we've lost our heart at times": those aren't statements made from a place of weakness. A hint of mortality can be invigorating. The sports setup does not prevent this from being the most grown-up ad of the season, in that it is about growing up, and growing old, and still stronger, even when the picture is of a child looking out of a car window. Also, it is not unpatriotic to recognize that this is so. Nor is it defeatist.
That is also what is exhilarating about Tennyson's well-known poem, although that one is set even later in the game–say, the final two minutes:
The lights begin to twinkle from the rocks:
The long day wanes: the slow moon climbs: the deep
Moans round with many voices. Come, my friends,
'Tis not too late to seek a newer world.
Push off, and sitting well in order smite
The sounding furrows; for my purpose holds
To sail beyond the sunset, and the baths
Of all the western stars, until I die.
It may be we shall touch the Happy Isles,
And see the great Achilles, whom we knew.
Though much is taken, much abides; and though
We are not now that strength which in old days
Moved earth and heaven; that which we are, we are;
One equal temper of heroic hearts,
To strive, to seek, to find, and not to yield.
So maybe it's not morning in America but noon.  Maybe we're no longer a youthful country but a maturing one.  In any event, there are still plenty of hours of daylight to drive around in. That's why Chrysler and Eastwood are really bullish about America's economy. They're not out to boost Obama. They're out to convince Americans that it's safe enough to start buying cars again.
But for sure, ads like this will help the president's reelection chances. Especially when he reminds us that he kept Chrysler from going bankrupt.