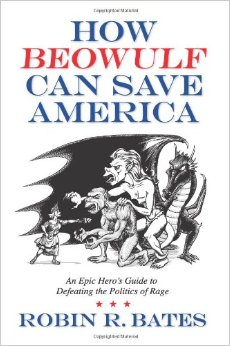 Tuesday
What would Beowulf do in a Trump presidency? My 2012 book How Beowulf Can Save America: An Epic Hero's Guide to Combatting the Politics of Rage provides some answers.
I note first of all that the poem's three monsters represent three different kinds of rage: Grendel is resentful rage, Grendel's mother is grieving rage, and the Dragon is depression. Each of these was a significant problem in Anglo-Saxon warrior society and they remain problems today.
Locating the monsters in our own society involves seeing them both as others and as ourselves. On the one hand, Trump supporters are driven by each of these angers. Yet if we are to fight Trumpism effectively, we must be careful not to succumb to our own versions of these monsters—which is to say, we must not become Grendels, Grendel's Mothers, and Dragons in our turn. Beowulf models ways of combatting the monster in others while maintaining internal control over our own dragons and trolls. If we follow Beowulf's example, we at least have a fighting chance.
Writing in 2012, I talked a lot about rightwing working class resentment, which in the recent election took the form of lashing out at other vulnerable populations (especially people of color and American Muslims) in the belief that society's resources were being wrongfully diverted to them. In 2016 many people heard people unlike themselves dancing to harp music in the White House and they crashed the party. And came away victorious.
I also argued in 2012 that the rightwing was grieving over their sense that the American dream was dying. Again, this led to attacking scapegoats. In the poem, Grendel's Mother slays King Hrothgar's best friend while Trump took out Obama's potential successor.
Finally, people who had been hunkered down, like dragons in retreat from the world, were goaded into action in 2016. There was a smoldering anger, especially in the rust belt states, that many overlooked. As Beowulf makes clear, once the dragon is aroused, it erupts to scorch everything around it. The 2016 election represented such a scorching.
In the book I argue that if one can stand firm with a strong grip against Grendel, one can "disarm" him. In the upcoming weeks and months, liberals must stand firm against Trump. Conciliation and self-doubting will not do the trick.
Beowulf defeats angry grieving by means of a giant sword, forged by giants before the flood. In my book I argue that this sword is the Declaration of Independence and the Constitution. "We hold these truths to be self evident that all men are created equal" is the liberals' greatest weapon in the upcoming battle. For perspective, Frederick Douglass recognized the Constitution's potential to combat slavery, even at a time when it appeared to enshrine it.
Finally, just as the Dragon cannot be vanquished by Beowulf alone—Wiglaf must come to his aid—so the Democrats must practice coalition politics as never before. No group can fight the fight alone. No one has all the answers.
Now to the internal struggle. Some will resent that conservatives get to act out their deep "burn it all down" frustrations while liberals have to be responsible and think of responsible governance. Get an iron grip on that resentful impulse, liberals. You have to go high, no matter how low they go. Note that going high does not mean backing down: Beowulf is not intimidated by Grendel's fierceness but stares him in the eyes. You have to do the same.
With regard to grieving rage, there is a hot form (Grendel's Mother) and a cold form (the Dragon). Both will tempt liberals. The hot form involves lashing out, and many grieving the apparent defeat of an inclusive and tolerant America will want to direct their anger in any number of directions, including against their allies. Again, keep your eyes on the prize—America's founding ideals—and don't be sidetracked by your own grieving.
On the other hand, you may want to retreat into depression. You may feel like the "last veteran," who buries himself in a funeral barrow when he loses all of his companions, or King Hrethel, who retreats to his bed after his son is killed and dies of grief. Remember that you don't have the bear the weight of your sorrow all by yourself. Allow Wiglaf to come to your aid.
Senator Elizabeth Warren had a suggestion along these lines the other night during an MSNBC Rachel Maddow interview. Offer to help out with an organization that you believe in, she suggested, like Planned Parenthood or some other group that will be facing Trumpist attacks. Solidarity with others is needed.
Under Barack Obama, too many of us forgot that democracy is hard and, for many, complacency crept in. The times call upon us to be warriors.