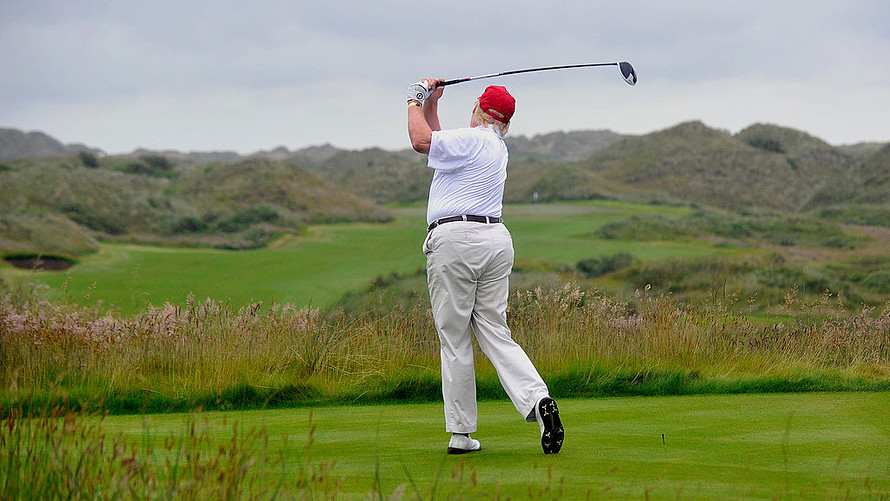 Monday
The Washington Post's headline was blistering: "Lost Weekend: How Trump's time at his golf club hurt the response to Maria." The juxtaposition of golf and human suffering brings to mind Sarah Norcliffe Cleghorn's most famous poem, "The Golf Links."
To be clear, I'm not against presidents golfing (or cutting brush or riding horses). The weight of the world is so heavy that they must find occasions to relax and blow off steam. Furthermore, in our internet age, a president doesn't have to be in the White House to respond to critical events. Trump, however, didn't use his golf weekend to respond to the crisis in Puerto Rico:
Trump jetted to New Jersey that Thursday night to spend a long weekend at his private golf club there, save for a quick trip to Alabama for a political rally. Neither Trump nor any of his senior White House aides said a word publicly about the unfolding crisis.
 Trump did hold a meeting at his golf club that Friday with half a dozen Cabinet officials — including acting Homeland Security secretary Elaine Duke, who oversees disaster response — but the gathering was to discuss his new travel ban, not the hurricane. Duke and Trump spoke briefly about Puerto Rico but did not talk again until Tuesday, an administration official said.
The administration only began to pay attention when people turned up the heat:
Even though local officials had said publicly as early as Sept. 20, the day of the storm, that the island was "destroyed," the sense of urgency didn't begin to penetrate the White House until Monday, when images of the utter destruction and desperation — and criticism of the administration's response — began to appear on television, one senior administration official said.
"The Trump administration was slow off the mark," said Rep. Darren Soto (D), the first Florida lawmaker of Puerto Rican descent elected to Congress. ". . . We've invaded small countries faster than we've been helping American citizens in Puerto Rico and the Virgin Islands."
Trump at first resorted to his customary responses, blaming others while praising himself:
After the dinner, Trump lashed out on social media. He blamed the island's financial woes and ailing infrastructure for the difficult recovery process. He also declared that efforts to provide food, water and medical care were "doing well."
This "fake news," however, couldn't be talked away:
On the ground in Puerto Rico, nothing could be further from the truth. It had taken until Monday — five days after Maria made landfall — for the first senior administration officials from Washington to touch down to survey the damage firsthand. And only after White House Homeland Security Adviser Tom Bossert and FEMA Director Brock Long returned to Washington did the administration leap into action. 
The power of Cleghorn's simple four-line poem lies in the contrast between a callous upper class and children who should be outside playing:
The golf links lie so near the mill
That almost every day 
The laboring children can look out
And see the men at play.
The deadpan tone leaves it to the reader to provide the outrage.
Cleghorn's poem, tapping into national shame, helped usher in child labor laws. I'm honestly not sure, however, whether Republicans are still capable of being shamed. It's not just Trump.
After all, Congress just missed its deadline for renewing the Children's Health Insurance Program (CHIP), which services 9 million children. While the states still have some money left, are we sure that Congress will renew the funding? The Washington Post explains what is at risk:
If action is not taken soon to restore the funding, the effects will become obvious in schools across the country, with many of the children in the program unable to see a doctor for routine checkups, immunizations, visits when sick and other services.
I'm worried because Speaker Paul Ryan for years has been railing against the social safety net and seems fully capable of cutting this strand. Wisconsin senator Ron Johnson, after all, just informed a group of high school students (this according to WISN) "that they don't have a right to health care, food and shelter." Said Johnson, "I think it's probably more of a privilege."
So in addition to its war against Latinos, Muslims, African Americans, women and the poor, the GOP has added children to the list?
Update: I haven't mentioned all the news that got made on Trump's golf course. Apparently, while in the limousine on the way to his golf tournament, Trump decided to undermine his Secretary of State's delicate negotiations with North Korea, tweeting, "Save your energy Rex, we'll do what has to be done!"
Then, to make everything better for the people of Puerto Rico, he dedicated the golf trophy to them.