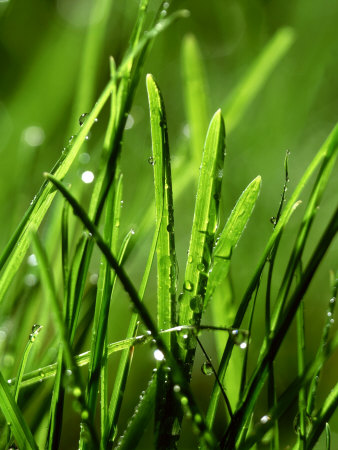 Summer is as good a time as any for loafing around Walt Whitman style. "I loafe and invite my soul," he proclaims in Song of Myself. "I lean and loafe at my ease observing a spear of summer grass."
As Whitman sees it, we are all leaves of grass, individuals and yet part of a collective whole. My father imagines a hippy and homosexual leaf of grass (the poem was written in the early seventies) describing life from his point of view. Think of him as a gay blade. He may even be a descendent of the poet as he resides in the Camden, New Jersey cemetery, where Whitman is buried. As Whitman promised,
I bequeath myself to the dirt to grow from the grass I love,
If you want me again look for me under your boot-soles.
This is a particularly amorous leaf of grass, shimmying with joy as Whitman lays his head in the lap of Camerado (one of Whitman's out-of-the-closet poems). "That ain't Nobodaddy," which is to say, this isn't your traditional paternalistic, vengeful sky god but a sensuous spirit of the earth who celebrates the lovers. "Listen to my cord/vibrate like a harpstring in the winds of God," he says, and earlier, echoing the Song of Solomon, "I make your garden fair, Beloved."  The poem moves towards an orgasmic climax with very explicit sexual imagery:
 A blast of green grace
in the great land beneath the amorous blue
all things hang on me
like a drop of dew…
Walt Whitman lovers will find in the lyric echoes a number of the bard's poems. And now, here's our blade of grass asserting himself:
 Lines of a Blade of Grass Delivered at Dawn at the Camden NJ Cemetery
By Walt Whitman
I am a leaf of grass
rising in the rising sun
I belong to an infinite community of lovers
yet I am one
I wave in the dawn like the American flag man
Life is my bag man
Look at me
flying from the top of Columbia's tree!
I am a blade of leaf I am the antenna
on her conky TV
I make your garden fair Beloved
I curl your hair Beloved
you better believe it
Believe me I swing like lace
on the skirts of the sky by Atlantic's shore
I sway in the seawind
Senor
and I am shimmying with Joy
Joy is my boy buddy
and that ain't Nobodaddy
Listen to my cord
vibrate like a harpstring in the winds of God
I mean I tune your piano
you clod
who don't know your grass from a hole in the ground
Listen When you got laid Camerado
I got played
I got a blast of green grace
in the great land beneath the amorous blue
            all things hang on me
            like a drop of dew
I got the world on the tip of my tongue like a drop
            of spit man
                                    no shit man
I am Walt Whitman