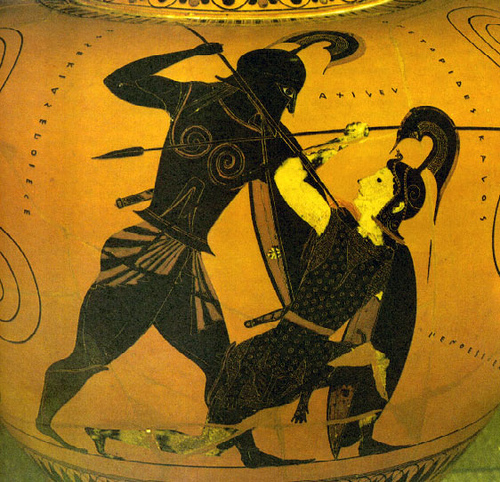 Sports Saturday 
A lot of the air went out of the NBA playoffs when point guard extraordinaire Russell Westbrook of the Oklahoma City Thunder went down with a season-ending knee injury in game two of the first round of the playoffs.Westbrook and the sublime Kevin Durant have made the Thunder all but unbeatable, at least in the Western Conference, and we appeared to be headed for a championship rematch between the Thunder and the Miami Heat. Without Westbrook, Oklahoma City will be lucky to make it out of the first round.
For a short time it appeared that Durant would be able to step up like Akhilleus after his dear friend Patroklos is killed. Now, however, Akhilleus's other fate might well be in store.
In The Iliad, Akhilleus responds to Patroklos's death by going on a rampage, killing every Trojan in his path. Likewise, Durant put up a 41 point performance in game three to defeat the Houston Rockets. Here's Homer's description of Akhilleus's killing spree:
                                               A forest fire will rage
through deep glens of a mountain, crackling dry
from summer heat, and coppices blaze up
in every quarter as wind whips the flame:
So Akhilleus flashed to right and left
like a wild god, trampling the men he killed,
and black earth ran with blood. As when a countryman
yokes oxen with broad brows to tread out barley
on a well-bedded threshing floor, and quickly
the grain is husked under the bellowing beasts:
the sharp-hooved horses of Akhilleus just so
crushed dead men and shields. His axle-tree
was splashed with blood, so what his chariot rail,
with drops thrown up by wheels and horses' hooves.
And Peleus' son kept riding for his glory,
staining his powerful arms with mire and blood.
Okay, so maybe Durant's devastation was not of the same order of magnitude. Still, he was impressive.
But he couldn't keep up the pace and Houston won the next two games. Even if Oklahoma City squeezes out one more win to take the series, I can't imagine it beating whoever it plays next. (Update: OKC did indeed manage to win game six to advance, and Durant had 27 points, eight rebounds, and six assists.)
A different passage in The Iliad may therefore be more appropriate. Right before Akhilleus goes on his rampage, his horse Xanthos predicts a dire future for him:
To this, from under the yoke, the nimble Xanthos
answered, and hung his head, so that his mane
dropped from the yokepad to the ground–
Hera whose arms are white as ivory
gave him a voice to say:
"Yes, we shall save you,
this time, too, Akhilleus in your strength!
And yet the day of your destruction comes,
and it is nearer. We are not the cause
but rather a great god is, and mighty fate.
…
We might run swiftly as the west wind blows
Most rapid of all winds, they say; but still
it is your destiny to be brought low
by force, a god's force and a man's!"
Durant, of course, will need to keep fighting, regardless of the odds. And to those who predict the Thunder's imminent demise, I can imagine him responding as Akhilleus does to his horse:
Xanthos, why prophesy my death? No need.
What is in store for me I know, know well:
To die here, far away from my dear father,
my mother, too. No matter. All that matters
is that I shall not call a halt today
till I have made the Trojans sick of war!"

And with a shout he drove his team
of trim-hooved horses into the front line.
And scored bucket loads of points. And was brought low by a leg injury (albeit not his own).
A follow-up (non-sports related) thought –  I just realized that Homer's horrific image of Akhilleus's chariot splashed with blood is alluded to by my favorite anti-war poem, Wilfred's Owen's "Strange Meeting." In it, the poet meets the man he killed, who describes how war squanders human potential:
Courage was mine, and I had mystery;
Wisdom was mine, and I had mastery;
To miss the march of this retreating world
Into vain citadels that are not walled.
Then, when much blood had clogged their chariot-wheels
I would go up and wash them from sweet wells,
Even with truths that lie too deep for taint.
Although The Iliad was used by the Athenians to train their young soldiers, I think a case can be made that Homer's epic is one of civilization's great anti-war works. Certain it captures all the horrors of war.