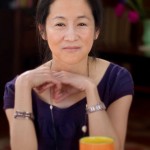 This year we are asking all our entering freshmen to read a powerful novel about Japanese Americans who were interned by the government during World War II. I can already report that Julie Otsuka's When the Emperor Was Divine is having an impact.
That's because last week I coached four "students at risk" on essays that they had written about the book. Each summer our college has a "Summer Bridge Program" for students from disadvantaged backgrounds—many from inner city Baltimore and Washington—and St. Mary's has a good record with them. In fact, our "public honors college" is proudest of the fact that our students of color and our "first generation college students" graduate at roughly the same rate as our more privileged students (80/85 percent). To pull this off, we must monitor the students closely throughout their four years.
I was moved by the essays I read. In spare, unsentimental prose, When the Emperor Was Divine looks at the internment tragedy through the eyes of the members of a Japanese American family, a mother and two children. (The father has been arrested by the FBI and imprisoned.) The Summer Bridge students were supposed to find an important theme in the book and research and write about it.
Julie (I've changed all the names) was struck by the theme of racial profiling. Picking up on the line, ""I am the slant eyed sniper in the trees," she talked about the assumptions we make about people based on their appearances. In her essay she drew parallels with the Trayvon Martin killing, the Nazi concentration camps, and a case where she herself was once racially profiled (by another African American).
Michael was struck by the urge of some persecuted minorities to shed their racial identities. He focused on the little boy in the book who wants to become culturally assimilated so that "[w]e would never be mistaken for the enemy again!" The essay was in a rough stage but, as we talked, he could see how fruitful it would be to push this idea further.
Ben picked up on the same theme. He was struck by the little girl's puzzled question to her mother, ""Is there anything wrong with my face? . . . People were staring," and by her brother when he pretends to be Chinese rather than Japanese. The essay led him to discuss a friendship he had had in middle school with a homosexual classmate who, to hide his identity, acted tough. Ben talked about how their friendship eroded as a consequence and declared that one needs to stand strong in a sense of self, regardless of the consequences.
Behane submitted the most unusual essay given that he was a refugee who had spent years in a neighboring country's camp (I can't reveal the country) before making it to the United States. He was struck by the phrase, "Be patient. And remember, it's better to bend than to break," which the imprisoned father writes in a postcard to his interned son. He wondered whether this philosophy helped the Japanese be resilient in the face of last year's tsunami.
Behane also wrote about the mother's statement, "The nail that sticks up gets hammered down," and I couldn't help but wonder what he had seen in his camp that led to him quoting these passages. In fact, I suggested that, were he to revise the essay, he should describe his camp experience. Doing so would lead to more insight into the book as well as into what he went through.
Knowing that students can process only so many suggestions from a single writing conference, I limited myself to two: move the essay topic onto your own turf and be as specific as possible. I was able to commend all four students for how they had found a way to talk about Otsuka's book in ways that were meaningful.  I told them that, whenever one of their college teacher tells them to write about an unfamiliar topic—say, the internment of Japanese-Americans during World War II—they must figure out how to approach the topic from a position of strength. They will find that writing becomes much easier when they do so.
The author is coming to St. Mary's to meet with the entering class, and I'm hoping that my students will take advantage of the interest they have generated to ask her good questions.