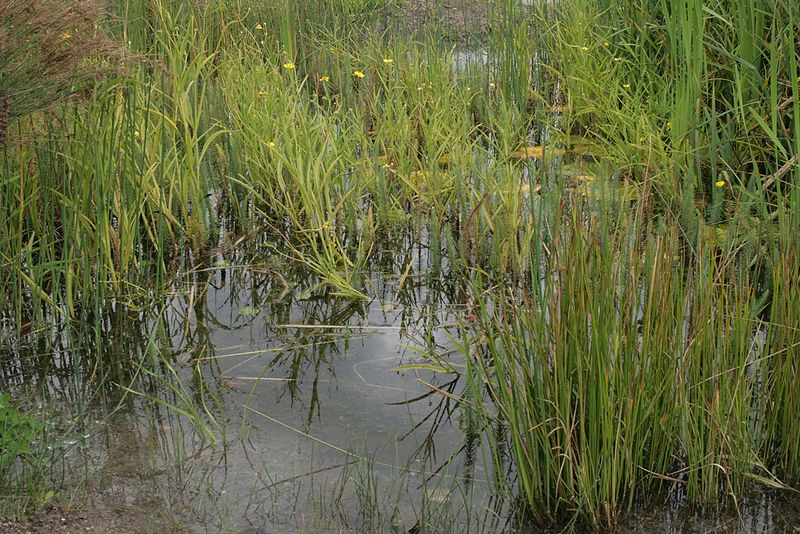 Spiritual Sunday – Easter
Last Easter is the first time I became fully aware of Mary Oliver's spiritual vision. (Read my posts here and here.) Without ever mentioning religion, the beloved nature poet enacts the bitter road to Calvary and the grace of the Resurrection in a number of her poems. In Oliver's case, the painful trek often takes the form of an arduous hike, perhaps through a briar-tangled mosquito-infested dark wood, perhaps (as in the poem which I share today) through a swamp.
As an aside, I note that I sometimes think that the single most important image that Oliver owes to Robert Frost, obviously a major influence, is this passage from "Birches":
It's when I'm weary of considerations,
And life is too much like a pathless wood
Where your face burns and tickles with the cobwebs
Broken across it, and one eye is weeping
From a twig's having lashed across it open.
In "Crossing the Swamp," all is "struggle, closure," and the poet's bones "knock together at the pale joints, trying for foothold, fingerhold, mindhold." It is an image of despair, swamp as spiritual wasteland.
And then, against all logic, she sees another future for herself. She may be "a poor dry stick," but the stick still has the possibility to "make of its life a breathing palace of leaves."
That is the Easter promise.
Crossing the Swamp
By Mary Oliver
Here is the endless
          wet thick
                    cosmos, the center
                             of everything—the nugget
of dense sap, branching
          vines, the dark burred
                   faintly belching
                             bogs. Here
is swamp, here
          is struggle,
                   closure–
                             pathless, seamless,
peerless mud. My bones
          knock together at the pale
                   joints, trying
                             for foothold, fingerhold,
mindhold over
          such slick crossings, deep
                   hipholes, hummocks
                             that sink silently
into the black, slack
          earthsoup. I feel
                   not wet so much as
                             painted and glittered
with the fat grassy
          mires, the rich
                   and succulent marrows
                             of earth—a poor
dry stick given
          one more chance by the whims
                   of swamp water—a bough
                             that still, after all these years,
could take root,
          sprout, branch out, bud–
          make of its life a breathing
                    palace of leaves
Apology: The blog formatting justified everything to the left, erasing Oliver's marvelous formatting, which visually captures the experience of lumbering through the swamp. Do yourself a favor and buy Oliver's Pulitzer Prize and National Book Award-winning book, American Primitive (Back Bay Books, 1983).
Further note: In today's sunrise Easter Service, I was chosen to read Ezekiel's vision about the valley of the dry bones and realized with a shock that Oliver is building her poem upon the passage, from the bones knocking together to its vision of the grave (in Oliver, the "black slack earthsoup") to the final miraculous birth. Here's the Biblical passage (Ezekiel 37:1-14):
37 The hand of the Lord was on me, and he brought me out by the Spirit of the Lord and set me in the middle of a valley; it was full of bones. 2 He led me back and forth among them, and I saw a great many bones on the floor of the valley, bones that were very dry. 3 He asked me, "Son of man, can these bones live?"
I said, "Sovereign Lord, you alone know."
4 Then he said to me, "Prophesy to these bones and say to them, 'Dry bones, hear the word of the Lord! 5 This is what the Sovereign Lord says to these bones: I will make breath[a] enter you, and you will come to life. 6 I will attach tendons to you and make flesh come upon you and cover you with skin; I will put breath in you, and you will come to life. Then you will know that I am the Lord.'"
7 So I prophesied as I was commanded. And as I was prophesying, there was a noise, a rattling sound, and the bones came together, bone to bone. 8 I looked, and tendons and flesh appeared on them and skin covered them, but there was no breath in them.
9 Then he said to me, "Prophesy to the breath; prophesy, son of man, and say to it, 'This is what the Sovereign Lord says: Come, breath, from the four winds and breathe into these slain, that they may live.'" 10 So I prophesied as he commanded me, and breath entered them; they came to life and stood up on their feet—a vast army.
11 Then he said to me: "Son of man, these bones are the people of Israel. They say, 'Our bones are dried up and our hope is gone; we are cut off.' 12 Therefore prophesy and say to them: 'This is what the Sovereign Lord says: My people, I am going to open your graves and bring you up from them; I will bring you back to the land of Israel. 13 Then you, my people, will know that I am the Lord, when I open your graves and bring you up from them. 14 I will put my Spirit in you and you will live, and I will settle you in your own land. Then you will know that I the Lord have spoken, and I have done it, declares the Lord.'"