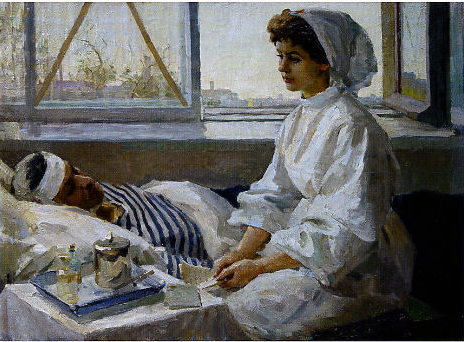 When you are dying, would you want a former English major caring for you?
You would want Sarah Tennant Simmons, a former student of mine who is now a hospice care nurse.  Sarah dropped by for lunch this past Monday and told me about the work she is currently doing.  While we may think of medicine as a science, Sarah spends a lot of her time in "gray areas."  Literature specializes in gray areas.
Just as there are no definitive interpretations of a novel—we spend a lot of time in literature classes analyzing character, factoring in situation, looking at historical context, debating authorial intent, studying nuance—so there are often no clear cut answers in an end-of-life situation.      One is dealing with a patient who is in the final days or weeks or maybe months, and often the old rules no longer apply.  One is also dealing with a volatile emotional situation.
To cite a simple example, Sarah told me that sometimes she stops taking blood pressure and doing blood work.  This can come as a shock to the patient or to the family, who have become accustomed to it.  After all, they have been thinking in curative terms for their entire lives.  But if the purpose of hospice is to help a patient die as comfortably as possible in his or her own home, then bad blood numbers may well be irrelevant.  Sarah's actions (or non-actions in this case) can open up essential conversations—as in "if I did draw blood and the numbers proved to be bad, what do you think should happen then?"
In fact, Sarah noted, there is sometimes a problem with those who continue to follow protocols that are no longer relevant.  For instance, it may be customary to always have a patient hooked up to an IV, but if his or her kidneys have stopped functioning, then IV fluids will have nowhere to go.  Those who mechanistically follow the rules, however, may overlook that.
Or to cite another instance, prescriptions that a patient may have been taking for years—say, for cholesterol—become pointless.   In fact, sometimes patients will feel a little better when they stop taking such medications because of the side effects.  But there has to be someone there looking at the overall situation rather than just reacting to symptoms.
And then one must deal with the patient's fears and the family's grief.
I asked Sarah whether there were any books that she found particularly useful, and she mentioned that she periodically reads Jean-Dominique Bauby's memoir, The Diving Bell and the Butterfly, about how he was trapped inside his body by a brain stem stroke. (The book has been made into a fine film.)  Bauby was able to communicate only by blinking his one working eye in response to questions and wrote the book when an assistant systematically called out letters from a special alphabet, which he would blink once to refuse and twice to accept.  Sarah says that she returns to the book to remind herself that her patients are still complex human beings even when they appear comatose.  We talked about how the occasion, in some senses, calls for the fictional imagination: as with literature, one has to enter into another sensibility.
"Every character deserves the open-ended density of life," short story writer Grace Paley has written.  (My thanks to novelist Rachel Kranz for leading me to that quotation.)  Every patient's open-ended density must also be acknowledged.
Sarah mentioned how caring for the dying has made her more aware of death's mysteries.  She said it still eludes us why a patient dies when he or she does.  Death may occur when a loved one leaves the room or when a loved one arrives from far away or when some reassurance is given.  There are often complex and sensitive conversations with relatives about why the patient may be holding on, about what he or she might want.  Working with those who are dying, and with those who watch over the dying, is as much art as science.
Our conversation took the turn it did because I had just been reading an article by William Chace in American Scholar on "The Decline of the English Department: How It Happened and What Could be Done to Reverse It" (Autumn 2009).  Chace is the former president of the university where I received my Ph.D (Emory), and he is concerned at how there are half as many English majors as there used to be (with similar declines in the other Humanities).
One culprit, he says, is pragmatism.  Business, he noted, "has risen to become the most popular major in the nation's college and universities."  What with hard economic times and the rapid rise of college tuition, students want to make sure there is an economic payback to their educations.
I will write more on Chace's article tomorrow, but I'll make one point here: A literature education has proved to be very practical for Sarah.  She has been able to apply, to end-of-life situations, the critical thinking skills, the problem solving skills, the reflection skills, the sensitivity skills, the contextualizing skills, the ethics and values skills, the put-yourself-in-their-shoes skills that she developed while reading literature and participating in class discussions and writing essays about it.
But one needs a broad vision to see how a literary education would apply to medicine.  Chace argues that we have become far too short-sighted.  Luckily for Sarah's patients, she had that broad vision.