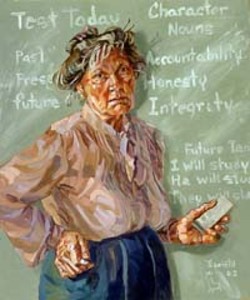 We are at that time of the semester when I have no idea how I will complete all the work before me.  My students are feeling the same way and like to point out that, if I were to drop the final assignment, we would all have an easier time of it.  William Butler Yeats understands what we are going through.
His poem "The Fascination of What's Difficult" appeared in an e-mail message last week, courtesy of my English colleague Donna Richardson.  The purported subject is running a theater but it applies as well to teaching a literature class or, indeed, to any work that we once excitedly took up.  As Yeats complains, all the effort "has dried the sap out of my veins and rent/Spontaneous joy and natural content/Out of my heart."
Donna informs me that Yeats wrote the poem in the early 20th century at a time when he was switching from "escapist aesthetic contemplations of the ideal"—he was enchanted with the Irish fairy world (the Sidhe)—to "grounding that ideal in the real world," whether through Irish politics or theater management.  Donna adds, paralleling Yeats's work with our own, that "trying to make an ideal work in the real world is messy and irritating." It's more fun to write plays and contemplate literature, she says, than to run the Abbey Theater or make a literature class work.
As the year winds down, I'm sure you have your own versions of dragging road-metal and handling tasks "that have to be set up in fifty ways." Does the colt within you long to burst through the stable door and escape amongst the clouds?
Then again, Yeats also acknowledges that there's something fascinating about all the hard work. Keep it mind that it deepens us and remember that we've survived in the past and will probably do so again. Yeats lightens our load simply by providing us with a poem that acknowledges how exhausted we all are.
Here it is:
The Fascination Of What's Difficult
By William Butler Yeats
The fascination of what's difficult
Has dried the sap out of my veins, and rent
Spontaneous joy and natural content
Out of my heart. There's something ails our colt
That must, as if it had not holy blood
Nor on Olympus leaped from cloud to cloud,
Shiver under the lash, strain, sweat and jolt
As though it dragged road-metal. My curse on plays
That have to be set up in fifty ways,
On the day's war with every knave and dolt,
Theatre business, management of men.
I swear before the dawn comes round again
I'll find the stable and pull out the bolt.
Thanks to one of my readers, I now know that the illustration is by Kaziah Hancock.  Check out her remarkable website at www.kaziahthegoatwoman.com.