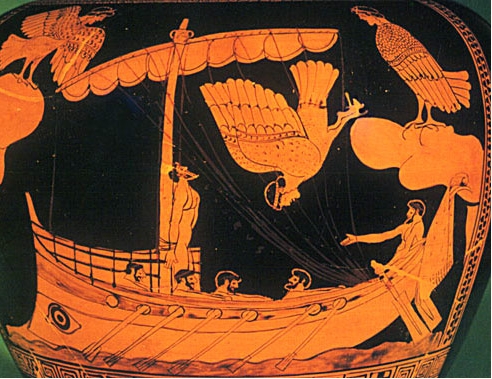 I'm currently teaching a 19th century British poetry class at a senior center and am having discussions that I would never get from my 20-year-old college students.  For instance, we talked about Alfred, Lord Tennyson's famous poem "Ulysses" as a classic case of a man who can't make the successful transition to retirement.
(I'm going to talk about it here in pieces but if you want to read it in its entirety, you can go here.)
The poem starts with a man who is suddenly seeing more of his wife than he wants to. It's not only the crags that seem barren:
It little profits that an idle king,
By this still hearth, among these barren crags,
Match'd with an aged wife . . .
A number of the students pointed out how hard Ulysses is finding it to transition from a workplace where, as CEO, he was honored.  At home he's just gramps, and he can't cope with not being the center of attention. Here the people "know not me" whereas when he was traveling, it was with "those that love me."  "I am become a name for always roaming with a hungry heart," he tells us (maybe for the hundredth time in case we had forgotten that he used to be famous). When he was with great foreign dignitaries, he was "not least, but honored of them all."  If he is indeed having problems with wounded pride, then the line  "I am a part of all that I have met," which I have always read as a lofty sentiment, sounds less impressive.  When we travel, everything we encounter should have a chance to become part of us.  But in Ulysses's mind, as Sally pointed out, everyone he has encountered is lucky to have met him:
I mete and dole
Unequal laws unto a savage race,
That hoard, and sleep, and feed, and know not me.
I cannot rest from travel: I will drink
Life to the lees: All times I have enjoy'd
Greatly, have suffer'd greatly, both with those
That loved me, and alone, on shore, and when
Thro' scudding drifts the rainy Hyades
Vext the dim sea: I am become a name;
For always roaming with a hungry heart
Much have I seen and known; cities of men
And manners, climates, councils, governments,
Myself not least, but honour'd of them all;
And I am a part of all that I have met . . .
One class member who was a World War II veteran (B. Frank) said that Ulysses has the restlessness of someone suffering from PTSD—which if one has seen some of one's men devoured by a Cyclops, others grabbed by a six-headed serpent, and yet others speared like fish, would make sense.  Or maybe he's addicted to the adrenaline rush of battle, as in the film The Hurt Locker.  Maybe that's why he still dreams of the days when he "dr[a]nk delight of battle with my peers/Far on the ringing plains of windy Troy."
For Ulysses, retirement is nothing but storing and hoarding himself:
How dull it is to pause, to make an end,
To rust unburnish'd, not to shine in use!
As tho' to breathe were life! Life piled on life
Were all too little, and of one to me
Little remains: but every hour is saved
From that eternal silence, something more,
A bringer of new things; and vile it were
For some three suns to store and hoard myself,
And this gray spirit yearning in desire
To follow knowledge like a sinking star,
Beyond the utmost bound of human thought.
We had an animated discussion about his relations with his son. Does he admire Telemachus's administrative skills or is he secretly contemptuous?  A number of students thought the latter. We agreed that Telemachus probably isn't sorry to see his dad leave.  Things will probably run smoother without him stalking restlessly through Ithaca:
This is my son, mine own Telemachus,
To whom I leave the sceptre and the isle,—
Well-loved of me, discerning to fulfil
This labour, by slow prudence to make mild
A rugged people, and thro' soft degrees
Subdue them to the useful and the good.
Most blameless is he, centred in the sphere
Of common duties, decent not to fail
In offices of tenderness, and pay
Meet adoration to my household gods,
When I am gone. He works his work, I mine.
Bob, a former Navy man, could recite the famous last lines from the poem, which seem a galvanizing call out to people entering their retirement years. But it's unsettling to realize that the lines directly echo Satan in Paradise Lost, one of literature's supreme narcissists. The echo suggests that, just as Satan can't accept God's will, so maybe Ulysses can't accept the aging process and settling in with his family.
Here's Ulysses:
Tho' much is taken, much abides; and tho'
We are not now that strength which in old days
Moved earth and heaven, that which we are, we are;
One equal temper of heroic hearts,
Made weak by time and fate, but strong in will
To strive, to seek, to find, and not to yield.
And now here's Satan:
All is not lost; the unconquerable Will,
And study of revenge, immortal hate,
And courage never to submit or yield. . .
So is this a heroic poem about how life's excitement doesn't end with retirement? Or is it a poem about a disgruntled person who just can't accept the aging process and who's probably going to get himself and others killed as a result. The poetry is gorgeous and inspiring, but remember that Ulysses is famous for being honey-tongued and being able to talk people into doing things they don't want to do (another trait he shares with Satan). Those fellow mariners (taken from Dante's version of the story since in Homer's they are all dead) probably thought that they were going to spend their twilight years in rocking chairs gazing out at Aegean sunsets. Then Ulysses comes along and suddenly it's "remind me again why we signed up for this extreme adventure vacation?"
Check out the following passage and decide for yourself which it is:
There lies the port; the vessel puffs her sail:
There gloom the dark, broad seas. My mariners,
Souls that have toil'd, and wrought, and thought with me—
That ever with a frolic welcome took
The thunder and the sunshine, and opposed
Free hearts, free foreheads—you and I are old;
Old age hath yet his honour and his toil;
Death closes all: but something ere the end,
Some work of noble note, may yet be done,
The lights begin to twinkle from the rocks:
The long day wanes: the slow moon climbs: the deep
Moans round with many voices. Come, my friends,
'T is not too late to seek a newer world.
Push off, and sitting well in order smite
The sounding furrows; for my purpose holds
To sail beyond the sunset, and the baths
Of all the western stars, until I die.
It may be that the gulfs will wash us down:
It may be we shall touch the Happy Isles,
And see the great Achilles, whom we knew.
It was a great poem to get people thinking about the lives they are leading and the choices they have made. As I say, I don't talk about these particular issues with my undergrads.
Addendum
I'm imagining Ulysses for the moment as a smooth-talking salesman for vacation packages.
The Promise: It's not to late to seek a newer world! You'll smite the sounding furrows and sail beyond the sunset! You'll tour the Happy Isles and meet Achilles!!
The Reality: The gulfs will wash you down. You'll end up in eighth circle of Dante's Inferno.