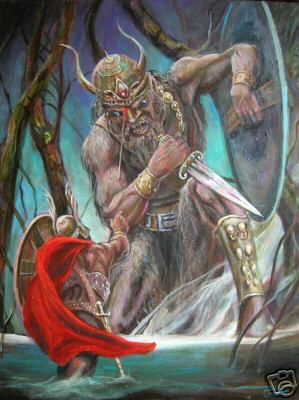 We have a Grendel problem in today's United States. The troll that invades our special halls has many different names—Scott Roeder, who killed Dr. George Tiller; James W. von Brunn, the Holocaust Museum attacker; Abdul Hakim Mujahid Muhammad, who killed an army recruitment officer; gun lover Richard Poplawski, who shot three Philadelphia police officers; Jim David Adkisson, who opened up fire in a Knoxville Unitarian Church. To which we can add the Oklahoma City bomber, the Washington area snipers, the Columbine killers, the Virginia Tech killer, the unibomber—the list goes on and on.
The situation is not unlike that described in the 8th century Anglo-Saxon poem Beowulf. Like the United States, Denmark is the preeminent power in the region with nothing to fear from external threat. And yet, like our own authorities, King Hrothgar seems powerless in the face of internal violence that erupts within places that should be safe and sacred, its churches and schools and sacred monuments. A dark anger festers within our society and periodically claims victims.
With the election of our first African American president, things only seem to be getting worse. Guns sales are skyrocketing and hate speech is reaching crescendo levels. Grendel appears on the prowl.
Grendel in the poem is not a foreign invader from Sweden or France but a homegrown product, a domestic terrorist. Like the killers listed above, he lives isolated on the margins of society. We are told that he is driven to fury by the sound of the harp—which is to say, by other people enjoying pleasures that he feels excluded from. He has a sense of denied entitlement. He is a descendent of Cain, who killed his brother in a jealous rage. (In other words, he is related to us.) His rage is such that he doesn't just attack—he rips and devours.
In the face of his fury, we feel powerless. King Hrothgar turns to his counselors for advice but they can only suggest praying to the old stone gods. Think of them as people advocating outmoded solutions. There seems to be no one able to make the violence stop. A fatalism settles over the kingdom.
Beowulf was probably composed in one of the northern kingdoms of 8th century Anglo-Saxon England, perhaps Mercia or Northubria, and those societies had a violence problem. Interminable blood feuds shook them from within.  A feud could begin with an argument between two fellow warriors (perhaps over the king's distribution of treasure) and turn to blows.  If one killed the other, suddenly violence was unleashed in the land. The poet tells us that Grendel cannot be bought off with a blood price, a traditional way for settling a dispute before it got out of hand.  Perhaps post-traumatic stress disorder (PTSD) was involved.  Once underway, a feud could spread through the kingdom, and a leader, no matter how accomplished at fighting foreign invaders, could well feel helpless.
I think Beowulf has become popular again because we recognize our own violence problems within it.  By popular, I'm thinking of the two films made in recent years and of the success of a new translation, which in 2000 made its way onto the New York Times bestseller list (!).  A new book out is entitled Beowulf on the Beach.
So if Beowulf helps us put our finger on the explosions of violence that we are encountering, does it offer any answers for handling them? I think so and will take up that question tomorrow.