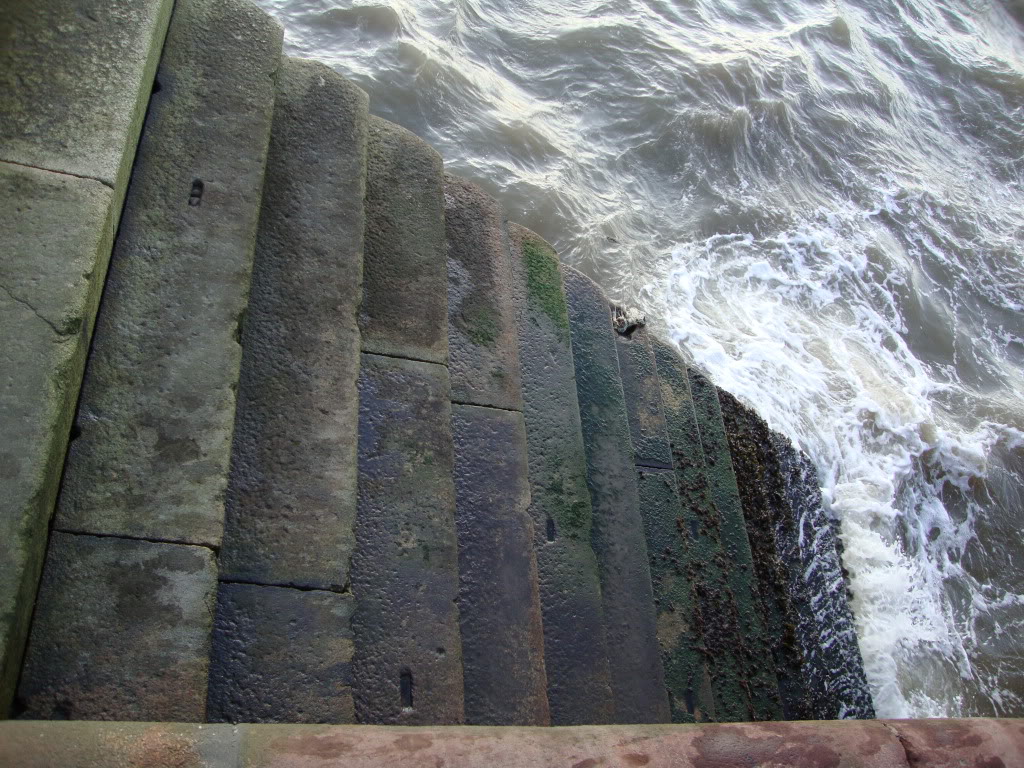 Since I am vacationing in Maine and spent time yesterday with my favorite cousin, who is a huge Edward Arlington Robinson fan, I devote a post to the state's greatest poet.  Whenever I visit Dan Bates in Gardiner, we have to visit Robinson's grave and look at his house.
My favorite Robinson poem is "Eros Turannos" (it's Harold Bloom's favorite as well).  It is a haunting work whose power, like much of Robinson's poetry, lies wrapped up in its elegiac tone and suggestive mystery.  I offer it up to anyone who has been trapped in a hopeless relationship, feeling helpless in its stagnant grip and unable to end it. 
"Eros Turannos" doesn't propose a way out.  Just the opposite.  By making poetic the women's fatalistic acceptance of what may be her husband's betrayals and abusive neglect, the poem may enable self-destructive behavior.  It also lends dignity to a desperate existence, however, and sometimes we need whatever consolations we can find.  That, at any rate, is how I read the poem, whose title can be translated as "love's tyranny" (translating it, however, diminishes it).  You may well have your own interpretation.  Check it out:
Eros Turannos
By Edwin Arlington Robinson
She fears him, and will always ask
   What fated her to choose him;
She meets in his engaging mask
   All reasons to refuse him;
But what she meets and what she fears
Are less than are the downward years,
Drawn slowly to the foamless weirs
   Of age, were she to lose him.
Between a blurred sagacity
   That once had power to sound him,
And Love, that will not let him be
   The Judas that she found him,
Her pride assuages her almost,
As if it were alone the cost.–
He sees that he will not be lost,
   And waits and looks around him.
A sense of ocean and old trees
   Envelops and allures him;
Tradition, touching all he sees,
   Beguiles and reassures him;
And all her doubts of what he says
Are dimmed with what she knows of days–
Till even prejudice delays
   And fades, and she secures him.
The falling leaf inaugurates
   The reign of her confusion:
The pounding wave reverberates
   The dirge of her illusion;
And home, where passion lived and died,
Becomes a place where she can hide,
While all the town and harbor side
   Vibrate with her seclusion.
We tell you, tapping on our brows,
   The story as it should be,–
As if the story of a house
   Were told, or ever could be;
We'll have no kindly veil between
Her visions and those we have seen,–
As if we guessed what hers have been,
   Or what they are or would be.
Meanwhile we do no harm; for they
   That with a god have striven,
Not hearing much of what we say,
   Take what the god has given;
Though like waves breaking it may be,
Or like a changed familiar tree,
Or like a stairway to the sea
   Where down the blind are driven.
There is much that I find enigmatic—hauntingly enigmatic—about "Eros Turannos."  In one way it is like a soap opera where one imagines a couple in an unhappy marriage.  Because she is so dependent, he is assured that she will always be there and feels free to look around.  While she has no illusions, she fears "the foamless weirs of age," which she imagines will be all the more terrifying if she is alone.  Yet she feels alone anyway, especially as the leaves begin to fall and she feels autumn, and old age, coming on.  She retreats into the home "where passion lived and died" and the town and harbor side "vibrate with her seclusion."
But then the poet cautions that we can never understand, or give advice to, another relationship.   We may tap our heads and think we know what is best, but who can ever tell the story of a house?  In any event, it doesn't matter what we think.  After all, this woman is struggling with forces beyond her (and us) and won't hear much of what we have to say.  She takes what love has given her, even though, in doing so, it is as though she is being driven blindly down a stairway into the sea.
It may be that Robinson was writing about his sister-in-law, who chose to marry his wealthy but good-for-nothing brother rather than Robinson himself.  (Robinson never got over his love for her.).  But despite her confusion and her fears and her disillusion and her blasted pride, she grows in stature.  The tyrannical god that dominates her also bestows upon her a kind of majesty.  We, looking in from the outside, can't begin to do her justice. 
The poem is as close as Robinson can come.