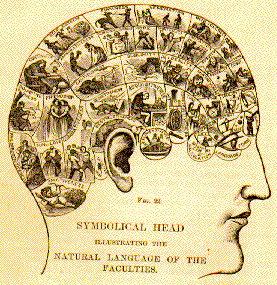 I read a fascinating article in yesterday's New York Times on metaphors and the brain. If I understand Robert Sapolsky's piece correctly, the insula—which is the part of the brain that processes, say, disgust with rotten food—also processes "rotten" when it is used as a metaphor (as in "the very deep did rot" from Rime of the Ancient Mariner). Sapolsky writes,
Not only does the insula "do" sensory disgust; it does moral disgust as well. Because the two are so viscerally similar. When we evolved the capacity to be disgusted by moral failures, we didn't evolve a new brain region to handle it. Instead, the insula expanded its portfolio.
As I've written a couple of times (here and here), I'm not enamored with neuro-criticism because I don't think it adds much to an understanding of literature. But the idea that metaphors hit with visceral impact—well, that seems to be a confirmation of sorts (if any is needed) that literature strikes deep. At its foundation, literature is language used figuratively/symbolically. When we are so gripped by a story that the world seems to fall away, when a poetic image lifts us out of ourselves, it's interesting to think that our insulas are at play. It's as though we are hardwired for literature. The theory certainly reinforces what we already know, that literature reaches beyond our rational senses.
If nothing else, the theory echoes a contention of this website: that literature and life are entwined far more intricately than many acknowledge.
While I'm on the topic of brains, let me report on a talk that Barbara Baumgartner of Washington University (in St. Louis) gave at our college last week. Barbara is a former nurse who then earned a Ph.D in English and now is Assistant Director of Women's Studies.  She researches the intersection of medicine and poetry in 19th century America, and in her talk she noted how her research into medical textbooks of the period opens up insight into some of Emily Dickinson's "brain poems."
Take the following poem for instance, which some scholars have interpreted as a descent into madness:
I felt a Funeral in my Brain,
And Mourners, to and fro,
Kept treading — treading — till it seemed
That Sense was breaking through —
And when they all were seated,
A Service like a Drum —
Kept beating — beating — till I thought
My Mind was going numb —
And then I heard them lift a Box,
And creak across my Soul
With those same Boots of Lead, again.
Then Space — began to toll
As all the Heavens were a Bell,
And Being but an Ear,
And I and Silence some strange Race,
Wrecked, solitary, here —
And then a Plank in Reason, broke,
And I dropped down, and down—
And hit a World, at every plunge,
And Finished knowing — then —
As Barbara reads it, the poem is about the heaviness of the rational Enlightenment's ways of understanding the world. To understand what Dickinson means by dropping through the "Plank in Reason," Barbara referred us to an anatomy book that Dickinson read while in college.
Anatomy was all the rage at this time, and people were fascinated by diagrams of what the body looked like under the skin. In the brain as they understood it at the time, the surface was the reasoning part whereas deeper down was the creative part. So Dickinson imagines dropping anatomically down from reason into—not madness—but "a World" of creativity.