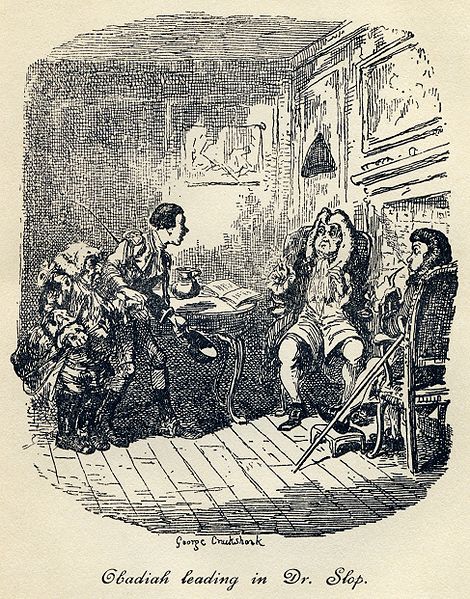 I'm just back from Manhattan visiting my new grandson, so while all the rest of the city was feverishly anticipating the Super Bowl, I was focusing on something that seemed far more momentous. (But congratulations, Giants. You get a post tomorrow.) This past Tuesday my daughter-in-law gave birth in their Upper East Side apartment, and my wife, who was there, has been telling me how well Betsy worked together with the midwife.  This put me in mind of the birth of Tristram Shandy in Laurence Sterne's 1759 novel.
Actually, I was struck more by the contrasts than the similarities.  Little Alban Lee Bates came out just fine because the midwife was in charge whereas Tristram's birth is a calamity because his father, enthralled with the technological breakthroughs of the European Enlightenment, insists on interfering with the midwife's work.  Or to be exact, he and the scientifically-minded Doctor Slop interfere.  As a result, little Tristram emerges with a crushed nose.  If they had left well enough alone, Tristram would have emerged just fine.
The culprit is a set of technologically advanced forceps that the doctor insists on using, much to Tristram's eternal sorrow.  Slop is described as follows:
a little squat, uncourtly figure…about four feet and a half perpendicular height, with a breadth of back, and a sesquipedality of belly, which might have done honor to a sergeant in the horse-guards.
Slop attempts to correct his botched delivery with a rhinoplasy where he uses cotton thread and a piece of whalebone from a maid's corset.
Sterne is targeting the Enlightenment, which he sees as valuing abstract and inhuman thinking over living and breathing contact with human life. To cite an example, Walter Shandy, Tristram's father, is so inspired by the educational theories of Jean Jacques Rousseau that he decides to follow suit.  He devotes all of his time to writing a book on childrearing . . . and leaves young Tristram to grow up on his own. Walter is  so mechanistic that, when he is conceiving Tristram, his wife asks him whether he has remembered to wind the clock. ("Good G—!" cried my father, making an exclamation, but taking care to moderate his voice at the same time, — "Did ever woman, since the creation of the world, interrupt a man with such a silly question?")
[I don't know, by the way, whether Sterne knew the scandal about Rousseau, author of one of the classic books about education, placing his own illegitimate children in orphanages. Even if Sterne didn't know what Rousseau had done, however, he understood Enlightenment thinkers well enough that he wouldn't have been surprised.]
One of Sterne's targets was doctors who were trying to preempt midwives.  He was repelled by one John Burton, for instance, who had written An Essay towards a Complete System of Midwifery. Unfortunately for Western medicine, the doctors won out, midwives were discredited, and most women today give birth in cold hospitals.
I say unfortunately because Betsy had a dream home delivery with a very competent Chinese-American midwife (Kim) who used a birthing pool, acupressure, and various herbal treatments. (She was also prepared to use acupuncture if the occasion had called for it.) Her "forceps" were a pair of hands slathered in virgin olive oil. (One of Julia's jobs was to keep pouring the oil.)
She was also imaginative. Earlier in the transition, when the pain seemed unbearable,  Kim had Betsy, whom she knows to be a professional singer, sing Italian opera, both to get her to breathe from her diaphragm and to concentrate on something besides the pain. The singing proved remarkably effective.
Kim also knew how to get the entire family involved. My son Darien got a thorough workout and was under Betsy bracing her when she gave birth. (Walter Shandy, by contrast, calmly smokes his pipe outside the bedroom and discusses obstetrical theory.) Both my wife and Betsy's mother were in full support.
Looking back 32 years, I don't know if Julia and I were at all influenced by Tristram Shandy, but we were determined to find birthing centers and midwives for our own children. With all three of our sons, we had to travel some distance to pull it off. When I was getting my PhD at Emory University in Atlanta, for instance, Justin was born (in 1979) in a Douglassville birthing center outside the city.  It had a doctor and three midwives, and we had to go there because Atlanta itself had no such centers. (Our good friend Kathy Wexelman gave birth in the same center and was so inspired that she went on to become a midwife herself.)  Darien and Toby were born in a birthing center an hour from where we currently live (in the LaPlata, Maryland hospital), although unfortunately there were no midwives available.  Nor were home births an option.
Fortunately Toby and Candice, my other son and his wife, will also be having a midwife delivery (in Davis, California) this coming June. Toby owes his name to the gentle Uncle Toby from Tristram Shandy, and he wrote an essay about the novel last semester in a graduate English class.  So even if Sterne didn't win out against the Enlightenment's sterile scientism, he has had an impact on the Bates family.
Addendum: In an action that the organic Sterne would approve but the mechanistic Walter Shandy would fail to understand, Julia and I buried the placenta by the grave of our oldest son when we returned to Maryland and planted tulips. In the face of death, new life.