Spiritual Sunday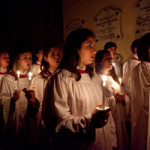 I was wafted back to my childhood yesterday as I went to Sewanee's popular Festival of Lessons and Carols with my mother. The last time I attended was, I believe, in 1962 when, as a member of the children's choir, I actually participated. I remember going down the aisle singing "Once in Royal David's City," and the hymn is still part of the service—although I recall it being sung as the opening processional whereas yesterday it served as the closing recessional.
The hymn's lyrics were originally a children's poem by Irish poet Cecil Frances Alexander, published in 1848. This helps explain why I loved the hymn so much as a child. It begins with images of magnificence—"Once in royal David's city"—but quickly moves into contrast—"Stood a lowly cattle shed." The major contrast is between the adult world and the world of children, and I remember feeling empowered as I sang it—all the more so because the setting was All Saints' Chapel, which looks like a mini-cathedral. The poem/hymn may begin with a reference to King David but, by the end, it is the children who are wearing crowns:
Once in royal David's city
Stood a lowly cattle shed,
Where a mother laid her Baby
In a manger for His bed:
Mary was that mother mild,
Jesus Christ her little Child.
He came down to earth from heaven,
Who is God and Lord of all,
And His shelter was a stable,
And His cradle was a stall;
With the poor, and mean, and lowly,
Lived on earth our Savior holy.
And through all His wondrous childhood
He would honor and obey,
Love and watch the lowly maiden,
In whose gentle arms He lay:
Christian children all must be
Mild, obedient, good as He.
For he is our childhood's pattern;1
Day by day, like us He grew;
He was little, weak and helpless,
Tears and smiles like us He knew;
And He feeleth for our sadness,
And He shareth in our gladness.
And our eyes at last shall see Him,
Through His own redeeming love;
For that Child so dear and gentle
Is our Lord in heaven above,
And He leads His children on
To the place where He is gone.
Not in that poor lowly stable,
With the oxen standing by,
We shall see Him; but in heaven,
Set at God's right hand on high;
Where like stars His children crowned
All in white shall wait around.
There's a nice Victorian bit about in the poem about honoring and obeying your mom. Be dear and gentle and you'll end up in a good place. And while I know it sounds smarmy, I was a well-behaved child who totally bought into this aspiration.
As we walked out of All Saints', the fabulous carillon were playing, taking me back to another work from my childhood. Come to think of it, I probably loved "Why the Chimes Rang" because we lived next to All Saints when I was growing up so we heard the bells all the time. (See my post on Raymond Alden's Christmas classic here.) Like the jester in Twelfth Night, I could honestly say,
 I do live by the church; for I do live at my house, and my house doth stand by the church.
In an Advent season that has been invaded by mass shootings and in which families are being wrenched by hideous grief, we need rituals like this to stave off utter despair. "Once in Royal David's City" puts us back in touch with a spiritual innocence that helps us through.
A note on the photographer: Stephen Alvarez, son of my long-time tennis partner and now a famous photographer, explains here how he was able to photographs the Festival of Lessons and Carols from above.