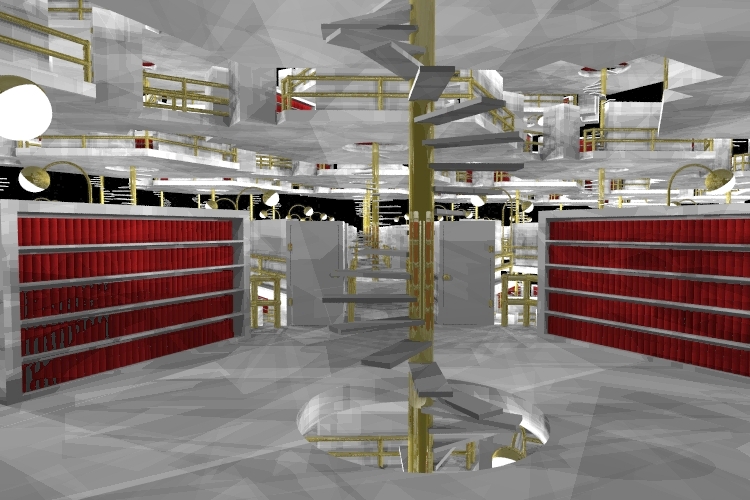 Last semester my Ljubljana friend Jason Blake sent me a passage from Alberto Manguel's novel The Library at Night. A colleague of Jason's was trying to identify all the literary allusions and was stuck on "first centenary encounter with ice." It took me a while but I think I was able to identify it correctly, along with the others.
Try your hand at it.  How many of the allusions can you identify?  Here's the passage:
Some nights I dream of an entirely anonymous library in which books have no title and boast no author, forming a continuous narrative stream  in which all genres, all styles, all stories converge, and all  protagonists and all locations are unidentified, a stream into which I  can dip at any point of its course. In such a library, the hero of The Castle would embark on the Pequod in search of the Holy Grail, land on a desert island to rebuild society from fragments shored against his ruins, speak of his first centenary encounter with ice, and recall, with excruciating detail, his early going to bed. In such a  library there would be a single book divided into a few thousand  volumes and, pace Callimachus and Dewey, no catalogue.
I love how Manguel's library is, in some ways, a description of the reader. All the books we've read enter helter-skelter into the library that is our mind, becoming one "continuous narrative stream . . . into which [we] can dip at any point of its course."
The answers can be found after the break.
Answer Key
The passage itself is surely influenced by Jorge Borges's short story "The Library of Babel."
K is the hero of Franz Kafka's The Castle.
The Pequod is the name of the ship in Moby Dick
The story of Perceval and Holy Grail could come from any number of sources so let's say Chretien de Troye.
The desert island reference is undoubtedly to Robinson Crusoe, the most famous of all shipwrecked mariners.
"Fragments shored against his ruins" is a passage from T. S. Eliot's Wasteland and is particularly apt here since Eliot's allusion-heavy poem draws on the rich culture of the past to shore up a defense against the fragmenting onslaught of modernity.
The encounter with ice must be to Gabriel Garcia Marquez's One Hundred Years of Solitude. We learn, on the first page, that a colonel facing death by firing squad finds his mind returning to the first time he tasted ice.
Finally, the "excruciating" account of going to bed is that of Marcel Proust in the first volume of Remembrance of Things Past.
Callimachus, incidentally, was the librarian at the legendary Library of Alexandria who catalogued all its titles.  John Dewey, of course, is the famous American educator and philosopher who originated the Dewey Decimal System (now supplanted by the Library of Congress system in most libraries).