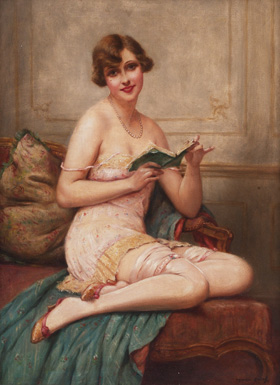 In my Theories of the Reader course, we have been taking note of different analogies that theorists apply to reading literature.
French phenomenologist George Poulet ("Criticism and the Experience of interiority") describes reading as a forceful intrusion by the book:
As soon as I replace my direct perception of reality by the words of a book, I deliver myself, bound hand and foot, to the omnipotence of fiction. I say farewell to what is, in order to feign belief in what is not. I surround myself with fictitious beings; I become the prey of language. There is no escaping this takeover. Language surrounds me with its unreality.
At times when I'm reading Poulet, I am brought to mind of the film Alien, in which we are inhabited by an alien creature that takes us over. I think this is a dimension of reading that may worry some parents when they see their children "swallowed up" by Harry Potter or Twilight or, back in Jane Austen's time, the novels of Anne Radcliffe. While he talks of us as "prey," however, Poulet does acknowledge that our minds are not entirely taken over.
The annexation of my consciousness by another (the other which is the work), in no way implies that I am the victim of any deprivation of consciousness. Everything happens, on the contrary, as though from the moment I become prey to what I read, I begin to share the use of my consciousness with this being whom I have tried to define and who is the conscious subject ensconced at the heart of the work. He and I, we start having a common cousciousness.
That being admitted, however, the reader is still more passive than active. As Poulet puts, it, "The work lives its own life within me; in a certain sense, it thinks itself, and it even gives itself a meaning within me."
For German reception theorist Wolfgang Iser, the reader plays a more active role.  In fact, as he sees it, author and reader are co-creators of the work, with the author leaving gaps in the text and the reader filling them in.  Think of it as collaborative play. Iser quotes a wonderful passage from Laurence Sterne's Tristram Shandy to describe the process:
No author, who understands the just boundaries of decorum and good breeding, would presume to think all: The truest respect which you can pay to the reader's understanding, is to halve this matter amicably, and leave him something to imagine, in his turn, as well as yourself. For my own part, I am eternally paying him compliments of this kind, and do all that lies in my power to keep his imagination as busy as my own.
At one point, Iser compares readers to those who look at the stars and imagine shapes. "The 'stars' in a literary text are fixed," he says, "the lines that join them are variable." That's why two readers look at the same text and come up with different readings.
And then there's Peter Brooks in Reading for the Plot, who all but sees reading novels as a sexual experience. They set us up to desire a certain end, and we both want to get to this end (because it will calm our excitation)  and don't want to (because the excitation will cease). The novel, therefore, functions as a kind of striptease, delaying our satisfaction through various retarding agents and subplots (Dickens is famous for having multiple stories going on all at once) before concluding with orgasmic finality.
In Pride and Prejudice, to apply the theory to a concrete example, Elizabeth and Darcy meet (at the first ball), are repelled, come back together (at the second ball and then at Bingley's), open up a distance, come back together (in the first marriage proposal), go far apart, meet again in Pemberley, appear to becoming intimate, are pushed apart by the Lydia-Wickham affair, and finally (in a very satisfying reversal) have someone who wants to keep them apart (Lady Catherine de Bourgh) become the agent that brings them back together. Once they are married is one of literature's most satisfying conclusions, we are allowed to bask briefly in the glow of desire fulfilled and then the book must end quickly.
I find Brooks's analogy very descriptive of my own reading experience of certain works (Henry Fielding's Tom Jones, for instance), where, as I near the end, I find myself forcing myself to read slower and slower, even as I desperately want to get to the final union.
More perspectives on the reading process to come. Stay tuned.
Note on the artist: Peter Worsley's website can be found at www.peterworsley.com/Paintings/People/Woman_Reading.html