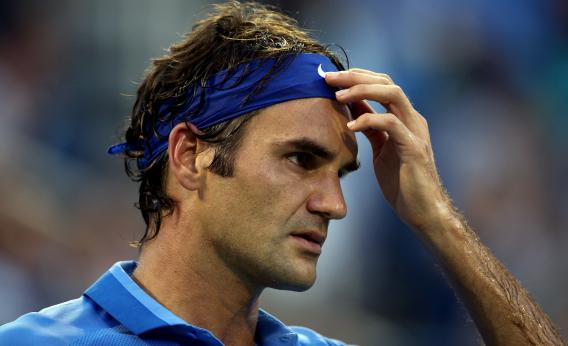 Sports Saturday
We all knew it was coming. Still, when it finally happened, it was  a shock.
I'm talking about Roger Federer's abrupt dismissal at the U. S. Open by a player he had never lost to. Combine this with an early exit from Wimbledon and the end does appear to have come. Only 12 months ago Federer was, improbably, setting the all-time record for most weeks at #1 in the world, and now it appears that we are on the verge of losing—that we have already lost—the most beautiful style of tennis the sport has ever seen.
What makes Federer's tennis so captivating is in part his lightness of foot. He appears at times to hover above the court. In the past, this quickness has allowed him to use a far smaller tennis racket than anyone else, an instrument he wields like a wand. Racket and string technology have improved in recent years, allowing virtually anyone to hit with power–which means that Federer has been John Henry, the steel driving artist of folklore going up against machine power.
And as with John Henry, the end has come quickly. The small racket gives Federer less room for error, meaning that losing a step has had outsized consequences. If Federer doesn't hit the ball perfectly, it goes awry. Against Robredo in the round of 16, his ball was flying all over the place. Federer  himself appeared to be desecrating the Federer game. Unless he retires, I believe such beat downs will become a regular sight. He'll die with a racket in his hand, Lord, Lord.
Looking for some way to express my agony over this development, I thought of a Richard Shelton poem.
To be sure, Shelton is mourning something far more precious than the tennis game of an aging athlete. Beautiful or not, Federer's game was bound to deteriorate even if the technology had remained constant since everyone, sooner or later, loses out to Father Time. In "Requiem for Sonora," by contrast, Shelton is grieving over the loss of something, his beloved Sonara Desert, that doesn't have to die. As he puts it, developers "will make you the last resort/for tourists who have nowhere else to go."
In the final section of Shelton's lament, his sense of coming to the desert years ago "as a stranger" reminds me how I became a Fedfan, how I was won over after initially rooting for Andre Agassi and Andy Roddick. Contrasted with the clubbing intensity of, say, Rafael Nadal, Federer's game sometimes appears, like Shelton's desert, "more fragile than forests/more beautiful than water."
Years ago I came to you as a stranger
and have never been worthy
to be called your lover or to speak your name
loveliest
most silent sanctuary
more fragile than forests
more beautiful than water
I am older and uglier
and full of the knowledge
that I do not belong to beauty
and beauty does not belong to me
I have learned to accept
whatever men choose to give me
or whatever they choose to withhold
but oh my desert
yours is the only death I cannot bear
Yes, losing Federer's game is proving more than I can bear.