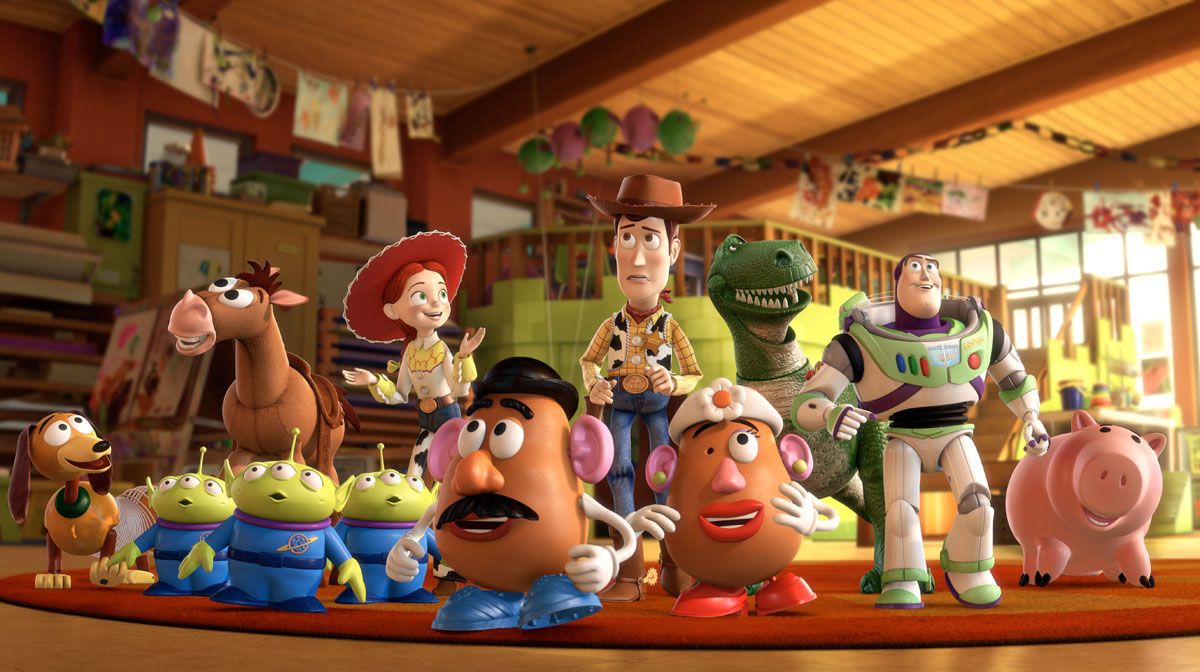 Film Friday
There were no good adult movies in town last weekend so Julia and I went to see Toy Story III. Any superlatives thrown Pixar's ways are well deserved. Toy Story III is a gem.
Like any good children's story, it articulates a number of basic childhood fears, especially that of being abandoned, and then creates an empowering drama where we can imagine ourselves being validated and confirmed. It acknowledges our fears of not fitting in of being terrorized by bullies but then shows how we can use our laughable traits to our advantages.  In the course of the film, figures of terror become benign. One of these is a large baby doll that looks like it stepped out of a horror film.
We are also shown an empowered Barbie who won't allow let herself be strongarmed by Ken. He is so impressed that he steps beyond his narcissism. Strong women bring out the best in men.
If you know your prison escape movies (The Great Escape, Stalag 17, Von Ryan's Express), then there is the added pleasure of identifying the allusions. There is clever use of the famous "box" speech from Cool Hand Luke which, in the original, goes as follows:
Them clothes got laundry numbers on them. You remember your number and always wear the ones that has your number. Any man forgets his number spends a night in the box. These here spoons you keep with you. Any man loses his spoon spends a night in the box. There's no playing grab-ass or fighting in the building. You got a grudge against another man, you fight him Saturday afternoon. Any man playing grab-ass or fighting in the building spends a night in the box. First bell's at five minutes of eight when you will get in your bunk. Last bell is at eight. Any man not in his bunk at eight spends the night in the box. There is no smoking in the prone position in bed. To smoke you must have both legs over the side of your bunk. Any man caught smoking in the prone position in bed… spends a night in the box. You get two sheets. Every Saturday, you put the clean sheet on the top… the top sheet on the bottom… and the bottom sheet you turn in to the laundry boy. Any man turns in the wrong sheet spends a night in the box. No one'll sit in the bunks with dirty pants on. Any man with dirty pants on sitting on the bunks spends a night in the box. Any man don't bring back his empty pop bottle spends a night in the box. Any man loud talking spends a night in the box. You got questions, you come to me. I'm Carr, the floor walker. I'm responsible for order in here.
There is even a reference to the 1937 Jean Renoir film Grande Illusion, which I wrote about recently. Mr. Potato Head, like Boeldieu, at one point creates a diversion by staging a phony escape, and his sacrifice allows the others to get free. Leave it to Pixar to throw in an allusion to a French classic.
A big attraction of the Toy Story films is the way that each toy has special gifts that are indispensable if the group as a whole is to succeed. We are validated and accepted by others as we exercise our individual talents. It is an affirming vision for a child. For that matter, it is an affirming vision for an adult.
And in the end we are assured that, even though we grow up and leave our toys behind, we continue to have a child within us. You will get to be a kid again when you watch the film.  Better yet, take a child with you so you can watch it through his or her eyes.