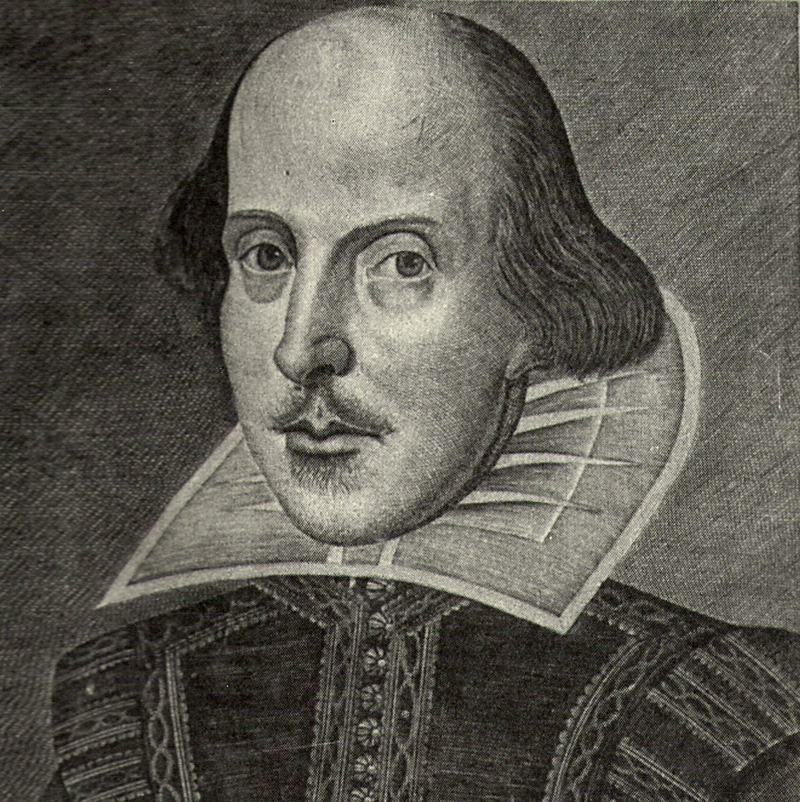 Fun Friday
In his book Enthusiasms (1983), Bernard Levin came up with a paragraph, now fairly well known, that demonstrates how many of our popular sayings we owe to Shakespeare. Levin's paragraph can also work as a test of just how well we know the bard. I've linked to the plays (and in one case, a sonnet) and provided the answers in a key at the end. See how many you can get.
In the links, you'll usually need to use the "find" function to locate the exact passage. Occasionally the passage isn't exactly the one Levin gives so you may have to rely on a key term rather than the entire saying. Enjoy.
Shakespeare Sayings, by Bernard Levin (annotated by Robin Bates)
If you cannot understand my argument and declare, 'It's all Greek to me," you are quoting Shakespeare. If you claim to be more sinned against than sinning, you are quoting Shakespeare; if you recall your salad days, you are quoting Shakespeare; if you act more in sorrow than in anger, if your wish is father to the thought, if your lost property has vanished into thin air [this saying blends quotes from this play and this one], you are quoting Shakespeare; if you have ever refused to budge an inch or suffered from green-eyed jealousy, if you have played fast and loose, if you have ever been tongue-tied, a tower of strength, hoodwinked or in a pickle; if you have knitted your brows, made a virtue of necessity, insisted on fair play, slept not one wink, stood on ceremony [actually it's "stood on ceremonies"], danced attendance on your lord and master, laughed yourself into stitches, had short shrift, cold comfort or too much of a good thing,if you have seen better days or lived in a fool's paradise—why, be that as it may, the more fool you, for it is a foregone conclusion that you are (as good luck would have it) quoting Shakespeare; if you clear out, bag and baggage, if you think it is high time and that is the long and short of it [actually "the short and the long of it"], if you believe the game is up and that the truth will out, even if it involves your own flesh and blood, if you lie low until the crack of doom because you suspect foul play, if you have your teeth set on edge (at one fell swoop) without rhyme or reason, then—to give the devil his due—if the truth were known [actually, it's "if the good truth were known"] (for surely you have a tongue in your head) you are quoting Shakespeare; even if you bid me good riddance and send me packing, if you wish I was dead as a doornail, if you think I am an eye-sore, a laughing stock, the devil[s] incarnate, a stony-hearted villain, bloody-minded or a blinking idiot, then—by Jove! it's all one to me, you are quoting Shakespeare.
Answer key
"Greek" – Casca in Julius Caesar
"Sinned" – King Lear
"Salad" – Cleopatra
"Sorrow" – Horatio in Hamlet
"Wish" – Henry IV (in Part II)
"Thin air" – Prospero in Tempest
"Thin air" – Clown in Othello
"Budge" – Sly in Taming of the Shrew
"Jealousy" – Iago in Othello
"Fast and loose" – Moth in Love's Labor's Lost
"Tongue-tied" – Muse in "Sonnet 85"
"Tower" – Richard III
"Hoodwinked" – Benvolio in Romeo and Juliet
"Pickle" – Alonso in The Tempest
"Knitted" – Duchess in Henry VI, Part 2
"Virtue" – Second outlaw in Two Gentlemen of Verona
"Fair play" – Miranda in The Tempest
"Winked" – Pisanio in Cymbeline
"Ceremony" – Calpurnia in Julius Caesar
"Attendance" – Duke of York in Henry VI, Part 2
"Lord" – Viola in Twelfth Night
"Stitches" – Maria in Twelfth Night
"Shrift" – Ratcliff in Richard III
"Comfort" – Grumio in Taming of the Shrew
"Good thing" – Rosalind in As You Like It
"Better days" – Duke Senior in As You Like It
"Fool's paradise" – Nurse in Romeo and Juliet
"More fool" – Bianca in Taming of the Shrew
"Foregone conclusion" – Othello
"Good luck" – Falstaff in Merry Wives of Windsor
"Bag" – Touchstone in As You Like It
"High time" – Antipholus of Syracuse
"Long and short" – Mistress Quickly in Merry Wives of Windsor
"Game" – Belarius in Cymbeline
"Truth" – Launcelot in Merchant of Venice
"Flesh" – Gobbo in Merchant of Venice
"Lie low" – Antonio in Much Ado about Nothing
"Doom" – Macbeth
"Foul play" – Hamlet
"Teeth" – Hotspur in Henry IV, Part I
"Swoop" – Macduff in Macbeth
"Rhyme" – Orlando in As You Like It
"Devil" – Hal in Henry IV, Part I
"Truth" – Antigonus in Winter's Tale
"Tongue" – Stephano in The Tempest
"Riddance" – Patroclus in Troilus and Cressida
"Packing" – Duke of York in Henry VI, Part 2
"Doornail" – Cade in Henry VI, Part 2
"Eyesore" – Baptista in Taming of the Shrew
"Laughing stock" – Sir Hugh Evans in Merry Wives of Windsor
"Devil's incarnate" – Boy in Henry V
"Villain" – Falstaff in Henry IV, Part I
"Bloody-minded" – Edward IV in Henry VI, Part III
Blinking idiot" – Arragon in Merchant of Venice
"All one to me" – Pandarus in Troilus and Cressida