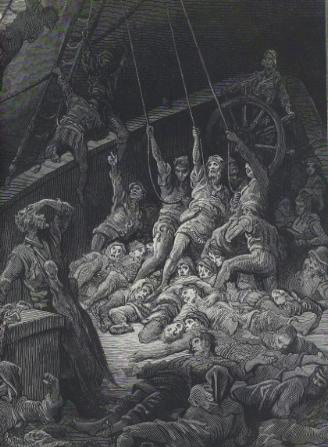 Spiritual Sunday
I've been thinking about why it's sometimes hard to pray for help. Perhaps it's because asking for help seems an affront to our prideful self sufficiency. Perhaps it's because we fear that we are not worthy to receive it.
I think of how Coleridge's ancient mariner is so filled with self-loathing that he can't open his heart to pray:
I looked upon the rotting sea,
And drew my eyes away;
I looked upon the rotting deck,
And there the dead men lay.
I looked to heaven, and tried to pray;
But or ever a prayer had gusht,
A wicked whisper came and made
My heart as dry as dust.
To be sure, a little later he finds himself touched by an act of grace—and the greatest gift he receives is not, at first, healing water but the ability to bless even the lowliest of God's creatures.
Of course, when we're in extreme circumstances, we often find ourselves praying. There's the memorable scene in chapter 7 of Hemingway's In Our Time where a soldier prays in the trenches but then never mentions Jesus again. Maybe we have difficulty praying because we are worried about our hypocrisy. Which is another way of feeling unworthy:
While the bombardment was knocking the trench to pieces at Fossalta, he lay very flat and sweated and prayed oh jesus christ get me out of here. Dear jesus please get me out. Christ please please please christ. If you'll only keep me from getting killed I'll do anything you say. I believe in you and I'll tell everyone in the world that you are the only one that matters. Please please dear jesus. The shelling moved further up the line. We went to work on the trench and in the morning the sun came up and the day was hot and muggy and cheerful and quiet. The next night back at Mestre he did not tell the girl he went upstairs with at the Villa Rossa about Jesus. And he never told anybody.
If you've ever been ambivalent about prayer, here's a wonderful poem by the 13th century Sufi poet Jelaluddin Rumi, translated by poet Coleman Barks. (Sufism is the mystical wing of Islam) Rumi notes that prayer is never pure because humans are inevitably "sodden in bodiness." But rather than this being a problem, Rumi advises us to see our impurity as dung from which beautiful flowers can spring.
Note that, by the end of the poem, there has been a subtle shift. By praying, we ourselves can become bountiful earth. Like the mariner who finds himself able to bless the water snakes, we can find ourselves producing "an ear of corn, a tassel, a barley awn, this sleek handful of oats."
The Ground's Generosity
Remember, prayer gets accepted no matter how
impure: like that of
A woman in excessive menstruation, her asking dense
with blood, so your praise
is full of blood ties, full of how attached you are
That tangle of limited
surrender is the human mire. We're sodden in bodiness,
where the clearest sign of
grace is that from dung comes flowers, from the bulbous
sludge, buds and then sweet
pears. The ground's generosity takes in our compost
and grows beauty! Try to
be more like the ground. Give back better, as a rough
clod returns an ear of
corn, a tassel, a barley awn, this sleek handful of oats.