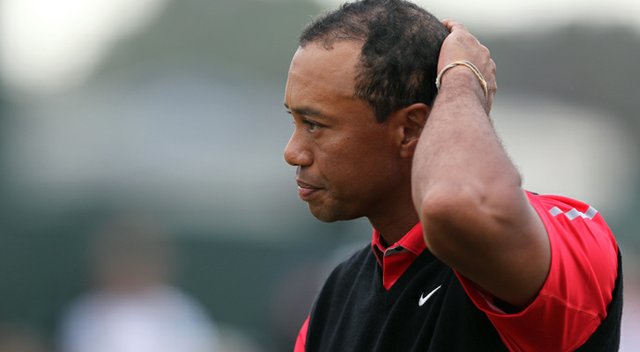 Sports Saturday
I am barely aware that the Masters tournament is currently underway and you can probably guess the reason why: back surgery is preventing Tiger Woods from playing. For the first time in twenty years, he is missing the tournament that he has won four times.
I am one who didn't watch golf before Tiger played but found myself riveted when he exploded on the scene with his 12-stroke Masters victory in 1997. Fair weather fan that I am, when he ceases to be competitive I may stop watching again.
For a literary instance of someone leaving such a hole behind him, I came up with Sherlock Holmes. I'm hoping that the parallel is apt as Holmes, after being presumed dead, comes back for some of his greatest victories: Charles August Milverton, the Six Napoleons, the Dancing Men, The Solitary Cyclist, the Hound of the Baskervilles, the Valley of Fear, Wysteria Lodge. That's not a bad second act.
Recording what Sherlock's death means to him in "The Final Problem," Watson writes,
It is with a heavy heart that I take up my pen to write these the last words in which I shall ever record the singular gifts by which my friend Mr. Sherlock Holmes was distinguished.
I'm feeling heavy as well. Watching golf without Tiger is like Watson surveying a crime scene without Holmes around. Here's Watson in "The Adventure of the Empty Room":
As I read the evidence at the inquest, which led up to a verdict of willful murder against some person or persons unknown, I realized more clearly than I had ever done the loss which the community had sustained by the death of Sherlock Holmes. 
Although Tiger's return, unlike Sherlock's, is expected, I still anticipate feeling some of Watson's joy when Tiger returns for the British or U. S. Open:
I moved my head to look at the cabinet behind me. When I turned again, Sherlock Holmes was standing smiling at me across my study table. I rose to my feet, stared at him for some seconds in utter amazement, and then it appears that I must have fainted for the first and the last time in my life. Certainly a gray mist swirled before my eyes, and when it cleared I found my collar-ends undone and the tingling after-taste of brandy upon my lips. Holmes was bending over my chair, his flask in his hand.
     "My dear Watson," said the well-remembered voice, "I owe you a thousand apologies. I had no idea that you would be so affected."
     I gripped him by the arms.
     "Holmes!" I cried. "Is it really you? Can it indeed be that you are alive? Is it possible that you succeeded in climbing out of that awful abyss?"
Can Tiger climb out of his own abyss, which is not only his health problems but his title drought? (He is still four titles shy of Jack Nicholson's record 18.) Or is his ailing back the medical equivalent of Moriarty? Did Tiger die at Reichenbach Falls after all?