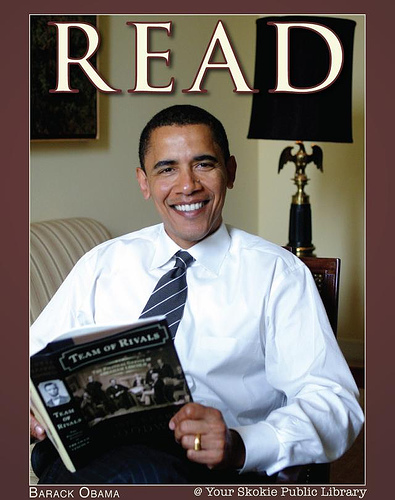 I'm fascinated by the way that literature has helped shape and guide different American president, a subject I've written about in the past. Thus I was thrilled to stumble across a Barack Obama reading list compiled shortly after his inauguration. I don't know how I missed it.
According to the website The Curious Autodidact (great name), McNally Jackson Booksellers in New York City assembled a display of books that Obama read during his twenties (although some are more recent than that). The bookstore apparently drew on Obama's two autobiographies as well as interviews. I became aware of the list after seeing a February 2009 C-Span panel discussion, aired again recently.  The panel members were trying to figure out what the books tell us about the president.
I only saw snippets of the program, but one analysis that caught my attention is how Obama's life at one point may have seemed like Hamlet's, thereby explaining the presence of Shakespeare's tragedy on his list.
After all, as a boy Obama was living in a deeply confusing family situation.  His father had been replaced by another man in the affections of his mother, and she herself seemed to push her son aside as she sent him to live with her parents as she worked in Indoneisia.  The panelist also noted that Obama may have related to Hamlet's identity confusion and felt some of Hamlet's ambivalent feelings about his absent but demanding father.
In a very cursory manner, I've gone through the list seeing if I can figure out why these particular books made are there. The entire list appears at the end of this post.
One caveat: any one of Obama's encounters with the books on the list could be an entire post in itself. I would have to know more about the specifics of that particular reading experience. This quick glance is just to spur discussion.  Please chime in with your own thoughts about how you think this work or that may have impacted the president.  I'll proceed alphabetically:
The Adventures of Huckleberry Finn by Mark Twain – I could imagine Obama relating to Huck's traveling and to Huck's penchant for disguises. (In Dreams of My Father, Obama talks about taking on different personae when he was growing up, not at all unusual for blacks operating in a mostly white society.) I imagine he would also have related to Huck finding a cause to stand up for. Additionally, Obama may have seen, in the irresponsible Finn, his own irresponsible father and imagined, in Jim, the ideal father he himself did not have. Of course, Obama's vision of whites and blacks getting along is at the heart of both the book and Obama's life.
All the King's Men by Robert Penn Warren – Warren's novel is one of the great political novels. I can imagine Obama relating to Jack Burden, who is, all at the same time, a cerebral historian, an idealist, a populist, and a pragmatist who acknowledges that sometimes politics is a dirty business. Burden, like Obama, also has deep father issues. (Then again, what guy doesn't?)
The Autobiography of Malcolm X – One doesn't need to read between the lines for this one: Obama sees in Malcolm X a black activist who wants to empower oppressed African Americans so that they will step into their potential.
Bartleby the Scrivener and Benito Cereno by Herman Melville – I'm not sure what Obama would see in the "I'd prefer not to" Bartleby. But in Babo and the other slaves who have taken over Benito Cereno's ship while pretending they are still captive, he would see black men doing a complicated dance to present an acceptable face to the outside world. Actually, now that I think about it, there are conservative detractors who would accuse of Obama of doing just this: pretending to be accommodating whereas in actuality he's engaged in a revolution and trying to take over the ship.
The Best and the Brightest by David Halberstam – I'm glad to know that Obama has read this book. Let's all pray that he has learned from the mistakes of the Robert McNamaras and other arrogant know-in-alls of the Kennedy administration. While it's better to be a smart than an ill-informed president, one also wants humility.
Friedrich Nietzsche, The Birth of Tragedy – I don't know Nietzsche's Anti-Christ and just have passing knowledge of Thus Spoke Zarathustra, but Birth of Tragedy is the book where Nietzsche distinguishes between the Apollonian impulse and the Dionysian, between our cerebral and passionate sides. At one point, as I recall, Nietzsche quotes Schopenhauer saying that rationality is like a small rowboat in the middle of the Atlantic Ocean, the realm of emotions that threatens to overwhelm our reason at all times. Obama is suspicious of his passionate side, but some critics on the left (I'm thinking of both Maureen Dowd and James Carville) see him as too aloof and have wanted him to plug into his Dionysian side at times. Then again, when one knows how scared many Americans find an angry black man, it's understandable why Obama would have pushed under his irrational side.
The Bible – I'd need to know which of the books in the Bible speak to Obama before I could write on the books influence.  I'm really curious to know what they are.
I haven't read Doctorow's Book of Daniel or Solzhenitsyn's Cancer Ward, but I love that Langston Hughes is on the list. Hughes, like Obama,understands the power of dreams (and about the bad things that can happen when dreams are deferred). Hughes is a wonderfully humane poet who understands African Americans in a deep way.
The Collected Writings of Thomas Jefferson – Obama seems to subscribe, in a big way, to the Jeffersonian ideal of an educated electorate.
The Confessions of St. Augustine – In some ways, Dreams of My Father is very much like Augustine's Confessions with Obama trying to find the presence of light and grace in a tangled life. Augustine was famous for defining evil as not a presence but an absence—we are sinful beings and are reliant on God's grace to lift us up. I can see this longing in Obama as well, which is one thing that has drawn him to Christianity.
Obama's engagement with Augustine, Paul Tillich (the author of the next two works on the list), and Reinhold Neibuhr (Moral Man and Immoral Society) show him to be drawn to questions of how God shows up in the world and what our response to God should be. I have limited knowledge of these men, but I know that they do not advocate an unthinking faith but examine the special relationship of humans to the divine and (in Neihbuhr's case especially) how Christians should respond to injustice in the world. It's a sad comment on the state of our politics that people can get away with labeling as  Muslim a man who is a thoughtful Christian.
Leon Uris, Exodus – I can see Obama being excited by the vision of a new society springing from the ashes of the old.
Alexander Hamilton, James Madison and John Jay, The Federalist Papers – So is Obama more a Jeffersonian or a Hamiltonian, a populist or a federalist? I see strains of both in his thinking.
Gandhi: An Autobiography and Gandhi's Truth by Eric Erikson – I haven't read these two works but I can imagine Obama being inspired by Gandhi's vision of nonviolent resistance to oppression.
That's it for now. There's obviously a lot more to be said about Obama's reading of each of these works and I invite your thoughts. Here's the complete list:
The Adventures of Huckleberry Finn by Mark Twain
All the King's Men by Robert Penn Warren
The Antichrist by Friedrich Nietzsche
The Autobiography of Malcolm X
Bartleby the Scrivener by Herman Melville
Benito Cereno by Herman Melville
The Best and the Brightest by David Halberstam
The Bible
The Birth of Tragedy by Friedrich Nietzsche
The Book of Daniel by E.L. Doctorow
Cancer Ward by Alexander Solzhenitsyn
Collected Poems of Langston Hughes
The Collected Writings of Thomas Jefferson
The Confessions of St. Augustine
The Courage to Be by Paul Tillich
Dynamics of Faith by Paul Tillich
Exodus by Leon Uris
The Federalist Papers by Alexander Hamilton, James Madison and John Jay
Gandhi: An Autobiography
Gandhi's Truth by Erik H. Erikson
The Ghost Writer by Philip Roth
Gilead by by Marilynne Robinson
Go Tell It on the Mountain by James Baldwin
The Golden Notebook by Doris Lessing
Hamlet by Shakespeare
Heart of Darkness by Joseph Conrad
In Dubious Battle by John Steinbeck
Invisible Man by Ralph Ellison
The Irony of American History by Reinhold Niebuhr
King Lear by Shakespeare
Loon Lake by E.L. Doctorow
Mila 18 by Leon Uris
Moral Man and Immoral Society by Reinhold Niebuhr
My Life as a Man by Philip Roth
Notes of a Native Son by James Baldwin
The Outsider by Richard Wright
Parting the Waters by Taylor Branch
Portnoy's Complaint by Philip Roth
The Power Broker by Robert A. Caro
The Power and the Glory by Graham Greene
The Quiet American by Graham Greene
Ragtime by E.L. Doctorow
Rules for Radicals by Saul Alinsky
Self-Reliance by Ralph Waldo Emerson
Song of Solomon by Toni Morrison
The Souls of Black Folk by W.E.B. Du Bois
Tar Baby by Toni Morrison
The Theory of Moral Sentiments by Adam Smith
Thus Spoke Zarathustra by Friedrich Nietzsche
The Wealth of Nations by Adam Smith
Where the Wild Things Are by Maurice Sendak
Working by Studs Terkel
World's Fair by E.L. Doctorow
The Wretched of the Earth by Frantz Fanon