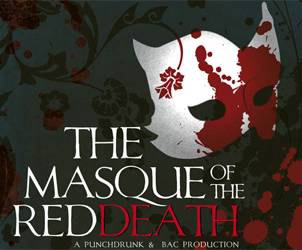 As we do every week, Julia and I visited our friends Alan and Jackie this past Sunday evening, Julia to administer Reiki massage and I to talk. Alan was tired from his chemotherapy treatments and in pain from a cracked rib (he doesn't know how that happened). Nevertheless we talked about literature, including Sir Gawain and the Green Knight and Edgar Allan Poe's "The Masque of the Red Death."
I've written in the past about how the Arthurian romance, written by an author who might have had been alive in 1350 when the black plague was killing a third of Europe, is a remarkably healthy exploration of how humans should handle death. As I interpret it, the poem shows us that, because of our fear of death, we close ourselves to life. The Green Knight is trying to convey to Gawain that the more open he is to death, the richer his living will be.
Alan and I talked about whether he was living with this openness to life and death. Alan's friends have all been struck by how much he enjoys his walks in nature and revels in each season as it arrives. Most remarkably, he hasn't been depressed, and Alan wondered aloud whether this was because he was in denial. I told him I didn't think so and cited the Poe story.
In "Masque of the Red Death," the red plague is sweeping through the country. To protect himself and his court, Prince Prospero retreats to a walled abbey and seals the gates. At some point he throws a masked ball for those inside.
As the evening progresses, the party increases in intensity.  The guests grow quiet only once every hour as a large clock chimes out the time and then become even more frenetic. At the stroke of midnight, they see a large ghastly figure in a red masque stalking the rooms.  He proves to be the red death, and each guest he touches, beginning with Prince Prospero, dies.  "And Darkness and Decay and the Red Death held illimitable dominion over all," concludes Poe.
That is what denial looks like, I said. Prince Prospero and his guests are not living life fully. They are just partying. They are desperately grasping at life and trying to drown out their fears through mindless distractions. The clock that reminds them of their mortality just pushes them into more frantic evasion.
Alan, by contrast, is living with a rich appreciation of nature that can also be found in Sir Gawain and the Green Knight. True, he can't appreciate everything as he once did. Certain of his senses have taken a beating from the cancer. Eating is a chore because radiation has knocked out a saliva gland, and for some reason music doesn't captivate him as much as it once did. On the other hand, he still loves to read as much as he ever has and continues to work his way through Proust's Remembrance of Things Past.Jackie reads to him as well and he loves conversation.
I am not saying that he accepts what is happening.  He has moments of despair and bouts of self pity.  He wants the pain to go away and he wishes he had a lot longer to live.  But he is not allowing his fears to contaminate his love of life.